The offseason has arrived for half of the league's teams that weren't playoff-bound plus those who were eliminated in the first two rounds.  It's time to examine what they will need to accomplish over the coming months.  Next up is a look at the Canucks.
It was a season of change for Vancouver.  The big move to add Oliver Ekman-Larsson and Conor Garland last summer didn't help, resulting in GM Jim Benning being shown the door with Patrik Allvin and Jim Rutherford coming over from Pittsburgh to lead the front office.  They underachieved under Travis Green, resulting in Bruce Boudreau taking over behind the bench and while they didn't get to the playoffs, they were much more competitive in the second half.  Now, Allvin has some big files to tackle this summer as he looks to get the Canucks back into the playoff picture.
Free Up Long-Term Cap Flexibility
The Canucks have enough flexibility that they can navigate through this summer, keep the core intact, and give it another go next season.  But that doesn't make the team any better and maintaining the status quo will only make it harder to make their cap situation work a year from now.  They have $48.5MM in commitments to ten players for 2023-24.  On the surface, that would appear to be manageable.  But J.T. Miller, Bo Horvat, and Brock Boeser aren't in that group while Elias Pettersson will be extension-eligible at that time as well.  If those players all sign for market value, that really will limit them in terms of upgrading their roster.  That's at the forefront of their offseason planning.
With that in mind, Allvin needs to find ways to create some extra space.  Tanner Pearson isn't on a terrible contract at $3.25MM for two more years but they could save some money by replacing him with a cheaper piece, perhaps Russian free agent Andrei Kuzmenko who they've been linked to.  Jason Dickinson was brought in to solidify the third-line center spot, receiving a commensurate contract in the process, one that pays him $2.65MM for the next two seasons.  He didn't fit in well in his first season with the Canucks, scoring just five goals in 62 games.  Finding a new home for one or both of them would give them a bit of wiggle room next summer when they'll really feel the cap crunch.
To that end, one other route they could look to go is finding a taker for the final year of Micheal Ferland's LTIR contract.  Yes, his $3.5MM AAV is an expiring deal next summer but if they can clear him out and stay out of using LTIR, they might be able to avoid the bonus overage penalty for 23-24 with Vasily Podkolzin and Nils Hoglander carrying sizable incentives in their contracts; Kuzmenko will likely have plenty as well if he winds up joining the Canucks.  They can manage the cap situation this summer but they will need to be aggressive in freeing up some flexibility from there.
Decide Miller And Horvat's Future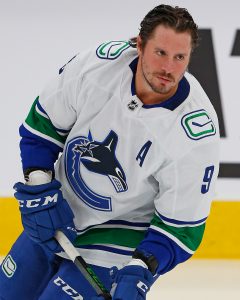 Let's dig into some of those players that are about to get a lot more expensive.  Miller is at the top of that list.  He's coming off a breakout season that saw him lead the Canucks in scoring and narrowly miss out on reaching the 100-point plateau.  He also has spent a lot of time down the middle which will only increase his value.  He's set to become an unrestricted free agent next summer and impact centers rarely become available.  Those that do get significant paydays and it's safe to say Miller will be heading for one of those compared to the $5.25MM cap charge he'll carry next season.  That expected contract is what had him in plenty of trade speculation leading up to the deadline.
Rutherford (who has made the rounds in the media lately) has made it clear in recent interviews that the team expects to be able to keep Miller in the fold.  Some of the recent comparable centers that have signed long-term deals (Mika Zibanejad, Tomas Hertl, and Logan Couture) all signed for $8MM or more while Sean Couturier came in just under that.  All received eight-year deals.  Miller's production was higher than theirs this season but that was the only time he was over the point-per-game mark which should keep the AAV on a max-term extension somewhere in the range of those comparables.
If they go ahead and sign Miller to a deal like that, it's going to make it harder to keep Horvat in the fold.  With Miller in the $8MM range and Pettersson needing a qualifying offer of $8.82MM in the 2024 offseason, can Vancouver really afford to have another high-priced pivot in Horvat?  While he won't command the type of money their other two centers make, he'll be in line for a raise on his $5.5MM AAV on his next deal and it wouldn't be entirely shocking if he surpassed the $7MM mark.
While they may want to keep both of them in the fold, it will be very difficult for them to do so.  Accordingly, they'll need to find out who is willing to stay and what the asking prices are and then decide whether to start shopping one now or keep both into the season in the hopes of getting back to the playoffs.  Some big decisions are on the horizon, to say the least.
Re-Sign Boeser
Most of Vancouver's cap space this summer is heading for Boeser.  Unlike Pettersson, he's subject to the old qualifying offer rules which means his salary from this season is his qualifying offer which puts the required tender at $7.5MM.  While the team certainly hoped that the winger would be able to emerge as a legitimate front-line winger, Boeser has yet to reach the 30-goal mark or record more than 56 points in a single season.  On the surface, that type of production for $7.5MM isn't ideal.
If the Canucks tender Boeser, the winger can simply accept the offer and become UFA-eligible in 2023 or try his luck with salary arbitration and hope for a small bump up.  Neither is an ideal scenario for Vancouver as it would make him expensive and a rental all at the same time.  It doesn't seem like there's any chance they'd non-tender him but they could opt for club-elected arbitration to try to get him a little cheaper as the required offer would be 90% or $6.75MM.
Knowing that, Allvin will be wanting to try to get this one resolved sooner than later.  A long-term deal at or around this rate wouldn't yield much in the way of savings but would ensure one of their top wingers will be around for a while.  If discussions on that front don't go well, however, it's reasonable to expect Boeser will be in trade speculation as well.
Revamp The Back End
On top of all of these decisions up front, Vancouver has some work to do on their defense as well.  Quinn Hughes has become a top offensive option and Ekman-Larsson is still a top-four rearguard even if he is no longer the player he was a few years ago with Arizona.  After that, however, things thin out quickly.
The Canucks don't have much in the way of offensive options behind Hughes (Travis Dermott might help a little in this regard), nor do they have a lot of depth on the right side.  Tyler Myers is miscast in a top role while Luke Schenn is a capable depth blueliner but not someone who should be higher than the third pairing in an ideal situation.  That's it for righties they can count on with Tucker Poolman's availability being in question after missing basically half the season with recurring headaches and migraines.  There's a case to be made that Vancouver needs a couple of top-four defensemen as a result although they'll be hard-pressed to afford even one unless they can find a way to free up some short-term money for next season and some long-term money knowing what lies ahead in the 2023 summer.  Allvin certainly has his work cut out for him.
Photo courtesy of USA Today Sports Images.  Contract information courtesy of CapFriendly.