Because of all the (deserved) attention that Igor Shesterkin gets in New York, it's easy to forget that the Rangers have another 26-year-old netminder that has shown flashes of brilliance over the last few years. Alexandar Georgiev sits with a .909 save percentage over 131 career appearances and is coming off a two-year contract that carried a cap hit of $2.45MM.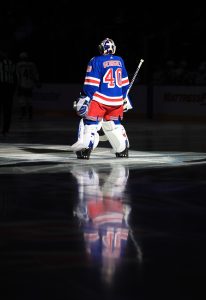 It's that cap hit that makes things difficult for the Rangers, as arbitration looms this summer should the team issue the $2.65MM qualifying offer that Georgiev is owed, a total that isn't all that appealing for a team that is going to be pushed right to the salary cap ceiling with some of the other extensions they will try to pull off. Georgiev may well end up unqualified altogether, which would make him an unrestricted free agent instead.
Because of that issue, Arthur Staple of The Athletic writes that Rangers general manager Chris Drury is "trying hard to find a trade partner" for Georgiev (who he refers to as "disgruntled"). Staple notes that the team was previously looking for a first-round pick in return, though that ask is now likely much lower now, as the offseason begins.
Undrafted, Georgiev made his NHL debut during the 2017-18 season after signing an entry-level contract and quickly showed that he could handle himself at that level. Unfortunately, the .918 save percentage he posted that first year has been steadily decreasing every season since and reached a career-low .898 in 2021-22. Giving up a draft pick or other asset just for the right to sign an .898 goaltender doesn't sound very appealing, though with the relative lack of options on the market this summer, perhaps it will still be necessary for one of the teams looking at a goaltending change.
If they do trade him–or even if they just let him leave unqualified–it would open a spot for a more veteran option behind Shesterkin in a more traditional backup role. While there may not be a ton of starting options, there are several pending free agent backups that could be had for much less than that $2.65MM qualifying offer.
Photo courtesy of USA Today Sports Images