Free agency is now less than six weeks away and many teams are already looking ahead to when it opens up.  There will be several prominent players set to hit the open market in mid-July while many teams have key restricted free agents to re-sign as well.  Next up is a look at the Penguins.
Key Restricted Free Agents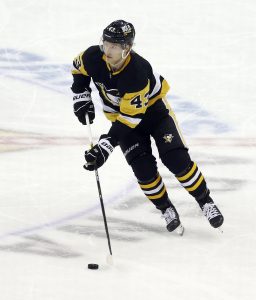 F Danton Heinen — Heinen joined the Penguins last offseason after the Anaheim Ducks chose not to issue him a qualifying offer, and he did everything asked of him in a depth role for Pittsburgh in 2021-22. Playing in 76 games, Heinen notched a career-high 18 goals serving in a middle-six role on the wing. Every aspect of his game took a gigantic step forward in Pittsburgh this season, and the former Bruins fourth-round pick truly showed his ceiling as an NHL player. 26 now, (he'll turn 27 before free agency opens on July 13), this is undoubtedly the best chance Heinen will have to earn a big contract in his career. With that kind of production, Heinen could likely earn a deal north of $2.5MM per year in free agency, likely even into the $3MM range. As a restricted free agent with arbitration rights, though, it's not a sure thing Pittsburgh qualifies him. The Penguins have some higher priority players to give money to this offseason, to say the least, and the arbitration risk with Heinen could be too high.
F Kasperi Kapanen — Kapanen's second season in Pittsburgh was mired in inconsistency. Failing to take a step forward in his development and even healthy scratched at times, Kapanen managed 11 goals and 32 assists after scoring 30 points in just 40 games last season. A strong shooter, Kapanen isn't the grittiest or most defensively responsible player either. He's also eligible for arbitration, like Heinen, but with his poorer season and inconsistent track record, the risk for an intolerable offer is likely lower than Heinen's. Considering Kapanen's ceiling as he demonstrated in 2020-21, the Penguins would likely want to keep him around with the hope that he finds that level of game again.
Other RFAs: F Justin Almeida, F Jordy Bellerive, F Kasper Bjorkqvist, F Jan Drozg, F Alexander Nylander, D Niclas Almari, D Pierre-Olivier Joseph, D Cameron Lee, D Will Reilly, G Alex D'Orio
Key Unrestricted Free Agents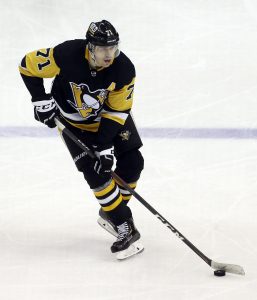 F Evgeni Malkin — There's little left to say about Malkin, who's cemented his legacy as one of the elite players in the history of the NHL with 1,146 career points and a gigantic trophy shelf as well. More importantly for the Penguins, he had a gigantic bounceback season this year from his eight-goal campaign in 2020-21. Although he was limited to exactly half the season (41 games) with injury, he regained his point-per-game pace and tallied 20 goals and 42 points. With his injury history though, and at age 35 already, anything more than a three-year deal for Malkin would be an ill-advised move. The Penguins will do everything in their power to keep him, no doubt, and he'll likely take a little bit of a pay cut from his previous $9.5MM cap hit to make it happen.
D Kris Letang — Letang had a monster season, finishing seventh among all NHL defensemen with 68 points in 78 games. He also finished fourth among defensemen with an average time on ice of 25:47. He's coming off a $7.25MM per season deal and, right now, he's worth at least that if not more. Also at age 35, though, giving Letang term is a gigantic risk. Letang is reportedly the team's first priority to re-sign, but it'll take more than the team's last offer of just under $7.25MM for four years. Whether or not the team and the player can come to a compromise on term and value remains to be seen.
F Rickard Rakell — Adding Rakell at the trade deadline turned out to be a smart move from general manager Ron Hextall, as the skilled but inconsistent winger scored 13 points in 19 games, reclaiming some of his former glory in Anaheim. Unfortunately, Rakell was injured in the playoffs and registered no points in two games, averaging just 9:26 per night over the two. The 29-year-old is evidently one of the best secondary scoring options the team has, but it's unlikely Pittsburgh can afford to give him the best offer available on the open market.
Other UFAs: F Brian Boyle, F Evan Rodrigues, F Anthony Angello, F Michael Chaput, D Nathan Beaulieu, G Casey DeSmith, G Louis Domingue
Projected Cap Space
The Penguins are currently over $23MM away from the $82.5MM salary cap Upper Limit, which is top ten in the league in terms of offseason space. Yet signing Malkin and Letang will likely take $15-16MM away from that number, leaving Pittsburgh with only around $7.5MM to work with to fill out the roster. With four forward spots and a backup goalie slot to fill, Pittsburgh will need to make concessions somewhere, either via trade or relying more heavily on their aging stars to carry the workload.
Photos courtesy of USA Today Sports Images.  Contract information courtesy of CapFriendly.