Earlier today Evgeni Malkin addressed his pending unrestricted free agency and future with the Pittsburgh Penguins, stating that he hopes to retire in Pittsburgh. For that to be possible, he must ink a contract extension with the only team he has ever known. Malkin, 35, has remained consistently productive as he has aged (42 points in 41 games this season) but has also struggled to remain in the lineup on a regular basis. So, his importance to the franchise and his strong production square up against the declining reliability of his health to make his upcoming contract situation an especially intriguing one.
Just as Malkin's contract is expiring, so is the contract of another Penguins franchise icon: Kris Letang. Letang, who is also 35, is coming off a season where he posted a career-high in points (68) and managed to stay in the lineup for 78 games, his most since the 2017-18 season. With Malkin and Letang both up for new contracts, the Penguins' front office (and new ownership group) has a fork-in-the-road opportunity to change the direction of the franchise.
Rob Rossi of The Athletic reported yesterday that the Penguins had offered Malkin and Letang matching three-year, $15MM extensions, offers that "did not sit well" with Sidney Crosby. While that is certainly a major development, if true, Elliotte Friedman of Sportsnet added some context to the situation in his recent 32 Thoughts blog. Friedman supported Rossi's reporting on the Penguins offering Malkin a three-year term on his extension, stating that the team has symmetry with the three years left on Sidney Crosby's contract in mind. He also reported that Malkin's camp and the Penguins were "far, far apart" on the actual dollar value of the extension, a separation that could make Malkin's return more challenging.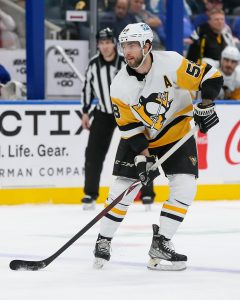 As for Letang, Friedman reported that his offer was larger than the one mentioned in Rossi's report. Friedman says that the "last he heard" was that Letang was offered a four-year contract carrying an average annual value just "a bit less" than his current AAV of $7.25MM. Given the annual values of contracts other high-end defensemen have received (Seth Jones, Darnell Nurse, and Dougie Hamilton, as comparables, got at least $9MM AAV on deals with significantly more term) it's an open question as to whether that reported offer will be sufficient to retain Letang's services.
Letang did say, per Mike DeFabo of the Pittsburgh Post-Gazette, that his "main goal" is to stay in Pittsburgh, so perhaps he will not enter the market eyeing a deal comparable to those other elite defensemen. But one does have to keep in mind that this very well could be Letang's last chance at a massive contract, due to his age. At the very least, it seems from Friedman's reporting that while the Penguins are apparently undertaking an earnest effort to retain their two franchise legends, there are still obstacles in the way.
Photo courtesy of USA Today Sports Images