Topics in this edition of the mailbag include Ryan Ellis' future with the Flyers, playoff discussion, Evander Kane's grievance process, and much more.  If your question doesn't appear here, watch for it in next weekend's mailbag.
InFletchWeTrust: Rumors flying around that Ryan Ellis may not want to be in Philly, and that is the reason for the yet-to-be-released nature of the injury that has kept him out all year…if true, sure seems like it just blows up Fletcher's retooling plan…could we possibly be looking at a season even worse than this one? Who's gonna take Ellis' salary on, especially after a four-game season?
I don't think there's much to those reports.  Yesterday, Ellis told reporters, including Olivia Reiner of the Philadelphia Inquirer, that it took visits to several specialists and a wide range of testing before they were finally able to identify the root cause of the injury – a multi-layered one in his pelvic region.  Perhaps the reason that it took so long to identify the injury wasn't because he wanted out and was being difficult but rather that the injury took a long time to identify?  That makes a lot more sense to me.
Ellis, who also clearly stated his desire to remain in Philadelphia in that same press conference, has been around long enough to recognize that missing 78 games due to injury in a season more or less tanks that person's trade value.  Even if he wanted out, he'd be smart enough to know that a trade request coming from his situation would almost certainly fall on deaf ears.  It doesn't matter who could take his salary on – he's not going anywhere.  He wouldn't have solved all of the issues for the Flyers this season but a full year from him would really make that back end a lot better.
Nha Trang: Alright, here's one: what team's going to be the surprise club that makes an unexpectedly deep postseason run?
My first thought is whoever comes out of the Minnesota-St. Louis series.  Both of those teams are good enough to give Colorado a good run for their money in the second round.  The Avs could get Nashville without Juuse Saros which could be a quick series, giving them a long layoff and with the intensity I expect we'll see between the Blues and Wild, that could hurt Colorado early in a potential series as they adapt after what could be an easier series against the Predators.  If that's enough to see Minnesota or St. Louis move on, they'd be going deeper than many expect.
I can't think of a great option from the East to pick as I don't really see any big upsets happening in the first round.  If Boston can get by Carolina (which could happen with the Hurricanes dealing with goalie issues of their own), they'd have a good shot at getting out of that side of the bracket which would surprise many but I don't think we'll be overly shocked at the results in that conference in the next couple of weeks.
urban shocker: Alternatively, which team is overrated and will fold like a cheap suit?
I'm hesitant to call a team overrated as it's a good accomplishment to make it to the playoffs.  But if you're asking me for a team that could be a quick out, Dallas comes to mind.  Teams with a negative goal differential typically don't fare well in the postseason (although there have been some exceptions) but I don't think their goaltending is good enough to shut down Calgary's attack while Jacob Markstrom and Calgary's back end are quite strong.
In terms of a perceived contender that could go early, Tampa Bay comes to mind.  Yes, they're the reigning back-to-back champions but that's actually a main reason why I'm a little leery about them.  They've played a ton of games the last two years, playing well into the summer.  We saw this season that the other teams that played deep into the playoffs last year get decimated by injuries (Vegas and Montreal, in particular) and I can't help but think the Lightning could get caught by that at some point.  Maybe it's not in the first round but I wouldn't be surprised if they go out earlier than expected.  Carolina could be in trouble depending on their goaltending situation as well.
W H Twittle: Injuries are a big part of the playoffs. Which teams are less likely to go into a tailspin if one of their top d-men gets injured and which teams are most vulnerable?
As Montreal showed last year, teams can overcome iffy defensive depth (their bottom two defenders hardly played) as long as they have a strong top four.  For me, that means the teams that have strong third pairings with players that can move up are the ones that shouldn't be hindered as much in that scenario although losing a top rearguard would be problematic for everyone.
In terms of teams that have the strong defensive depth to potentially overcome a top player going down, Colorado comes to mind.  Assuming he stays healthy, Bowen Byram is capable of moving into the top four and their depth defenders (Jack Johnson and Ryan Murray, when healthy) can be counted on.  Boston's depth is pretty strong as well and while Carolina isn't as deep, they have five top-four defenders on their roster that would help mitigate the loss.
On the other hand, Nashville's back end certainly isn't as deep as it once was and losing one of their better options would be quite costly, especially if it's coupled with Saros' uncertainty in goal.  The Kings have already been dealt a tough blow with Drew Doughty's absence and another core blueliner going down would be quite costly.  In the East, the Rangers look a little vulnerable on that front; I was a bit surprised they didn't do more on the back end at the deadline beyond adding Justin Braun.  Washington couldn't afford any upgrades at the deadline but their defense corps would greatly be thinned out with a key player going down as well.
Johnny Z: Is there a chance that Kevin Fiala signs an Offer Sheet? 16 teams could do a 5 x $8M.
You're correct in that there are that many teams that have the draft picks to do that type of offer sheet but of those, how many have the cap space to do it?  Of those that do, how many are rebuilding and couldn't really justify parting with three draft picks (a first, second, and a third) to bring Fiala in?  Now we're dealing with a pretty small list.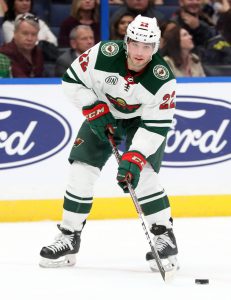 Is it possible that he signs an offer sheet?  In theory, sure.  Minnesota's vulnerable with their cap situation for next season and those are the teams to try to take advantage of.  But I don't think he's really a viable candidate for a couple of reasons.
First, I don't think his situation gets to the point where an offer sheet is an option.  Either he's traded before the start of free agency or the Wild have opened up the cap space to keep him by moving someone else so I'm not sure he gets to the point where a team could even offer him one.  But for the sake of discussion, let's say it gets that far.  I think Fiala would be more inclined to file for arbitration and take himself out of the offer sheet picture, get a one-year deal with a big raise, and hit unrestricted free agency in his prime.  There should be more interest in him as a UFA than as an RFA through an offer sheet so why not wait for a stronger market?  An offer sheet could happen but I don't think Minnesota should be concerned about the possibility.
selanne 76: Assuming that the Jets clean house from a coaching perspective, who comes in as Head Coach to shake up and demand accountability from this leadership group? Will it even be the same leadership group?
Assuming Dave Lowry isn't back behind the bench next season, this will be one of the biggest decisions of GM Kevin Cheveldayoff's tenure.  This is a team that's built to win now, not a few years from now.  For me, that's a strike against most of the first-time head coaching candidates; they need someone who is going to get under their skin quickly and whip them into shape.  A few years from now, the act will wear thin and that will coincide with a likely rebuild.
Writing those sentences out, John Tortorella immediately comes to mind.  He gets buy-in from his teams quickly and isn't going to put up with the varying levels of effort that plagued the Jets this season.  They need that but I don't think he's necessarily the right fit to unlock the offensive potential this group has.  If Vancouver doesn't get something done with Bruce Boudreau, I like that fit.  Jim Montgomery is someone that's in between those two.  He has some experience and success running an NHL bench in Dallas, albeit playing low-event hockey that may not be the best for Winnipeg.  But I think he can fix some of the defensive concerns they have and be a fresh voice that this team would certainly benefit from.  I think he'd be a good fit overall for them so I'll pick him.
I think it will largely be the same core group in place although Mark Scheifele's comments to reporters, including Sportsnet's Ken Wiebe postgame today certainly raise some eyebrows.  Cheveldayoff is known to be one of the safer general managers out there and assuming they do bring in a new voice (which could turn into several if there are changes on the bench as well), he may be inclined to think that will be the spark they need.  I lean that way myself, actually.  Winnipeg has a pretty strong core group in place.  A fresh voice and some depth improvement may very well be enough to get them back into the playoff picture next season.
SpeakOfTheDevil: Assuming Ruff and his entire staff are fired by the Devils, who do you see replacing them behind the bench? Really looking for coach, two assistants, and goalie coach here.
I don't see changes coming in New Jersey, to be honest.  I don't think it's really needed.  Yes, it was an ugly season but this wasn't a playoff team heading into the year.  We saw Jack Hughes take a big step forward offensively while Nico Hischier and Jesper Bratt had career years as well.  That's a good thing.
I view Lindy Ruff as a transitional coach.  He's not the one that's going to lead them back into contention but his job is to maximize the development of some of their core youngsters.  That's what's happening.  When the time is right for them to get back into playoff contention, then bring in the coach that you expect will be around for a while.  They're not there yet.
You've asked about goaltending in past mailbags and that was a big part of their problems this season.  But that's not on the head coach.  When you're trotting out an AHL tandem, that can't even all be pinned on the goalie coach although Mackenzie Blackwood's struggles should be noted.
It's hard to pinpoint specific candidates for assistant coaches.  They're usually picked by the head coach and as I said, I don't think a change is coming.  As for a goalie coach, if they were making a change there, it'd probably be for another first-time coach who worked on the development side before.  Basically, the same path as Dave Rogalski.  There's no point in me guessing a name as I'd basically be picking names at random; there's no publicized list of goalie coaches that are on the verge of getting an opportunity.
I know you want new names on here but I think they keep the status quo, make some changes in goal, reallocate P.K. Subban's salary to fill some other areas of need, and see where that gets them.  Probably not a playoff spot but a step or two closer and then they'll assess if the time is right to bring in the coach that's going to help them take that next step forward.
Millville Meteor: How does this year's draft class stack up against past classes and the 2023 class? Deep or thin beyond Wright and Cooley?
YzerPlan19: To add to that, would you consider Wright the consensus #1? Who is unseating him if not? Who are your top 5 in order?
I'm going to qualify this by mentioning that I haven't done a ton of draft research yet so I can't dig too deep into this, especially in terms of thinking of player comparables to compare this group to previous draft classes.  Personally, I want to see how things go in the major junior playoffs and the World Championships before starting to hone in on some player-specific details and finalize my own rankings.
But the sense I get is that the top of this draft class is pretty deep; teams picking towards the back half of the lottery should still have a good chance of landing a core piece.  However, it doesn't have a true franchise player like the 2023 draft is expected to in Connor Bedard.  There are going to be several quality impact players but I don't know if we see a superstar player come out of this group.
As for my top five as things stand:
1) Shane Wright, C, Kingston (OHL) – He didn't get off to a great start but his second half has been quite strong.  He looks like he should be a top-line two-way center and those types of players have long and fruitful NHL careers.  I wouldn't call him a lock to go first overall but it's his spot to lose and should be viewed as the consensus number one.
2) Logan Cooley, C, US NTDP (USHL) – He's a bit undersized but his offensive skill-set is quite impressive.  And if a team thinks he can stick down the middle – he should be able to – it'd be hard to see him slipping past here.
3) Simon Nemec, D, Nikta (Slovakia) – He's now the consensus top defenseman in this draft class.  He's a mobile two-way defenseman who has been playing in the pros on a full-time basis for the last two seasons.  He's also a right-shot rearguard which is always in high demand.
4) David Jiricek, D, Plzen (Czechia) – Had he not been injured at the World Juniors, he could have pushed Nemec for the top blueliner.  Another right-handed two-way rearguard, Jiricek could fall due to how much time he has missed but a potential top-pairing defender would be hard to pass up.
5) Juraj Slafkovsky, LW, TPS (SM-liiga) – The Olympic standout has shown flashes of offensive dominance but was quiet for stretches of the year as well.  But he also played a regular shift in a strong league which counts.  Matthew Savoie could also play his way into that spot, depending on how his playoffs go.
rickg: When will the results of the Evander Kane grievance be announced? The Sharks were given the go-ahead by the NHL main office and Bill Daly the NHL Deputy Commissioner right when the situation came to a head. Now almost four months later, the Sharks are still being held hostage by this whole grievance process.
The proceedings aren't even over yet actually.  The first hearing was held back on April 19th but they didn't get through everything and a second date will need to be set.  With Edmonton now in the playoffs, it might be a while before that gets set as Kane's camp won't want to take Kane's focus away from the postseason.
I get the uncertainty from a San Jose perspective but I don't know how worried they are about this from a cap perspective.  They clearly felt they were within their rights to declare a material breach of contract and the NHL signed off on it.  They don't do that if they think there's a strong chance that his contract is getting retroactively reinstated on their books in its entirety after the grievance hearings.
Obviously, I'm speculating here but I think their goal is to quietly reach a settlement along the lines of the one that Mike Richards and the Kings worked out ($10.5MM spread out over 17 years) where he's on the cap for a long time but it's small enough on an annual basis that it doesn't materially affect their salary cap situation.  If that's the end goal or expectation, it shouldn't be holding them up from doing much.
I get your concern as the worst-case scenario isn't pretty for the Sharks and would force their hand to cut some salary in a very unfavorable situation.  But assuming this eventually winds up being settled (the delay in the second hearing can only help on that front), I think they'll at least come out okay without having to drastically dump money.  It'd obviously be nice to have some certainly one way or another but I don't think we'll see that in the immediate future.
Photo courtesy of USA Today Sports Images.