With the Florida Panthers now swept out of the Stanley Cup Playoffs, many questions will arise this offseason about the future of this year's Presidents' Trophy winners. One of those questions will be the future of forward Claude Giroux, who the Panthers acquired at the Trade Deadline. The longtime captain of the Philadelphia Flyers was moved for what many viewed as an underwhelming return, and despite Florida's early elimination, Giroux performed with renewed vigor on a better team. He had eight points in 10 playoff games but piled up assists in the regular season, notching 20 in 18 games with the Panthers. He still managed 42 points in 57 games with the Flyers prior to the trade on a massively struggling team, too. His eight-year extension that kicked in prior to 2014-15 is now expiring, and Giroux could hit unrestricted free agency for the first time in his 15-year career.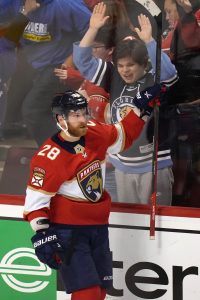 Giroux has already stated his desire to return to South Florida if the opportunity arises. However, with the worst year of the Keith Yandle buyout hitting the Panthers next season, the team has just under $4MM in projected cap space for the 2022-23 season, according to CapFriendly. That's already an impossible number to sign Giroux unless he takes a serious old-man discount, but the team also has a handful of roster spots to fill on both forward and defense. The team could likely opt to trade Patric Hornqvist (with a limited no-trade clause) and the final year of his $5.3MM cap hit, though, which could seriously open the door for a Giroux return.
If Giroux can't work out a return to the Panthers organization, though, teams will come prepared with serious offers for his services. The 34-year-old can still be counted on for at least 20 goals and 65/70 points in a full season, and he remains a very good defensive presence and faceoff man. Giroux is still boasting a streak of five seasons above a 55 percent mark in the faceoff circle, and although his skill set is now best used on the wing, he's still valuable as a faceoff specialist. It's hard to imagine Giroux receiving less than $6MM or $7MM, although a four-year term is likely an extreme maximum for Giroux at this point.
His hometown Ottawa Senators have been constantly linked to Giroux over the past few years, and the team hasn't been quiet about their desire to improve this offseason drastically. With the team boasting nearly $25MM in cap space this offseason, they have the room and then some to make that sort of acquisition.
Is a return to the Flyers in the cards? It's doubtful. Giroux hasn't made a Stanley Cup Final in 12 years and he doesn't have a ring. It's that fact that makes it seem like a discount to stay in a team on the rise in Florida would make the most sense for Giroux. However, if the Senators play their cards right and their prospects develop properly, they could be in a position to win Cups by the end of a Giroux contract as well. Other teams in contending positions may not have the cap space to afford Giroux's services, but it's much too early to eliminate that scenario.
Photo courtesy of USA Today Sports Images