It was another disappointing exit for Filip Forsberg and the Nashville Predators, losing in the first round for the fourth season in a row. The 27-year-old is now facing a career-defining decision as his offseason begins and free agency approaches. Forsberg will be an unrestricted free agent in July after spending his entire NHL career to this point in a Predators jersey, and didn't give up much when he spoke to reporters yesterday about the situation:
I've said that since day one, the goal is to come back here. And the business side is completely different than the on-ice side, as you guys are aware of, and just kind of have to wait and see and play it out. There has been obviously some progression throughout the season from where we started in September, and me and my agent and David and Brian and the management. There's going to be an ongoing conversation in the process, and we'll just have to see where we end up.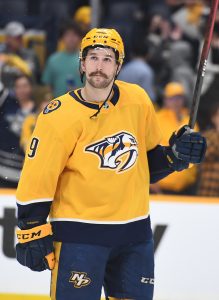 You couldn't script a better regular season to be negotiating on the back of, as Forsberg set career highs with 42 goals and 84 points, all in just 69 games. With so much of his production coming at even-strength (32 goals), there's likely no limit to the number of teams that could insert him into a lineup and receive a huge offensive boost. With the Predators out, the countdown is on until Forsberg and his representatives get a chance to talk with the rest of the league.
After a decade in Nashville, Forsberg has always maintained that his desire is to stay with the organization that traded for him all those years ago but there have been at least some signs to point to the possibility of him leaving. Namely, the organization quickly worked out multi-year extensions with Mattias Ekholm, Mikael Granlund, and Juuse Saros last summer, deals that eat up quite a bit of cap space moving forward. With Matt Duchene, Ryan Johansen, and Roman Josi also on the books for a combined $25MM per season, it's not like there is a ton of room to fit in another huge contract.
Still, it's hard to imagine the Predators offensive attack without Forsberg in the middle of it. He became the franchise leader in goals this season, passing David Legwand in 400 fewer games, and he sits 14th in the entire league since his rookie season. That history–especially buoyed by his exceptional 2021-22 campaign–is going to make Forsberg able to demand a substantial raise on the $6MM he has earned in each of the last six years, and a long-term deal to go with it.
Another thing to remember, and something that potentially could affect negotiations, is general manager David Poile's aversion to giving out no-trade clauses. The only player on the Nashville roster that holds one is captain Roman Josi, and Forsberg has seen the lack of trade protection play out in recent years with the departures of Viktor Arvidsson and Ryan Ellis. There's almost no doubt that he could secure a full no-movement clause elsewhere if he decides to test the market later this summer.
Photo courtesy of USA Today Sports Images