After looking at Darcy Kuemper's upcoming contract situation, we move east and take a look at another tricky contract situation, this time regarding New York Rangers center Ryan Strome. Since arriving in Manhattan in exchange for Ryan Spooner, Strome has begun to realize the potential that got him drafted fifth-overall in 2011. Considering the low cost in a trade that it took to acquire him, Strome has been an invaluable "found money" top-six center as the Rangers have clawed their way out of the throes of a major rebuild to become a playoff contender this season. But given the general cap situation of the Rangers, whether the team will be able to keep Strome beyond this season is unknown.
As previously mentioned, this season has been a momentous one for the Rangers. After the famous "letter" sent out by the former regime led by Jeff Gorton and John Davidson, communicating to the fans that a rebuild was in store, the Rangers spent several years building a prospect pool and adding younger talent that could help them compete long-term. With some extra lottery luck and the addition of players who were dead-set on playing for the Rangers (such as Norris Trophy winner Adam Fox and superstar winger Artemi Panarin) the Rangers have this season escaped that rebuilding phase and become a legitimate playoff contender within a stratified Eastern Conference.
In order for the Rangers to become a legitimate playoff contender, many players have elevated their games since arriving in New York, perhaps none more significantly than Ryan Strome. Before his trade to New York, Strome was going through a difficult time as an Edmonton Oiler. His first season there, 2017-18, was decent, as he posted 13 goals and 34 points in 82 games, but the beginning of his second season was a nightmare, as he was only able to generate two points in 18 games before being shipped to New York. In his first season as a Ranger, Strome flashed greater offensive capability, scoring 18 goals and 33 points in 63 games. Since that first season, Strome has blossomed into a legitimate top-six center, and in his most recent three seasons in New York, Strome has 155 points in 191 games, a 67-point 82-game pace. That's production fit for a high-end second-line center or even a low-end first-line center, meaning Strome has played himself into becoming one of the rarest and most valuable commodities in the NHL.
The Rangers have had Strome at a $4.5MM cap hit, but his contract is expiring and he is set to become an unrestricted free agent. Players like Strome, centers who can score at a 67-point pace, rarely hit unrestricted free agency, and when they do, they get paid. Matt Duchene, coming off of a tumultuous two-year stretch where he scored at a 68-point pace, received a seven-year, $56MM contract carrying an $8MM average annual value. Ryan Johansen and Tomas Hertl, two centers with similar scoring profiles in terms of raw production to Strome, also received deals worth around $8MM per year. Kevin Hayes, a center with a more well-regarded two-way game than Strome but without Strome's production, got a seven-year contract worth $7.14MM per year from the Philadelphia Flyers. In a world where centers scoring at the pace Strome has scored at these past three seasons are routinely getting to the $8MM mark on long-term deals, and centers who don't have Strome's numbers are clearing $7MM, would it be unreasonable to believe that this would be the target for Strome's representation as well?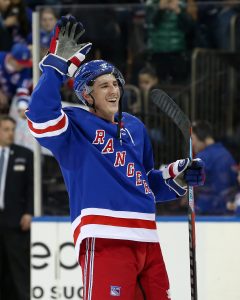 Furthermore, if getting a contract comparable to Johansen, Duchene, Strome, or even Hayes is the target, is that a deal the Rangers are going to be able to do? The team already has significant money tied into core players such as Panarin, Chris Kreider, Jacob Trouba, and Mika Zibanejad, and Fox's mammoth $9.5MM-per-year extension is set to kick in at the start of the next league year. Additionally, the team has potential extensions for Kaapo Kakko, K'Andre Miller, and Alexis Lafreniere to either immediately or eventually consider. With an $8.5MM center already on the books, it's not easy to see how the Rangers could match a major, market-price offer for Strome's services, especially given that as of the most recent update, no extension talks between Strome's camp and the Rangers have been held.
With Strome's recent success as a scorer must come one major reservation. Beyond just the fact that Strome's production has dipped this year, (he has 47 points in 65 games, which is a 59-point pace) the role that Strome has settled into in New York, the role that has brought him this offensive success, has been as Artemi Panarin's center. Panarin, as one of the most prolific scoring wingers in the NHL, is the driver of play on that line. The offense flows through him, and that does add some risk to Strome as a potential free agent. With much of his production coming as Panarin's center and as a supporting character in the Rangers' blockbuster power play, one has to wonder if Strome is the kind of center who can drive his own line. Before his Rangers tenure, Strome's best offensive showing in the NHL was when he played next to John Tavares on the Islanders. If he is someone NHL decision-makers tag as being a strong supporting scorer rather than a true play-driver who can run his own line from the center position, that could damage his ability to land a contract of the same magnitude as the centers mentioned earlier.
Overall, Strome's contract situation is a fascinating one. The numbers are there, there is no doubt about that. But given his level of production, he may not be able to sign the type of contract he might want in New York, meaning he could be a big-ticket free agent elsewhere. And given the role, he has played next to Panarin and on a juggernaut powerplay, perhaps there is more risk to his free-agent profile than there might seem to be. With all those factors in place, one thing is abundantly clear: Strome's free agency could be one of the most interesting offseason storylines in the NHL.