This past summer, the Colorado Avalanche looked to be in a precarious position with their goaltending. Philipp Grubauer, their regular starter, hit free agency and opted to sign a major $5.9MM AAV contract with the Seattle Kraken, leaving Colorado as a team with Stanley Cup aspirations but no goalie to backstop them to that point. To solve the issue, Avalanche GM Joe Sakic made a deal with the Arizona Coyotes, a soon-to-be division rival, to acquire goaltender Darcy Kuemper for Conor Timmins and two draft picks, including a 2022 first-round pick. The trade allowed Colorado to acquire an accomplished goaltender to get out of their difficult situation, but the long-term implications of the trade were cloudy. Kuemper was acquired as a player with only one year left until free agency, meaning there was no guarantee that this trade would be anything but a one-year marriage. But with the current state of the Avalanche, it's likely both parties would like to continue their partnership.
The Avalanche sit first in the NHL with a 49-14-6 record, and Kuemper's play has been a large part of their success. In 48 games this season Kuemper has a 32-9-3 record, a .925 save percentage, and a 2.37 goals against average. His save percentage ranks fourth in the league and this is all factoring in Kuemper's difficult start to the season. Until Kuemper came back from a lower-body injury in early December his save percentage was mired in the low .900's. As Peter Baugh of The Athletic notes, since that point when Kuemper returned from injury, he has cemented his place as one of the league's top goaltenders and has a legitimate chance to finish the season as not only a Vezina Trophy contender but also a Stanley Cup champion.
It may seem like based on all those factors Kuemper is a lock to extend in Colorado, but the reality of his situation is not that simple. Sakic is a patient, calculated general manager who rarely makes deals he does not totally believe are in the best interests of his team. Kuemper is in line for a massive contract this offseason. Scoring is at a high point for this era of hockey, and fewer and fewer teams can truly be counted as having a "franchise" goaltender, meaning an offseason bidding war for Kuemper's services could be a near-inevitability. Despite his accomplishments, one has to wonder if Avalanche are in the position to be able to outbid other suitors for Kuemper. The expiration of superstar Nathan MacKinnon's $6.3MM AAV deal after the 2022-23 season looms large on everything Colorado plans to do, and even with that in mind, the Avalanche have a tricky free agent situation this offseason.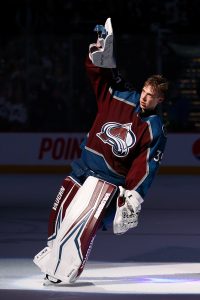 Setting aside Kuemper's situation, the Avalanche still have other major contributors set to hit free agency. Nazem Kadri, the team's breakout star and crucial top-six centreman, is in line for a major raise having posted 83 points in 65 games this season. Andre Burakovsky is an important winger for the team, and he looks set for an improved contract given his 49 points in 67 games of production. Two strong two-way wingers, Artturi Lehkonen and Valeri Nichushkin (who is now scoring at a 30-goal, 64-point pace) are also on expiring contracts, as pending restricted and unrestricted free agents, respectively. And then there is Josh Manson, the team's recent trade acquisition, who also is a pending free agent. This is all to say that Sakic and the entire Avalanche front office have a herculean task ahead of them if they want to keep the band together, and Kuemper could be the sort of player who slips through the cracks.
If the way the Avalanche let Grubauer walk is any indication, the team has a certain price they are willing to allocate to goaltenders and are unwilling to go above that number for a player if they don't deem him worth it, regardless of the sort of dangerous situation holding such a line could get them into. So might they have that line with Kuemper? And if they do, will it be high enough to keep Kuemper away from the major offers he is set to receive from other teams?
Given his recent brilliance and overall resume since becoming a full-time starter with the Coyotes, as well as the overall lack of "franchise" goaltenders across the league, could Kuemper reasonably target an extension near $10MM AAV similar to Carey Price, Sergei Bobrosky, or Andrei Vasilevskiy? He doesn't have the individual accolades those goalies had when they received their contracts, meaning a figure closer to $6MM AAV where Jacob Markstrom and Connor Hellebucyk sit would probably be more reasonable. But could the market say otherwise? And if so, will the Avalanche be able to keep up?
Photo Courtesy of USA Today Sports Images