The Colorado Avalanche missed out on retaining their starting goaltender when Philipp Grubauer decided to sign with the Seattle Kraken, but have found a replacement. The Avalanche have traded defenseman Conor Timmins, a 2022 first-round pick and a conditional 2024 third-round pick to the Arizona Coyotes for Darcy Kuemper.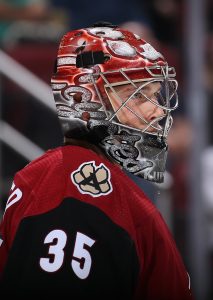 The Avalanche can likely afford a price like that, given how many good young defensemen they already have in the organization, but it's still a lot to pay for a goaltender under contract for just one season. There's obviously a chance he will sign an extension with Colorado, but until he does, the Avalanche are pushing a few important chips to the middle after losing the bidding on Grubauer. During today's TSN coverage of the trade deadline, Pierre LeBrun explained that Frederik Andersen was Colorado's backup plan if they couldn't re-sign Grubauer, but the former Toronto Maple Leafs netminder couldn't wait and ended up with the Carolina Hurricanes when a strong offer was tabled.
There was really no other option for the Avalanche after the goalie carousel had stopped spinning today. The team needed a strong, experienced option that could potentially help them contend for the Stanley Cup, and those weren't readily available on free agency or the trade market. Kuemper was the obvious choice, given his strong play over the last few years and overall NHL resume.
In 242 appearances, the 31-year-old netminder has posted a .917 save percentage, including a .922 in his three years with Arizona. He finished fifth and seventh in Vezina voting the two years previous to this season, and recently led Team Canada to a gold medal at the IIHF World Championship. He will now be asked to carry a heavy load for the Avalanche, splitting time with Pavel Francouz but being the obvious starting option. Kuemper's never really had this kind of a dominant team in front of him, except perhaps for the start of 2017-18 when he served as the backup for the 45-29-8 Los Angeles Kings. During that 19-game stretch, he posted a 10-1-3 record with a .932 save percentage, numbers the Avalanche hope repeat now that he's on a Cup contender in Colorado.
For Arizona, today played out perfectly as they waited to move Kuemper until a team was in a desperate situation. The team will not only add another high pick to their overflowing cupboard–they will now pick seven times in the first two rounds of 2022—but also bring in Timmins, a legitimate defense prospect that could very well slide in on the top pairing beside Jakob Chychrun. It's not that Timmins projects to be that high on most depth charts, but the Coyotes only have a few NHL-level defensemen on the books.
The team has been desperately needing an influx of young talent and GM Bill Armstrong has done exceptional work this offseason to bring it in. The team has used cap space several times to add assets, while also flipping their most valuable pieces for future talent. Kuemper was unlikely to be in net the next time the Coyotes were competitive, so why not move him now when the price is so high.
Photo courtesy of USA Today Sports Images
Craig Morgan of AZ Coyotes Insider was first to report the trade