The Colorado Avalanche were rumored to be preparing for a big move, and a big move they have made. The Avalanche have acquired Josh Manson from the Anaheim Ducks in exchange for Drew Helleson and a 2023 second-round draft pick. The Ducks are retaining half of Manson's remaining cap hit.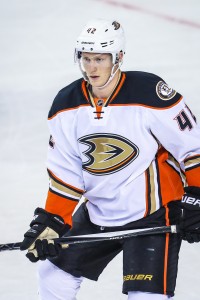 When it was announced over the weekend that Gabriel Landeskog is going to undergo surgery and Samuel Girard will be out at least a month, there was an immediate buzz around the Avalanche. Moving either of those players to long-term injured reserve would open up some significant cap space for Colorado to make an addition at the trade deadline. While they may not even be done, adding Manson show just how serious the Avalanche are this season as they chase the Stanley Cup.
In fact, even without moving players out the Avalanche can fit in Manson given the salary retention. The 30-year-old defenseman carries a $4.1MM cap hit in the final season of a four-year, $16.4MM contract signed in 2017. By keeping half, it makes Manson a relatively inexpensive financial asset for the Avalanche with just a small chunk of the season remaining.
A move like this also shines some light on what the market prices are like around the league, as even with the retention the Ducks were unable to secure a first-round selection. While the second-round pick is a good one–especially in 2023, a draft that is being heavily targeted in trade talks–the most interesting part of this trade might be the inclusion of Helleson. Selected 47th overall in 2019, the 20-year-old right-shooting defenseman has turned into a star at Boston College and recently took part in the Olympics for Team USA. Helleson still needs to be signed to an NHL contract after his college career comes to an end, but the Ducks very well could have found a direct replacement for Manson in the deal–one that is a decade younger.
Notably, Manson also held a 12-team no-trade clause, so he had some control over his deadline situation. New Ducks GM Pat Verbeek had been clear recently that while he hoped to re-sign his big pending free agents, if he wasn't able to there would be no hesitation in trading them away. That's in spite of the fact that Anaheim has been better than expected this season and could potentially still make the playoffs; Verbeek has a bigger prize than just the postseason on his mind when making deals like this.
Manson himself has taken a bit of a step backward in recent seasons, but is a prototypical playoff-style defenseman, always looking to use his physicality to wear down the opponent. He doesn't provide nearly the same kind of offensive upside that a player like Girard brings, but he'll immediately add some depth, toughness, and defensive acumen to the Avalanche group.
Kevin Weekes of NHL Network broke the news, while Elliotte Friedman of Sportsnet confirmed the salary retention and draft pick details. 
Photo courtesy of USA Today Sports Images