After a long, successful career, Ryan Getzlaf will hang up his skates at the end of this season. The Anaheim Ducks captain announced today that he will retire following the 2021-22 campaign, having only ever played for one franchise. In a statement, Getzlaf explained:
It's been an honor to play in the NHL and spend my entire professional career with one organization. None of this would have been possible without my family, who offered unwavering love and support each step of the way. Thank you to our owners, Henry and Susan Samueli, for leading an organization committed to success on the ice, but more importantly, to making a positive impact in our community and to those in need.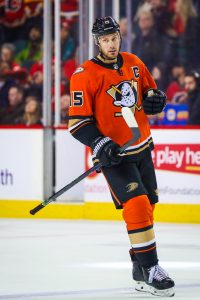 Getzlaf, 36, played 17 seasons with the Ducks, debuting in 2005 after the lockout and basically never leaving the lineup. Named captain in 2010 after the departure of Scott Niedermayer, he has been the face of the franchise for more than a decade. Now, as the team transitions to a new core, he'll step away from the game and allow younger players like Trevor Zegras to take the spotlight in Anaheim.
It's been an incredible career for the 19th overall pick in 2003. Getzlaf has played in 1,150 games, registered 1,013 points, and raised the Stanley Cup in 2007. He sits as the team's all-time leading scorer, with 200 more assists than Teemu Selanne who sits in second place. In fact, Getzlaf's 731 career assists are actually good for 51st on the all-time NHL list–he could climb into the top-50 by season's end.
There was also plenty of international success for the big center. Twice Getzlaf took home Olympic gold medals as part of Team Canada, while also winning World Cup, World Junior, and U18 golds along the way. While he never secured a World Championship gold to enter the "Triple Gold Club," he did serve as captain of Canada at the event, in which he participated twice. Part of the famous 2003 draft class that will undoubtedly go down in history as one of the best ever, he sits just 21 points behind Eric Staal for the top in the entire group.
Even this year, at the end of his journey, Getzlaf has shown some of his patented playmaking ability, racking up 28 assists in 49 games. While the days of his prime are long behind him, he still has been rather effective for the Ducks in his final year.
Known outside the rink for his community efforts, Getzlaf was also praised by Ducks owners Henry and Susan Samueli for his work off the ice:
We are so proud of everything Ryan has accomplished in an amazing 17 years playing for the Ducks. While we will all remember his leadership qualities on the ice, it is his community-first approach that has cemented his legacy in Orange County. In addition to spearheading the Ducks Learn to Play Program and numerous other organizational charitable initiatives, he launched his own such event with the Annual Getzlaf Shootout to benefit CureDuchenne, raising over $4.27 million to date.
Getzlaf never did win any major individual awards, though he finished second in Hart Trophy voting in 2014. Like his playstyle that always favored setting up a teammate over taking the shot himself, his career will be remembered more for team success–in the NHL and internationally–than any personal accolades.
Photo courtesy of USA Today Sports Images