Feb 9: Rask has officially announced his retirement, explaining that his body just wasn't responding the way he hoped. In a long statement, he thanked the organization, fans, and his many teammates for all of the support over a long career.
Feb 8: Two sources reported to The Athletic's Fluto Shinzawa today that the Boston Bruins don't expect legendary goaltender Tuukka Rask to come back and play again this season, adding that Rask may finalize a retirement decision within the next few days.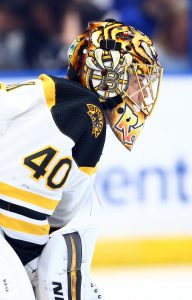 Rask has not played since January 24th, allowing five goals on 27 shots to the Anaheim Ducks. He backed up the team's next game but has been on injured reserve since that time, reporting discomfort in his hip after having surgery on it this past offseason.
While it's not a certainty that Rask will retire, it certainly seems like the most likely option for the 34-year-old goalie. His hip surgery required extensive rehabilitation, missing nearly six months with the injury before returning to Boston in early-mid January. He hasn't been his usual self, posting just a .844 save percentage and 4.28 goals-against average in four starts this year.
If this does end up being the end of Tuukka Time in Boston, he leaves as undoubtedly the best goaltender in franchise history. He's first among all Bruins goalies all-time in wins (308), games played (564), and tied with Tim Thomas for best save percentage with a minimum of 100 games played (.921).
There was only one thing missing from his resume with a Vezina and Jennings Trophy already under his belt — a Stanley Cup of his own. He was the team's backup during the 2011 Stanley Cup victory but never played a game on the playoff run behind Thomas. That was the goal he'd hoped to achieve this season, forming a formidable goalie trio with Linus Ullmark and Jeremy Swayman.
With that, though, the team should still be set in goal for the rest of the season. Both Ullmark and Swayman — especially Swayman — have played like legitimate starters in Boston and continue to do so. While it'll certainly be an emotional day if Rask does announce his retirement, the team's solidified there for the near future.
Photo from USA Today Sports Images