One St. Louis becomes a coach, another St. Louis extends one. The St. Louis Blues have signed Craig Berube to a three-year extension, taking him through the 2024-25 season. The Blues coach released a short statement on why he chose to stay:
I've enjoyed working with (General Manager) Doug Armstrong and (Chairman) Tom Stillman, working with the coaching staff and training staff and all the players we have here. Why would I want to go anywhere else? I love it here.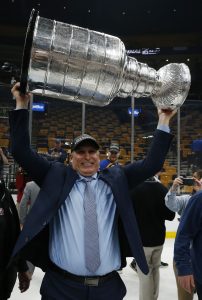 Berube, a veteran of more than 1,000 games as a player in the NHL, took over the Blues as head coach during the 2018-19 season and led them all the way to a Stanley Cup championship. When he replaced Mike Yeo, the team was 7-9-3 and floundering in the Central Division. They would go 38-19-6 after making the switch, climbing all the way from last place in the NHL to second in the Central, then dispatching the Winnipeg Jets, Dallas Stars, San Jose Sharks, and Boston Bruins en route to the organization's first Stanley Cup.
Signed to an extension after that year ended, Berube was in the final season of his deal and would have become a free agent without another contract in place. He now has some security and can continue what has been an outstanding job behind the Blues' bench. In 234 games as head coach of the Blues, he has a 133-71-30 record in the regular season.
Interestingly enough though, Berube's recent postseason record hasn't been very good. The Blues were washed out of the first round in six games in 2020 by the Vancouver Canucks, and then swept by the Colorado Avalanche last summer. This year, should they make it again, will be a big test for the group that was so physically dominant in the 2019 playoffs, punishing any opponent that stood in their way. St. Louis currently sits fourth in the Central but securely in the first wild card position.
Photo courtesy of USA Today Sports Images