Four years ago today was the 2018 NHL trade deadline, one that featured several notable swaps, including Evander Kane to the Sharks, Tomas Tatar to the Golden Knights, and Paul Stastny to the Jets.  But the biggest one of all came from the Lightning and Rangers.  New York had released their letter committing to rebuilding their franchise earlier in the month and had already made some moves to shore up their future.  This was their biggest one with Tampa Bay moving out several future assets in an effort to win now.
The Lightning picked up defenseman Ryan McDonagh along with winger J.T. Miller in exchange for winger Vladislav Namestnikov, center Brett Howden, defenseman Libor Hajek, plus a first-round pick in 2018 and a second-rounder in 2019.  It has only been four years but it's safe to say it worked out a whole lot better for Tampa Bay than it did for New York.
McDonagh immediately became a stabilizing force on the back end for the Lightning.  They didn't need him to play upwards of 24 minutes a night as he was with the Rangers but gave them someone beyond Victor Hedman and Anton Stralman that was capable of shouldering a key load on the back end.  Then-GM Steve Yzerman wasted little time working on an extension with McDonagh and as soon as he became eligible to sign one in July, McDonagh inked a seven-year, $47.25MM deal to ensure he'll be sticking around for the long haul.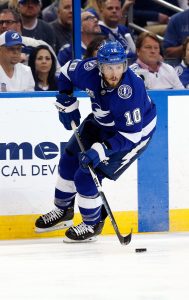 Miller didn't exactly have the same fate.  He was quite productive down the stretch for Tampa Bay, averaging nearly a point per game after the trade but struggled in the playoffs and didn't produce as much the following year.  That resulted in him being traded to Vancouver for a pair of draft picks, including the 2020 first-round selection that they ultimately flipped to New Jersey in 2020 as part of the Blake Coleman trade.  Coleman, of course, played an important role on Tampa Bay's Cup-winning teams in 2020 and 2021 so even though Miller didn't have the type of impact they were hoping for, they still ultimately got a good return out of his inclusion in the trade.
As for what the Rangers got, things haven't gone quite so well.  Namestnikov was quiet down the stretch but his performance with Tampa Bay before the trade was still good enough to land him a two-year, $8MM contract that would take him to unrestricted free agency.  One year later after a quiet season, he was flipped in a cap-clearing trade for minor league blueliner Nick Ebert and a fourth-round pick in 2021 that was used on Kalle Vaisanen.  Not a great return on the impact forward they were hoping Namestnikov would be.  He's now in Detroit and is a candidate to be moved by March 21st.
Howden was a first-round pick of the Lightning back in 2016 (27th overall) and profiled as a key two-way center after putting up some impressive numbers in junior.  However, that offensive output didn't materialize in the pros and after scoring just 16 goals in 178 games over parts of three seasons with the Rangers, they gave up on him, sending him to Vegas for a 2022 fourth-round pick.  Howden has actually done fairly well this season with 18 points in 39 games for the Golden Knights despite spending a lot of time on the fourth line.
Hajek was another player who impressed at the junior level and it looked as if he'd become a quality NHL defenseman before too long.  While he was a regular for a lot of last season, he was a fixture on the third pairing with sheltered minutes and this year, he has been a frequent healthy scratch.  They don't want to lose him for nothing on waivers but this is a situation where if they move him, the return will almost certainly be as underwhelming as Howden's was.
As for the draft picks, it's a bit too early to make any significant conclusions on those.  The first-rounder yielded defenseman Nils Lundkvist and while he has been fairly quiet in his first season in North America, his track record of offensive success in Sweden is promising.  The second-rounder turned into center Karl Henriksson who isn't putting up big numbers in Frolunda of the SHL but is holding down a regular spot in the lineup.  Both could certainly be part of New York's future with Lundkvist getting a sniff of NHL action earlier this season.
For New York to have any chance of salvaging any sort of value from this trade, they'll need those prospects to become impact players.  They're down to Vaisanen, Lundkvist, Henriksson, a fourth-round pick, and Hajek (or whatever limited return they get for him).  That's not a great return from a trade that they were hoping would give them several long-term building blocks for the future, a cautionary tale for how even trading for players that appear to be quality prospects can still not work out as well as intended.  Meanwhile, Tampa Bay has won a couple of Stanley Cup titles since then and while McDonagh's contract may not age great considering he's signed through 2026, he's still playing an important role for them.  The biggest swap of the 2018 deadline looks like a clear-cut victory for them as a result.
Photo courtesy of USA Today Sports Images.