Feb 16: The appeal is taking place this afternoon in New York, where Marchand will plead his case to try and get a reduced sentence. He has already served three of his six games, with the Bruins going 1-2 in his absence.
Feb 11: The NHLPA has filed an appeal on behalf of Brad Marchand regarding his recent six-game suspension. The first appeal will be to commissioner Gary Bettman, after which Marchand can appeal to an independent arbitrator. Speaking to the media today, Marchand gave his thoughts on the suspension, and a three-game ban that he received earlier this season:
We believe that the last suspension was very hefty. When I got three games, it should have been one, based on the fact that I have turned my game around and become a pretty good player in this league. Like they said, you're not going to escape the history part of it which ultimately set me up for this one. I'm not going to say or justify that what I did was right. But this was a very deep suspension for these actions.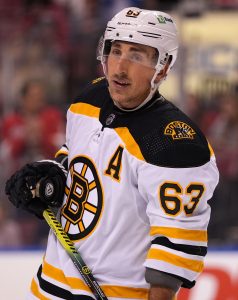 Marchand went on to suggest that the way suspensions and other supplementary discipline are handled in the NHL will be a big issue when it comes to negotiating the next CBA, and believes his actions, in this case, weren't suspension-worthy on their own. It's his history that obviously came into play here, given he has been suspended seven times in the past to go along with five fines.
He has already served one game of this six-game suspension, and it is currently scheduled to expire after the Bruins play the Colorado Avalanche on February 21. Even if he were to receive a reduced sentence from one of the levels of appeal, it may not necessarily get him back in the lineup any sooner, depending on how long it takes to go through the process. What it could do is save him some money, as Marchand is forfeiting nearly $450K with this current ban. Any reduction in the sentence could force the Bruins to pay him retroactively, even if it comes down after the games are missed.
If Boston can get him back any sooner though, it certainly would be an important change. The team is without Patrice Bergeron as he deals with a concussion and looked outclassed against the Carolina Hurricanes last night, losing 6-0 and being outshot 43-34. While Marchand may be a polarizing figure to many hockey fans, he's arguably the most important forward on the Bruins roster and has 49 points through 39 games this year.
It's not often that you find wingers that have received Hart and Selke trophy votes in five consecutive seasons but that's exactly what Marchand has done, as he turned himself from agitating two-way player to one of the best all-around forwards in hockey. Any game without him in the lineup will leave Boston at a severe disadvantage, so getting him back is a top priority.
This is not the first suspension to be appealed this season. In December, Bettman decided to reduce Jason Spezza's six-game suspension to four after the Toronto Maple Leafs forward filed an appeal. That case couldn't be more different from this one though. Spezza's actions were obviously a targeted attack on a player that he was angry with, but it was his long history of clean play that Bettman referenced when reducing the suspension. In this case, it was Marchand's history that directly led to the league handing down such a "hefty" ban.