The Vegas Golden Knights had a few absences and one notable addition to the morning skate today, as both Mark Stone and Nicolas Hague were missing due to COVID protocols. Neither will play tonight against the Montreal Canadiens, according to Jesse Granger of The Athletic. Still, it wasn't all bad news as Max Pacioretty was on the ice taking part and will travel with the team–and could even play–on their upcoming road trip. Vegas heads to Washington for a match on Monday, the first in a four-game road trip.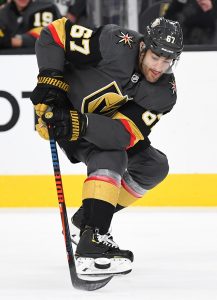 Losing Stone is obviously a huge blow, as the 29-year-old is arguably the team's most important forward. Named captain just over a year ago, the two-way winger brings point-per-game production while being one of the most celebrated defensive players in the league. He's finished in the top five for Selke Trophy voting in each of the last three seasons, including being a finalist in the shortened 2020-21 campaign. With seven goals and 26 points in 23 games this season he's off to another strong start, even with the missed time due to injury.
Hague too is an important piece, though he was already out with an injury and hasn't played since December. The 6'6″ defenseman has developed into a reliable option for the Golden Knights, averaging more than 18 minutes a night behind the team's top options. In 32 games Hague has even collected 13 points, all of them coming at even-strength.
It's Pacioretty's appearance that will raise some eyebrows though, as the Golden Knights continue to approach a tricky cap situation. Jack Eichel is skating and scheduled to return to the lineup in another month or so, by which point the team will need some extra cap space to activate him. Pacioretty's injury would have afforded them some additional time if he was still out when Eichel returned, but that obviously won't be the case if he's ready to play on the upcoming road trip. The 33-year-old winger scored 12 goals and 21 points in his first 16 games, but underwent wrist surgery in December. At that point he was ruled out indefinitely; now just three weeks later he appears on the brink of a return.
Photo courtesy of USA Today Sports Images