The Vegas Golden Knights will be without one of their top players for the foreseeable future, as Max Pacioretty is out indefinitely following wrist surgery. Pacioretty played just over 17 minutes on Tuesday against the Los Angeles Kings but has been absent from Golden Knights practice as he tried to deal with the injury.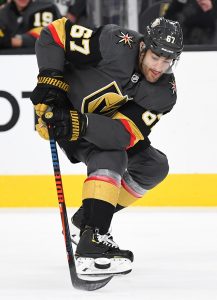 The Golden Knights, of course, are dealing with an impending cap crunch as Jack Eichel rehabs from neck surgery and approaches a return to action. Pacioretty's injury will solve that issue for the time being, given he can likely be placed on long-term injured reserve as he recovers from his own surgery. The 33-year-old's $7MM salary would be more than enough to cover Eichel's cost as long as Alec Martinez stays out, though things would get tricky again if everyone was healthy before the postseason.
While it may seem conspiratorial that Pacioretty is going on LTIR, the Golden Knights would obviously rather have him in the lineup. The veteran forward has been outstanding since arriving in Vegas, with 90 goals and 178 points in 201 games. This year he was scoring at an incredible pace with 12 goals and 21 points in just 16 games. Never a point-per-game player during his time in Montreal, it would be two seasons in a row that Pacioretty reached that mark in Vegas had he been able to continue it through the rest of the year.
Now it's unclear when he will be back, making this a disappointing season for the winger. With just one year left on his contract and Vegas bringing in more big-money players at every chance, it's hard to know how much longer Pacioretty will even be with the Golden Knights.
Photo courtesy of USA Today Sports Images