The Vancouver Canucks now have a brand new front office leadership group, with president of hockey operations Jim Rutherford, general manager Patrik Allvin, and assistant general manager Emilie Castonguay. Quite the trio in terms of varied experience and expertise to take over a floundering franchise.
Allvin, introduced just this week, now has plenty of work to do in order to get up to speed before the March 21 trade deadline. When asked about whether he'll be taking the lead on some of those decisions while his new general manager gets comfortable with the organization, Rutherford explained that he hired Allvin to make those calls but he could still be involved:
No, no. Patrik is going to do that work. It'll be involving everyone in the organization, everyone's going to have their input. But Patrik has to gather all of that information and make his decision. He certainly doesn't have to come to me every time he's making a decision, but when we get into some of the bigger decisions, I'll be a little bit more involved, but it's Patrik's job. He's the general manager, he has to work hard and make those decisions.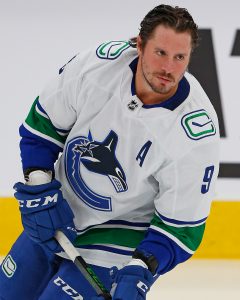 One of those big decisions that Rutherford could potentially be involved in is the future of J.T. Miller, since what the Canucks do with their leading scorer could point to what direction the franchise will take in the near future. Miller is having an outstanding offensive campaign with 44 points in 41 games and is signed through next season at a very reasonable $5.25MM cap hit. The Canucks are certainly not in a desperate position to cash in with a deadline trade, and could even decide to hold onto Miller longer than his current deal if an extension could be worked out down the road.
That might be why twice in the past 24 hours Pierre LeBrun has referenced a potential asking price on Miller and suggested that the Canucks may be letting teams know that they better get in their best offer well ahead of the trade deadline. On TSN's Insider Trading and in his latest column for The Athletic, LeBrun notes that to start a serious conversation about Miller, a team would have to be willing to part with three or four assets. The fact that he's signed for another year allows the Canucks to be "picky," as LeBrun puts it.
Recently, Frank Seravalli of Daily Faceoff reported that the New York Rangers were the team that was showing the most interest in Miller, with the Boston Bruins, Calgary Flames, and Minnesota Wild also all linked to the Canucks forward.
Jakob Chychrun, one of the other big names being tossed around in relation to the trade deadline, has also drawn speculation about a three-asset asking price. Jeff Marek of Sportsnet has reported several times that the Arizona Coyotes have already been offered a first-round pick, and two players selected in the first round. Chychrun has three more years on his current contract after 2021-22 but is also at the opposite end of the spectrum when it comes to performance this year, as he's mired in a brutal campaign amid the tanking Coyotes.
If the Canucks decide they want to go through a bit of a rebuild, trading Miller would certainly help. Vancouver's prospect pipeline is rather bare, with Scott Wheeler of The Athletic recently ranking them 28th in the league and listing Jack Rathbone, a 22-year-old fourth-round pick with 35 games of professional experience as their top name. The team is already without their second and third-round picks for the upcoming draft (though they have Winnipeg's third from the Nate Schmidt deal), and desperately needs to inject the system with some talent even if it's not a full tear down.
All of that said, there's no guarantee that the best offer for Miller comes at this deadline. Perhaps an even better deal could be worked out by Allvin and the Canucks in the offseason when every team is still theoretically a contender. The 28-year-old does not hold any trade protection in his deal–the Canucks voided that clause when he was acquired from the Tampa Bay Lightning in 2019–meaning he could be a draft day prize for a team on the upswing.