Jan 22: Marek gave another update on Hockey Night In Canada this evening, giving some specific details on the Chychrun sweepstakes:
They do have that [offer] from one team in the NHL as we speak now, essentially two former first-round players and a first-round draft pick. That auction though does continue. Los Angeles, Anaheim, Boston, Florida, who may very well be the team to watch through all of this. The Rangers as well are in, they've offered a package that includes Vitali Kravtsov, and the Columbus Blue Jackets interested in the servicces of Jakob Chychrun as well. 
Kravtsov was given permission from the Rangers earlier this season to seek a trade after not receiving a ton of NHL playing time and is currently playing in the KHL.
Jan 21: One of the biggest names emerging for the NHL trade deadline is Jakob Chychrun, who made his return to the Arizona Coyotes lineup on Wednesday with one assist in more than 20 minutes of action. The 23-year-old defenseman is the biggest trade chip the Coyotes have, as despite a poor season this year, Chychrun is signed at a very reasonable $4.6MM cap hit through 2024-25.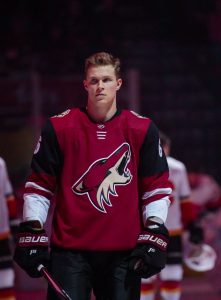 Every time Jeff Marek and Elliotte Friedman of Sportsnet discuss the young defenseman more teams are involved in the chase, and today was no different. On the latest 32 Thoughts podcast, Friedman talked a little bit about Chychrun:
I think there is a lot [of teams involved]. I think the Coyotes prefer to send him east, though I don't think that is absolutely 100 percent going to happen. I think Florida has let it be known that they are deep in this and that they are prepared to do what it takes to get it done. I don't think they're the only one. You've talked about Los Angeles, Anaheim, and St. Louis. I think Columbus is there. I've heard the Rangers; I've had people disagree, that it doesn't make sense for them, but I've heard it. 
From the moment Chychrun's name hit the rumor mill, the reported ask has been "massive" from the Coyotes, and with so many teams involved it seems likely that they end up with something close to the package they're looking for. Marek reported earlier this month that the team was after a young player, high-end prospect, and first-round pick for the young defenseman, something similar to the deal that saw Brent Burns go from Minnesota to San Jose a decade ago.
With 27 games under his belt this season, Chychrun has registered just two goals and eight assists after an outstanding 2020-21 campaign. He's also is a league-worst -28, though much of that is due to the team around him as his underlying possession numbers still hint toward a strong two-way defenseman. At even-strength, Chychrun hasn't had a consistent partner, skating almost equal amounts with Anton Stralman and Ilya Lyubushkin to this point.
The Panthers, meanwhile, have relied heavily on the trio of Aaron Ekblad, MacKenzie Weegar, and Gustav Forsling to this point, each averaging more than 21 minutes a night. Radko Gudas and Brandon Montour have been regulars behind them, but the sixth spot has been rotated through the likes of Lucas Carlsson, Kevin Connauton, Olli Juolevi, and Matt Kiersted, given Markus Nutivaara's injury issues.
Adding Chychrun to one of the best teams in the NHL would certainly seem like a good fit, especially given his ties to Florida. Born and raised there, he actually flew to Michigan for games every weekend as a 13-year-old before eventually joining the Toronto Jr. Canadiens at 15. A homecoming of sorts seems possible, but there's more than just the Panthers in on the Coyotes defenseman at this point.