After months of speculation, negotiations, and public frustration, the Jack Eichel saga in Buffalo has come to an end. The Vegas Golden Knights and Buffalo Sabres have both officially announced a trade that will take Eichel to the desert. He will go to Vegas along with a 2023 third-round pick, in exchange for forwards Alex Tuch, Peyton Krebs, a 2022 first-round pick, and a 2023 second-round pick.
The first-round selection is top-10 protected and the Sabres did not retain any salary. Should the pick end up in the top 10 after this year's lottery, the Golden Knights will send their 2023 first-round and 2024 second-round picks instead of the ones listed. In that case, the Sabres' 2023 third-round selection that is included would also become a 2024 third-rounder. Basically, if it ends up in the top 10, all three picks bump forward a year.
For Buffalo fans, seeing a frustrated first-line center shipped out of town for a collection of assets is certainly familiar but this deal is not the same as the one that took Ryan O'Reilly from them a few years ago.
In that deal, the best young player the team received was Tage Thompson, as both Patrik Berglund and Vladimir Sobotka were established talents already on their way out of the league. This time in Tuch and Krebs, the Sabres have secured two players that are still improving and should be able to help the club for much longer.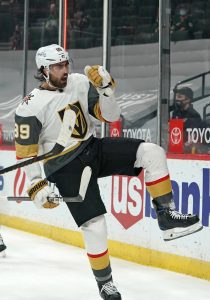 Tuch, 25, is in the third season of a seven-year, $33.25MM contract that already appears to be one of the most reasonable deals in the league. The 6'4″ forward is a blend of size and skill that's incredibly difficult to find, and has shown an ability to score at a high level even with limited opportunity. In 55 games last season he scored 18 goals and 33 points despite his most common linemates at even strength being Nicolas Roy and Keegan Kolesar.
In Buffalo, he very well could see much better offensive deployment and end up lining up in the top-six. That'll have to wait a few months though, as Tuch is recovering from offseason surgery and isn't expected back in the lineup until January.
Krebs meanwhile will likely step directly into the Sabres forward group, where he'll take the next steps of his professional career. Still just 20, Krebs was the 17th overall pick in 2019 and has already reached the NHL. While he has yet to score a goal in his 13 career games, there are obvious signs that he can be a valuable contributor and adds another option at center ice for Buffalo.
Adding another first-round pick means the Sabres now have three selections this year after they had already acquired one from the Florida Panthers. Given how many top prospects they already have in the organization, there's a real chance that Buffalo could have a very quick turnaround and start competing in the next few years.
The question now becomes whether that turnaround will be navigated properly. Buffalo has now seemingly run another star player out of town with poor management and coaching choices, resulting in a situation that could only be resolved by trade. The old adage "whoever gets the best player in the deal, wins" could apply here, as Eichel is certainly a level above Tuch or Krebs when healthy.
Healthy is the concern now for Vegas, but the Golden Knights must obviously believe in the disk replacement surgery that Eichel is after. Whenever he does go under the knife, he still faces a months-long recovery, meaning he won't be on the ice at T-Mobile for quite some time.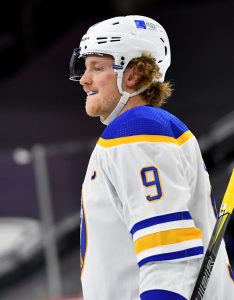 When he does return though, Eichel is exactly the kind of first-line center that the Golden Knights have been looking for since they came into existence. The team has gotten by with the exceptional two-way play of William Karlsson and have worked to turn Chandler Stephenson into a legitimate top-six force, but have never had a player like Eichel that can drive offense at an elite level.
In 375 career games, Eichel has 355 points including breaking the point-per-game threshold in both 2018-19 and 2019-20. He can score at even-strength and on the powerplay–the latter of which is currently 0-18 for the Golden Knights–while logging huge minutes in the middle of the ice. In 2020, Eichel finished eighth in Hart Trophy voting, after scoring 36 goals and 78 points in 68 games.
Of course, to land Eichel the Golden Knights not only had to part with several assets, but will also have to carry his $10MM cap hit for this season and four more. A full no-movement clause also comes into effect next season, as does another $7.5MM signing bonus. The Golden Knights have continuously flirted with the salary cap upper limit, but will now be carrying three players who have a cap hit of at least $8.8MM for the next several years.
Pierre LeBrun of The Athletic tweets that there were actually three teams in the Eichel sweepstakes until the end. The Golden Knights, Calgary Flames and, perhaps surprisingly, Carolina Hurricanes all stayed in the talks. The NHL insider does admit that the Hurricanes weren't close but doesn't specify whether the Flames ever got near a deal. The report about Matthew Tkachuk yesterday was likely a way to make Vegas put their final offer on the table.
While the winner and loser of today's deal will be discussed for years to come, one clear beneficiary of the deal is Eichel himself. While the Sabres were holding out for the biggest package possible, the 25-year-old center was dealing with a serious neck injury that needed surgery. Now, finally, he will be able to get his preferred treatment and hopefully resume his career.
Photo courtesy of USA Today Sports Images