It was another busy week around the NHL with some significant news off the ice.  Those are among those highlighted in the key stories of the past seven days.
Back To Junior: A handful of NHL players that still have junior eligibility can play up to nine games without burning the first year of their entry-level deals.  Some have already gone past that threshold while others were holding their prospects out of the lineup periodically to take more time to decide their plans.  A pair of teams made their decisions as Washington assigned center Hendrix Lapierre back to Acadie-Bathurst of the QMJHL while St. Louis did the same with winger Jake Neighbours, sending him to Edmonton of the WHL.  Both players were first-round picks back in 2020 but after logging less than ten minutes a game, this decision is the right one from a development standpoint while ensuring both prospects will still have three years left on their entry-level deals heading into next season.
Successful Surgery: So far, so good for Golden Knights center Jack Eichel who successfully underwent artificial disk replacement surgery on his neck on Friday.  Now the big question becomes how long the recovery timeline will be.  Early indications have been that it will range between three and five months but with it being the first time that the procedure has been done on an NHL player, there isn't much in the way of precedent to work with.  The recovery time will be worth following; not only will his return give Vegas an improved top line but it will also serve as the pressure point for GM Kelly McCrimmon to clear the cap space required to activate him from LTIR.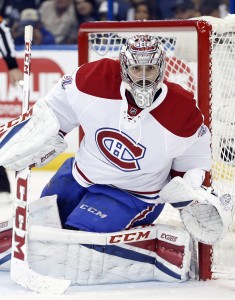 Price Returns To Montreal: Carey Price's stay in the NHL/NHLPA Player Assistance Program was indeed the minimum of 30 days as he returned to the Canadiens and worked with their training staff off the ice.  The veteran goaltender also released a statement regarding his absence, indicating that he entered a residential treatment facility for substance use as he works his way through neglecting his mental health for the past several years.  There remains no timeline for his return as he has yet to begin on-ice activity while Price's statement also acknowledged the uncertainty for when he might be able to suit up again.  As for Montreal's current goaltending situation, Jake Allen, who has filled in as the starter in Price's absence, suffered an injury on Saturday night, leaving the team down to their third-and fourth-string options.
Key Injuries: It has been a quiet start to the season for Colorado as they sit fifth in the Central Division with a 6-5-1 record.  They've been hit fairly hard with injuries early on and that list grew with the announcement that top center Nathan MacKinnon will miss three weeks due to a lower-body injury.  While the veteran only has scored once in eight games, he had nine assists over that stretch and is once again one of their top scorers.  Meanwhile, the Devils won't be getting winger Miles Wood back anytime soon as it was revealed that he underwent hip surgery and is out indefinitely.  He suffered the injury back in the preseason and with rehab not going as planned, he went under the knife instead.  The expectation is that he'll be out for several months, a tough blow for Wood who tied for the team lead in goals last season.
Murray Resigns: Bob Murray's tenure as general manager of the Ducks came to an abrupt end.  After being placed on administrative leave pending an investigation related to professional conduct, he tendered his resignation with an announcement that he will be enrolling in a treatment program for alcohol abuse.  Murray had been with Anaheim since 2005 and took over the GM chair during the 2008-09 season.  Jeff Solomon, who came over from the Kings this past summer, has been named their interim GM with ownership pledging to complete a "methodical, extensive search" with a target of having that completed no later than next summer.
Photo courtesy of USA Today Sports Images.