The Colorado Avalanche will be without their most explosive offensive weapon for the next little while, as head coach Jared Bednar told reporters today that Nathan MacKinnon will be out "give or take three weeks" with a lower-body injury.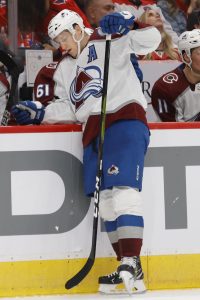 MacKinnon suffered the injury against the Columbus Blue Jackets a few days ago but is set to miss around eight games depending on when he's able to return. That's another big chunk of what has been a tough season so far for the Hart Trophy finalist, who already sat out two games while in the COVID protocol. When he's on the ice he's been as explosive as ever, with ten points in eight games (though only one of those was a goal), but he'll now face an extended layoff.
This is a brutal blow for the Avalanche, who are already floundering in the early part of the season. At 4-5-1 the team is eight points behind the Central Division-leading St. Louis Blues and six points back of the third-place Winnipeg Jets for a divisional playoff spot. While they have played the fewest games in the division, they've also allowed as many goals or more than every team ahead of them in the Central standings.
That's not to say Colorado can't compete without MacKinnon, but as arguably the most valuable contract in the entire league, he gives them a huge advantage every night. The 26-year-old is still carrying a cap hit of just $6.3MM, meaning their funds could be allocated to other places like retaining captain Gabriel Landeskog in the offseason. Landeskog is where a lot of the offensive burden will land in MacKinnon's absence, as he'll be asked to do even more to keep the Avalanche scoring.
It's been a heck of a start for the Avalanche, who have had injuries or illnesses affect nearly every one of their key players. With MacKinnon now out for three weeks, their resolve will certainly be tested even further.
Photo courtesy of USA Today Sports Images