The final full week of November got off to a quiet start but there was plenty of notable news towards the end of the week which are highlighted in our key stories.
Big Money On Waivers: The Senators haven't been pleased with what they're received from Matt Murray since he became their starting goalie last year and with him being off to a tough start this season, they opted to waive him to give him some time in the minors to try to get back on track.  With two years left after this at $6.25MM, he cleared as expected, enabling him to be sent to Belleville.  One day later, Sharks winger Evander Kane finds himself on the wire as well.  His suspension to start the season for providing a fake vaccination card is up but amid speculation that San Jose would like to move on from the 30-year-old, he'll start his season in the AHL assuming he clears on Monday.  With the team being willing to retain on his $7MM AAV, it's quite unlikely he'll be claimed.
Lemieux In Trouble: Kings winger Brendan Lemieux has already been suspended twice in his young career and it looks quite likely that a third is on the horizon.  After he received a match penalty (which carries an automatic suspension pending a hearing) for biting Ottawa's Brady Tkachuk, the league offered Lemieux an 'in-person' hearing (which is currently conducted through Zoom).  That gives them the ability to suspend him for more than five games.  That's notable considering the longest biting suspension has been three games.  The time for the hearing has not yet been set.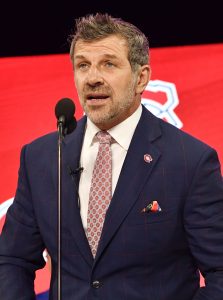 Front Office Shakeup: The front office for the Canadiens looks a lot different all of a sudden.  After assistant GM Scott Mellanby resigned on Saturday, the Canadiens then fired GM Marc Bergevin and assistant GM Trevor Timmins who had been in charge of their amateur scouting.  Montreal made the playoffs in six of the nine years that Bergevin was at the helm while they made it to the Stanley Cup Final this past summer.  However, the two sides were unable to agree on a new contract in the offseason and with the team off to a tough start this season, ownership decided a new direction was needed.  The executive tasked with shaping that new direction is Jeff Gorton.  The former Rangers GM has been added as VP of Hockey Operations and will play a key role in their search for a new general manager.
More Postponements: The Islanders are the second team to have games affected by a COVID outbreak as the league postponed their games through November 30th which means at least two games will need to be rescheduled.  New York currently has eight players in COVID protocol as well as three off-ice personnel.  Ottawa had three games postponed earlier this month due to their own outbreak which triggered an ability for the NHL to opt out of playing in the upcoming Olympics.
Leave Of Absence For Wilson: Sharks GM Doug Wilson is taking a temporary leave of absence from the team for non-COVID medical reasons.  The recent Hall of Fame inductee has reportedly been dealing with a persistent cough for the last three months.  Assistant GM Joe Will will take over as interim GM in Wilson's absence.  Everyone here at PHR extends their best to Wilson as we hope to see him back on the job as soon as possible.
Photo courtesy of USA Today Sports Images.