Navigating the salary cap is one of the more important tasks for any GM.  Teams that can avoid total cap chaos by walking the tightrope of inking players to deals that match their value (or compensate for future value without breaking the bank) remain successful.  Those that don't see struggles and front office changes.
PHR will look at every NHL team and give a thorough look at their cap situation heading into the 2021-22 season.  This will focus more on players who are regulars on the roster versus those who may find themselves shuttling between the AHL and NHL.  All cap figures are courtesy of CapFriendly.
Pittsburgh Penguins
Current Cap Hit: $81,378,205 (under the $81.5MM Upper Limit)
Entry-Level Contracts
None projected to play a full-time role in the NHL this coming season.
One Year Remaining, Non-Entry-Level
F Zach Aston-Reese ($1.725MM, UFA)
F Jeff Carter ($2.636MM, UFA)*
G Casey DeSmith ($1.25MM, UFA)
D Mark Friedman ($725K, RFA)
F Danton Heinen ($1.1MM, UFA)
F Kasperi Kapanen ($3.2MM, RFA)
F Sam Lafferty ($750K, UFA)
D Kris Letang ($7.25MM, UFA)
F Evgeni Malkin ($9.5MM, UFA)
D Juuso Riikola ($1.15MM, UFA)
F Evan Rodrigues ($1MM, UFA)
D Chad Ruhwedel ($750K, UFA)
F Bryan Rust ($3.5MM, UFA)
*-Los Angeles is paying 50% of Carter's cap hit.
Malkin had a quiet year by his standards last season as he notched 28 points in 33 games and isn't expected to be ready to start the upcoming campaign due to knee surgery.  Now 35, Malkin's days of being an elite producer may have come to an end which means a pay cut should be on the horizon.  Rust didn't put up a point per game last season but still produced at a top-line level.  Showing that over a full season would have him very well-positioned for a sizable raise on his next deal.  Kapanen's second go-round in Pittsburgh was better than his first as he established himself as a strong second-liner.  He'll be a year away from UFA eligibility at the end of this contract so a long-term, pricier contract is heading his way.  If not, he'd be wise to just file for arbitration and head to the open market in 2023.
Carter made an immediate impact after coming over from Los Angeles, notching 13 goals in 20 games (regular season and playoffs combined).  If he even comes close to that pace this coming season, they'll get good value on the contract and Carter, who seemed to be a candidate to retire when this deal was up, could wind up sticking around the league a little longer.  Aston-Reese couldn't work out a long-term contract (the cap situation played a role in that) which sends him to the open market next summer.  The market for bottom-six players improved considerably this offseason which bodes quite well for his future earnings.  Heinen was non-tendered by Anaheim following a tough run with them and lands in a favorable situation where he'll be in a better offensive environment to try to rebuild his value.  He can be controlled through a qualifying offer although salary arbitration could be a factor.  Rodrigues was a serviceable role player and got a small raise this summer but unless his offensive numbers take a step forward, he won't get much of one next year.  Lafferty brings grit but not a lot of production which will keep his price tag close to the minimum moving forward.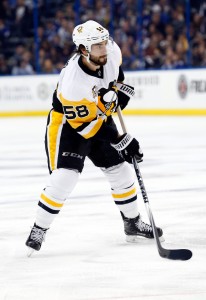 While Malkin is probably heading for a smaller salary, the same can't necessarily be said for Letang, another long-time core piece that's set to hit the open market.  The top-end production is still there as he very quietly finished tied for third in the league for points by a defenseman last season.  With the way the cost for top-pairing blueliners has gone up, Letang could have a decent case for a small raise.  If he's willing to take a discount to stay in Pittsburgh – a reasonable possibility – the discount may simply be signing for something close to what he's making now.  He'll be subject to 35-plus provisions (unless a multi-year deal has equal compensation throughout) on his next contract but Letang still should still land a multi-year commitment.  Ruhwedel and Friedman are depth defenders whose biggest value comes from their low cap hits and those will need to be low-cost slots beyond this season.
DeSmith returned to the NHL last season after being the third-stringer in 2019-20 and the results were mixed as Pittsburgh's goaltending ran hot and cold at times but overall, he provided slightly above average numbers at a price tag well below many recent backup signings.  A repeat showing could put him in a spot to double his current AAV next summer.
Two Years Remaining
F Teddy Blueger ($2.2MM, UFA)
D Brian Dumoulin ($4.1MM, UFA)
G Tristan Jarry ($3.5MM, UFA)
F Radim Zohorna ($750K, UFA)
F Jason Zucker ($5.5MM, UFA)
At the time that Pittsburgh acquired Zucker, his contract looked more than reasonable.  He was a quality top-six winger with the expectation that joining the Penguins would help improve his production.  That hasn't happened and he wound up being unclaimed in expansion.  All of a sudden, his deal is an overpayment relative to the production he has provided which won't help his market value two years from now.  Blueger has become an important bottom-six piece and should have an opportunity to play a bit of a bigger role this season.  Even capable bottom-six centers can land notable contracts so he should be looking at a raise in 2023.  Zohorna held his own in his NHL debut last season but is waiver-exempt for one more year.  He's likely to be shuffled back and forth as a result to save some money on the cap.
Dumoulin doesn't generate a lot of buzz around the league but he has been a key cog on their back end for several years.  His limited offensive production won't help his chances of landing top dollar in free agency but as a reliable defensive defender that can log top-pairing minutes, he's still looking at a fairly hefty raise on his next deal.
Jarry's first season as the undisputed number one goalie didn't exactly go as planned.  He struggled with consistency throughout the year with a propensity for allowing untimely weak goals.  Even so, he's still only making what a top backup does so while he was overpaid for what he did last season, it wasn't by as much as it might seem.  Needless to say, he'll have to be a lot better to get a contract for number one money two years from now.
Three Years Remaining
F Jake Guentzel ($6MM, UFA)
Guentzel was once again slightly above the point per game mark last season and has basically been a point per game player over the last three seasons.  Not many can say that and even fewer have an AAV that is closer to a second-liner than a top-line forward.  He's still young enough to land close to a max-term contract in his next negotiation and it could be a pricey one if this keeps up.
Four Or More Years Remaining
F Sidney Crosby ($8.7MM through 2024-25)
D John Marino ($4.4MM through 2026-27)
D Mike Matheson ($4.875MM through 2025-26)
F Brock McGinn ($2.75MM through 2024-25)
D Marcus Pettersson ($4.025MM through 2024-25)
Crosby's deal is one of the now-outlawed back-diving ones that sees his salary dip to just $3MM in each of the final three seasons.  He isn't the top scorer in the league like he once was but he's still a capable number one center making below what top pivots get on the open market.  There's always the possibility that he starts to tail off by the end but with the surplus value they've had so far, they're not going to complain.  McGinn was Pittsburgh's big summer signing and is coming off a quiet year with Carolina but his track record was enough to warrant the four-year deal.  They'll need him to rebound to the form of a few years ago offensively to get value from this contract.
Matheson did a little better in his first season with Pittsburgh compared to how things ended in Florida.  Having said that, his performance wasn't at a near-$5MM level and is one of the bigger overpayments on their books.  Marino's sophomore year didn't go as planned which makes this contract look a bit riskier than it appeared when it was signed although with barely 100 career NHL games under his belt, that can still change in a hurry.  Pettersson has gone from being someone they thought could be a fixture in their top four to a player that has a firm grip on the number six spot on the depth chart.  Between the three, they have a lot of money tied up in relatively unproven defenders.
Buyouts
D Jack Johnson ($1.167MM in 2021-22, $1.917MM in 2022-23, $917K from 2023-24 through 2025-26)
Retained Salary Transactions
None
Still To Sign
None
Best Value: Rust
Worst Value: Pettersson
Looking Ahead
The Penguins have consistently had cap challenges over the past several years and this coming season should be no exception.  When everyone is healthy (and that might take a while with Malkin's situation), they will have to carry fewer than the maximum 23 players and may not be able to generate much in the way of in-season cap flexibility.  That will also likely limit the opportunities for some of their prospects to try to establish themselves as those spots will need to be held by cheaper veterans.
Having said that, with nearly $33MM coming off the books next summer, there will be an opportunity for GM Ron Hextall to reshape his roster if he so desires.  The bulk of that will go to new contracts for Malkin and Letang but there should be some room to work with still.  On a long-term basis, the books are relatively clean with few longer-term commitments although they will need better performances from their young defensemen to justify their price tags moving forward.
Photo courtesy of USA Today Sports Images.