Late last night, the Vegas Golden Knights finalized terms with newcomer Nolan Patrick on a two-year contract. The deal will carry an average annual value of $1.2MM, paying Patrick $1MM in 2021-22 and $1.4MM in 2022-23. The young forward was a restricted free agent after being acquired from the Philadelphia Flyers.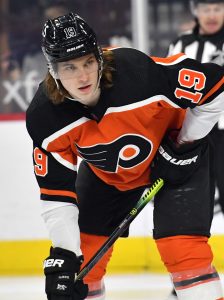 Selected second overall in 2017, it has been anything but a smooth ride for the 23-year-old Patrick. Even before he was drafted he had dealt with serious injury, taking away a huge chunk of his final year with the Brandon Wheat Kings, and that injury-prone label has followed him to the NHL. It's not fair, given the most serious ailment Patrick has dealt with is a migraine issue, but nevertheless, he has heard the chorus of "bust" for several years now.
After two seasons in which he recorded 13 goals and around 30 points, Patrick missed the entire 2019-20 campaign due to his migraine issue. It kept him from skating or participating in any team activity, meaning when he returned for 2020-21 there was obviously a gap in his development. This season was an absolute trainwreck, with the young forward registering just four goals and nine points in 52 games while seeing his average ice time drop significantly. That led to an offseason trade as the Flyers looked to shake up their group and go in a different direction.
Despite recent struggles, Patrick is by no means a write-off in Vegas. The 6'2″ 203-lbs forward still has all the physical tools to be an impact player in the NHL, even if his ceiling as a first-line center looks like an impossibility at this point. The Golden Knights will have to rebuild his confidence and his career, but they obviously have a strong belief in him given they gave up Cody Glass in a one-for-one deal.
The reason for that optimism? Kelly McCrimmon, the Golden Knights' GM knows Patrick better than anyone, having drafted, developed, coached and managed him in the WHL with the Brandon Wheat Kings. That's where Patrick turned into a star, including an outstanding 102-point campaign in 2015-16 that resulted in a WHL championship (and playoff MVP).
This two-year deal will still leave Patrick a restricted free agent in 2023, but does mean he will be arbitration-eligible. If he can get his career back on track, there will be more than $1.2MM waiting for him through that process, but more importantly, there should be a real opportunity in Vegas. The Golden Knights have long been searching for another center to complement William Karlsson in the top-six, something Patrick could still do if he can find any of the juice that made him a second-overall pick just a few years ago. Then again, perhaps the lost year has removed any chance of him fulfilling that early promise and he'll have to settle into a depth role on the loaded Golden Knights roster.
Photo courtesy of USA Today Sports Images