The Buffalo Sabres have been expected to trade Jack Eichel for months. His neck injury this season caused a difference of opinion between his camp and the team, leading to a lack of trust, which only exasperated a tough situation. Eichel has been in Buffalo for six seasons but has still not suited up for a single playoff game. On the other side, the Sabres have been paying him $10MM per season for three years without any postseason revenue to show for it. A split seemed inevitable, but there are many complicating factors.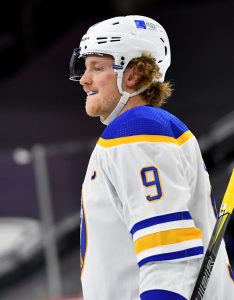 One of them that has been discussed at length is that $10MM cap hit and how it is difficult for other teams to fit under the cap ceiling. Eichel is a top player when healthy, but his injury situation makes it an extremely risky proposition for anyone interested in acquiring his services.
There's another complication caused by his contract though, and this one has gotten far less attention. In fact, it's basically the opposite problem of an acquiring team not being able to afford Eichel. The Sabres can't really afford to take him off the books at this point.
Right now, there are two teams in the league that are actually well short of the salary cap's lower limit of $60.2MM–the Ottawa Senators and, you guessed it, the Buffalo Sabres. According to CapFriendly, Buffalo currently sits at a projected cap hit for the 2021-22 season of just $52,897,763, more than $7.3MM under the lower limit. "But they have Casey Mittelstadt, Rasmus Dahlin and Henri Jokiharju to sign!" you might say, and that's true, those three restricted free agents will likely take them well over the salary cap floor.
The problem is, that projection is including the $10MM owed to Eichel. If the team trades him, suddenly they're more than $17.3MM under the lower limit, a number that will be a lot harder to make up with three restricted free agent deals.
Buffalo has already moved out some of their high-priced talent this offseason, trading away Rasmus Ristolainen and Sam Reinhart. They watched Linus Ullmark and Jake McCabe walk in free agency, replacing them with 40-year-old Craig Anderson for league minimum and Mark Pysyk at $900K. For whatever reason, they had the New Jersey Devils retain part of Will Butcher's contract, making him cost even less for them.
Moving Eichel out of this financial puzzle right now for nothing but futures would mean several other moves would have to follow just to get the Sabres cap compliant for the start of the year. This isn't really a situation that has ever played out in the NHL, but it's one of their own making. Buffalo has been aggressively shedding salary all summer to restock the prospect and draft cupboards, but the side effect of those moves is that the last big chip is now an even more complicated piece to trade.
Photo courtesy of USA Today Sports Images