With an arbitration hearing just a day away, the Minnesota Wild and Kevin Fiala have come to an agreement. The two sides have settled on a one-year, $5.1MM contract almost exactly the midpoint between their two arbitration filings. Fiala had asked for a one-year, $6.25MM contract, while the team had countered with a $4MM deal. The two sides will no longer need the hearing tomorrow.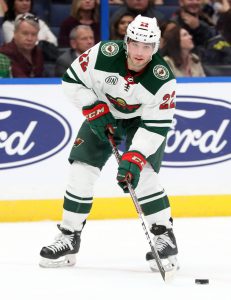 The 25-year-old Fiala will still be a restricted free agent next summer, but will require a qualifying offer equal to this $5.1MM salary in order for the Wild to retain his rights. He will also be arbitration-eligible once again, meaning a raise is actually a possibility. It was a bet on himself to sign a one-year deal, after becoming one of the most important players on the Wild roster. Over the past two seasons, Fiala has 43 goals and 94 points in 114 games while continuing to post outstanding possession numbers. Though some of that offensive success is due to the deployment the team has offered, there's no doubting Fiala's raw talent.
It was Paul Fenton, the oft-ridiculed former GM of the Wild who brought Fiala to Minnesota in a trade for Mikael Granlund a little over two years ago. In terms of offensive contribution, Fiala has been much more effective, yet the two will now head into next season earning almost the same salary. Granlund signed a new four-year, $20MM deal with the Nashville Predators this offseason to continue his strong two-way play, while Fiala will be relied on as the "game-breaker" that Fenton called him when defending the move.
With Kirill Kaprizov still to sign, the Wild have plenty of work to do, but they can now be certain in their financial structure. The team still has more than $13MM in cap space this season, and though things will get tight in the future when the harsh penalties from Zach Parise and Ryan Suter's buyouts kick in, they at least know they can fit everyone in for 2021-22. A long-term deal for Fiala would have made that more difficult, as buying out UFA years would have sent the average annual value of Fiala's deal skyrocketing. Despite only turning 25 last month, Fiala has five seasons under his belt already, meaning he'll be an unrestricted free agent after the 2022-23 season.
Elliotte Friedman of Sportsnet broke the news on Twitter
Photo courtesy of USA Today Sports Images