Things have fallen sharply for veteran forward James Neal since his storybook season with the inaugural Vegas Golden Knights. After scoring 25 goals and 44 points in 2017-18 to mark his 10th consecutive season of scoring 20 or more goals, Neal signed a now-infamous five-year, $28.75MM deal with the Calgary Flames on the second day of free agency in 2018. He only lasted one season in Calgary on that contract, however, scoring just seven goals and 19 points, sometimes serving as a healthy scratch.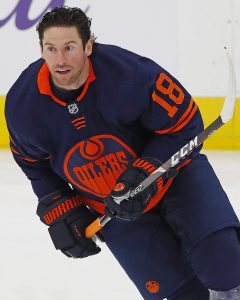 But many thought redemption was in order for Neal when a swap with the Edmonton Oilers sent him to Northern Alberta in exchange for Milan Lucic. With the chance for Neal to play with one or both of Connor McDavid and Leon Draisaitl, 20 goals or more was again the expectation for the consistently gifted scorer. Neal didn't quite hit the mark, but would've if the season hadn't been cut short due to COVID-19 – his bounce-back season in Edmonton saw him score 19 goals and 31 points in 55 games, numbers reminiscent of his time in Vegas.
However, Neal's decline accelerated this season, and his numbers once again plummeted to unacceptable depths for his $5.75MM cap hit. He's now a free agent after being bought out by the Oilers on July 27th, a buyout that'll see Neal cost them $1.917MM against the cap for the next four seasons. 2020-21 was Neal's roughest season yet, actually, spending almost half of the 56-game season sitting in the press box. His shooting percentage and time on ice fell sharply as Neal's lack of strong play-driving cost him a significant role at even strength.
Neal still carries veteran leadership and name recognition. It also doesn't hurt that he's played in 11 straight playoffs, totaling 58 points in 110 games over that timeframe. It remains to be seen whether teams will value that experience enough to extend Neal a contract offer.
Stats
2020-21: 29 GP, 5-5-10, -2 rating, 11 PIMS, 51 shots, 49.3% CF, 12:06 ATOI
Career: 850 GP, 294-261-555, +8 rating, 581 PIMS, 2,483 shots, 53.2% CF, 17:22 ATOI
Potential Suitors
The good news here for James Neal is that there are still plenty of teams looking to add affordable, experienced depth, especially on the wings. There are still a few options that make sense for the 33-year-old Ontario-born winger.
The Carolina Hurricanes come to mind immediately as a team that's still looking to fill out their forward group, especially their depth in the bottom-six. Neal fits well in this role for them, especially considering the limited scoring upside of some current options in Jordan Martinook, Steven Lorentz, and Stefan Noesen. If paired with a strong play-driver and playmaker like Jordan Staal, Neal's scoring touch could give a boost to Carolina's third line.
If Neal wants to chase a Stanley Cup, and if the interest is mutual, the Colorado Avalanche also make a decent amount of sense. For a team that lost both Brandon Saad and Joonas Donskoi this offseason, his double-digit scoring upside is more palatable than that of someone like Darren Helm's or Stefan Matteau's. The New Jersey Devils also come to mind as a squad who could still use some additional veteran presence to help propel a potential playoff push this season.
Projected Contract
Neal was not included on our Top 50 UFA list, as he hadn't been bought out at the time of publishing. But it's still hard to imagine Neal receiving anything more than the $1MM range on a one-year contract, considering he hasn't been inked to a deal already. Neal finds himself in a similar situation to that of Jason Spezza a few years back — a once consistent talent who'd seen his numbers drop in recent seasons. Spezza took a league-minimum $700,000 (at the time) contract to stay in the league, and it's a strong possibility Neal will have to do the same.
Photo courtesy of USA Today Sports Images.