July 8: Last night, Jeremy Rutherford of The Athletic reported that Tarasenko actually requested a trade from the Blues earlier this offseason. The Russian winger apparently is "upset with the team's handling of his shoulder surgeries in 2018 and 2019," leading to a lack of trust with the organization. According to Rutherford, a trade is not imminent but is still expected at some point.
June 29: The St. Louis Blues have several questions to answer this summer after a disappointing first-round exit. The Colorado Avalanche made quick work of the 2019 Stanley Cup champions, sweeping them in four games with a combined score of 20-6. While pending unrestricted free agents Mike Hoffman, Tyler Bozak, and Jaden Schwartz could be heading for the open market, perhaps a bigger question mark is the future of Vladimir Tarasenko.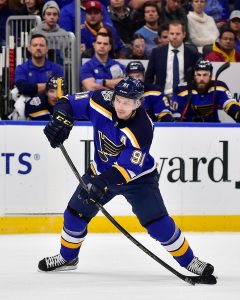 There has been trade speculation around Tarasenko for years now, given his injury troubles since that title run in 2019. The 29-year-old winger has played just 34 games over the last two seasons, recording seven goals in the process. For $7.5MM per season, the Blues aren't getting enough production (even if his injury issues are out of his control) and now the team could be looking to shed that expensive asset. Frank Seravalli of Daily Faceoff writes that Tarasenko is healthy now, but the Blues are exploring the trade market for the talented sniper.
Tarasenko has two years left on his current contract and holds a full no-trade clause, meaning he decides whether the Blues are even able to move him at all. But Seravalli reports that he has "alerted St. Louis to several teams he'd be willing to be dealt" and will likely not block a move. Of course, that does not guarantee that a trade will be completed, but it at least makes him an interesting player to watch this summer.
The Blues only have eight NHL forwards even signed for next season, with key restricted free agents like Ivan Barbashev, Zach Sanford, Jordan Kyrou, and Robert Thomas all in need of new contracts. Moving out a cap hit like Tarasenko's makes sense if they want to go long-term and buy out UFA years with any of those young players, especially with other free agent decisions like Colton Parayko coming down the pipe in the near future.
Seller beware though in this case, as Tarasenko has proven to be one of the league's most dangerous goal scorers when healthy. For five consecutive seasons before his major shoulder injuries, the Russian sniper scored at least 33 goals. That kind of production is incredibly difficult to find in the NHL and if Tarasenko can get back to that level again, a trade may end up looking like a huge mistake for the Blues. Still, GM Doug Armstrong has never been one to shy away from trading out key players if he believes it will improve the team in the short or long term, so the fact that he's at least exploring a Tarasenko trade shouldn't come as much of a surprise.
Photo courtesy of USA Today Sports Images