The Florida Panthers have an interesting asset in Chris Driedger, the relatively unknown goaltender that has outperformed Sergei Bobrovsky for two years running. Because of Bobrovsky's big contract and Spencer Knight's emergence, the Panthers don't really need to retain Driedger, but with just a few weeks until he becomes an unrestricted free agent, time is running out if they want to cash him in.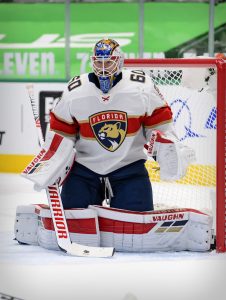 The 27-year-old netminder is drawing interest, according to Pierre LeBrun of The Athletic, who tweets that teams are calling the Panthers about Driedger ahead of free agency. As he notes, however, the expansion draft looms and any acquiring team would need to be able to both sign and protect him if they want to keep him out of Seattle.
Buyer beware, as the former Ottawa Senators prospect still has just 41 games of NHL experience, but perhaps the late-bloomer has really just found a new performance level. As recently as the 2018-19 season he was in the ECHL, posting a .911 save percentage in 11 appearances for the Manchester Monarchs. This year in Florida, he had a .927 in 23 NHL contests.
Overall in his 41 NHL appearances, Driedger has a .926 and has posted a 21-10-4 record. The fact that he's still young enough to potentially improve has to be enticing to teams (even expansion ones) and his lack of history should keep his price relatively low.
The situation is eerily similar to one that played out in 2017, when the Carolina Hurricanes (then led by Kraken GM Ron Francis) traded a third-round pick for Chicago Blackhawks backup Scott Darling, then signed him to a four-year, $16.6MM contract. At the time, Darling had played in just 75 regular season games and had a .923 save percentage (and was even just a few years removed from ECHL action himself). Of course, he also came with a Stanley Cup ring, as he appeared in five games during the 2015 run.
Darling flamed out during his first season as a starter, posting an .888 save percentage in 43 appearances with Carolina, and was bought out by 2019. There's no guarantee that Driedger would suffer the same fate, but it certainly should pause some front offices that are drooling over his performance from this season.
Photo courtesy of USA Today Sports Images