Free agency is now just under a month away and many teams are already looking ahead to when it opens up.  There will be several prominent players set to hit the open market in late July while many teams have key restricted free agents to re-sign as well.  Edmonton has already taken care of their most notable potential unrestricted free agent but they still have some important veterans on expiring contracts.
Key Restricted Free Agents
F Kailer Yamamoto – There was some disappointment in the first half of his contract as the 21-year-old couldn't get established as a regular.  Then same the second half of 2019-20 where he was nearly a point per game player on their second line.  That led to high expectations for this season which weren't met.  However, he still managed a respectable 21 points in 52 games, playing as a full-time regular for the first time.  Given Yamamoto's limited NHL experience, a short-term contract is likely and it will be interesting to see what he winds up with.  His half-season showing last season is enough to give him a bit of leverage but his numbers this year will limit his earnings upside.
F Jujhar Khaira – The 26-year-old hasn't been able to produce much over his career and only managed three goals and eight assists in 40 games this season.  However, he is one of Edmonton's more effective penalty killers and is a good fit on their fourth line.  A $1.3MM qualifying offer is on the high side, especially since Khaira has arbitration rights.  If they can't work a deal out by the July 26th deadline, there's a decent chance that he will be non-tendered.
F Dominik Kahun – A surprising non-tender last summer after Buffalo opted to avoid the risk of an arbitration award that was too high for their liking, Kahun wound up settling for a one-year, $975K contract, a deal that looked like a bargain given the fact he had two straight seasons over 30 points.  However, he didn't play well for long stretches in Edmonton and could be heading for a similar fate later this month unless they can agree to terms on a similarly-priced deal over the next few weeks.
Other RFAs: F Tyler Benson, D Theodor Lennstrom, F Cooper Marody, G Stuart Skinner, G Dylan Wells
Key Unrestricted Free Agents: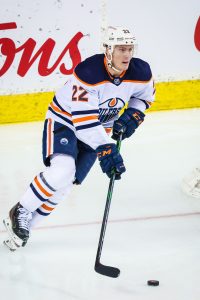 D Tyson Barrie – After a disappointing season in Toronto leading into unrestricted free agency a year ago, Barrie opted for the best fit in the fall over the best contract.  The move turned out to be a wise one as he led all NHL blueliners in points with 48 in 56 games.  In doing so, he should have a stronger market now than he did in the fall and should be able to get a bigger contract.  However, he turns 30 just before reaching the open market and as someone that isn't known for his play in his own end, Barrie isn't going to command top dollar like Dougie Hamilton will if he reaches free agency.  Barrie should have a good chance to reach the $5.5MM AAV he had on his previous contract with Colorado and Toronto which would still represent a nice raise on the $3.75MM he made this season and, perhaps more importantly, land a multi-year deal in the process.
D Adam Larsson – At this point, he seems to be the priority to re-sign for Edmonton with recent progress being made on that front.  The 28-year-old is a steady defensive presence and since he doesn't put up many points, he isn't going to be able to command a big raise, if he gets one at all.  Something in the high $3MM to low $4MM range seems like a reasonable fit for Larsson which would allow him to get a deal similar to the one he just finished up while still giving the Oilers some cap flexibility to try to add to their roster.
G Mike Smith – After Edmonton wasn't able to land a longer-term fit between the pipes in the fall, they opted to re-sign Smith in a move that worked out quite well for them in the end.  The 39-year-old posted his highest save percentage (.923) and lowest goals against average (2.31) in a decade and lost only six of his 30 starts in regulation time.  That would seemingly have him in line for a raise on the $1.5MM base salary he made this season but his age will likely limit his suitors, holding his market back accordingly.  The Oilers would be wise to look for a longer-term fit once again but if they can't find one, circling back to Smith makes sense.  Assuming he signs another one-year deal, he'll be eligible for performance bonuses again, giving them some extra short-term wiggle room on the cap.
Other UFAs: F Alex Chiasson, F Tyler Ennis, F Joseph Gambardella, D Slater Koekkoek, D Dmitry Kulikov, F Alan Quine, F Patrick Russell
Projected Cap Space
The Oilers have a little over $16MM in cap space at the moment and those amounts could increase if they opt to buy out goalie Mikko Koskinen or winger James Neal.  A new deal for Larsson will cut about a quarter of that room out and a starting goalie will eat into that as well with Smith costing about half of what a longer-term option should.  Yamamoto is the only RFA of significance so there should be some room for GM Ken Holland to work with regardless of what happens between the pipes.  The question becomes whether they should spend it on one impact piece or spread it out to give themselves better depth throughout the roster.  They have a few more weeks to determine which way they want to go.
Photo courtesy of USA Today Sports Images.  Contract information courtesy of CapFriendly.