Over the next few weeks, we will be breaking down each team's situation as it pertains to the 2021 NHL Expansion Draft. Which players are eligible, who will likely warrant protection, and which ones may be on the block to avoid the risk of losing them for nothing? Each team is required to submit their protection lists by 4:00 PM CDT on July 17th. The full eligibility rules can be found here, while CapFriendly has an expansion tool to make your own lists.
Back in 2017, the Oilers lost a young defenseman to Vegas in expansion in Griffin Reinhart.  The fact they lost him wasn't a big deal – he only played one game for the Oilers in 2016-17 and never played a game for the Golden Knights; he played in Germany this season – but it provided a harsh reminder of what they gave up to get him in 2015 first and second-round picks.  (The first-rounder became Mathew Barzal and the second-rounder turned into Mitchell Stephens.)  This time around, they may very find themselves losing a young defenseman once again.
Eligible Players (Non-UFA)
Forwards:
Josh Archibald, Tyler Benson, Leon Draisaitl, Seth Griffith, Dominik Kahun, Zack Kassian, Jujhar Khaira, Cooper Marody, Connor McDavid, James Neal, Ryan Nugent-Hopkins, Jesse Puljujarvi, Devin Shore, Anton Slepyshev, Kyle Turris, Bogdan Yakimov, Kailer Yamamoto
Defense:
Ethan Bear, Caleb Jones, Oscar Klefbom, William Lagesson, Darnell Nurse, Kris Russell
Goalies:
Mikko Koskinen, Alex Stalock, Stuart Skinner, Dylan Wells
Notable Unrestricted Free Agents
D Tyson Barrie, F Alex Chiasson, F Tyler Ennis, D Slater Koekkoek, D Dmitry Kulikov, D Adam Larsson, G Mike Smith
Notable Exemptions
D Evan Bouchard, D Philip Broberg, F Ryan McLeod, D Dmitri Samorukov
Key Decisions
The first key decision was made earlier this week when they re-signed Nugent-Hopkins.  Had they not done so, it was possible that they could have gone with the eight-skater route, allowing them to protect an extra defenseman.  That won't be the case now as he joins McDavid, Draisaitl, Yamamoto, and Puljujarvi as sure-fire protectees.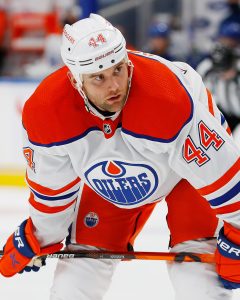 There are quite a few candidates for those last two spots.  A year ago, it felt like Kassian was going to be in that guaranteed protected list.  He had just signed a four-year deal and was coming off a career year offensively; it felt like he was finally becoming the type of power forward that he was expected to when he was a first-round pick in 2009.  Then 2020-21 happened.  He had two significant injuries that cost him half the season and when he was in the lineup, he wasn't particularly productive as he managed just two goals in 27 games.  His contract has gone from market value to an overpayment in a hurry and as a result, he could very well be left exposed even though when he's on his game, he can be a difference-maker for the Oilers.
Archibald has become more of what they were hoping for from Kassian – a physical forward that can move up and down the lineup where needed and chip in with a timely goal here or there.  His scoring total dipped to just seven this season after a dozen in each of the previous two years but he's the type of versatile player they'll likely opt to keep around.
In terms of their other veterans, Khaira is a capable checker but a $1.3MM qualifying offer makes him a possible non-tender candidate as in this market, that's a bit much for a fourth liner.  That uncertainty makes it difficult to think he'll be protected.  Turris, Neal, and Shore cleared waivers and spent frequent time as healthy scratches.  It's safe to say they'll be exposed as well.  Kahun had a tough year after two straight years of more than 30 points which has him in the possible non-tender category as well.  If they agree on a new low-cost deal early, it could earn him a protected slot but it's not a guarantee.
That leaves Benson, a player with seven career NHL games under his belt with none of them coming this season.  (This year, he had 36 points in 36 games with AHL Bakersfield.)  He's now waiver-eligible and seemingly on the cusp of a roster spot.  Even if he winds up being the odd man out in training camp, he still has more upside than several of the veterans that are vying for one of the last two protected slots.
On the back end, there are two safe bets to be protected.  Nurse has become their number one defenseman while Bear's tough season is overshadowed by a strong 2019-20 campaign.  His potential is high enough that he'll be kept away from the Kraken.
Larsson is a pending UFA but there is mutual interest in getting a new deal in place before he hits the market.  If that was to happen in the next couple of weeks, he'd get the third spot.
Assuming that doesn't happen (or they wait to announce until after the draft), it would appear that two young blueliners – Jones and Lagesson – will be in the mix for the final slot.  Jones' best showing came in his rookie year in 2018-19 and he hasn't been able to lock down a full-time spot since then.  Of the two, he has a bit more offensive upside than Lagesson, who is more of a stay-at-home defender.  Lagesson's a year older (25 vs 24 for Jones) and doesn't have as much NHL experience (27 games vs 93 for Jones).  Jones would appear to have the slight edge out of the two.
If Klefbom was healthy, he'd be a guaranteed protectee.  However, he missed all of this season after shoulder surgery and it doesn't sound like he'll be ready to start next year either.  Could Seattle pick him in the hopes of him returning to health and becoming a possible trade asset down the road?  Perhaps but that's an expensive gamble with $9.669MM still owed in salary in the final two years of his deal.  Russell was extended during the season to meet one of the exposure criteria and nothing has changed on that front.
Unlike most teams, Edmonton's protected spot between the pipes is uncertain.  It's safe to say it won't be Koskinen who may very well be bought out this month.  Stalock was claimed off waivers during the season and is signed for cheap but he didn't play at all.  Are they prepared to make him the full-time backup next year?  If so, he could get this slot but if not, keeping a youngster makes more sense.
That should be Skinner.  He struggled in his lone NHL appearance this season but was much better with Bakersfield, posting a 2.38 GAA with a .912 SV% in 31 games.  He's still waiver-exempt and if made available, could be intriguing to Seattle in terms of having another goalie in the system.  Wells struggled in both the AHL and ECHL this season so it's safe to say he won't be protected.
Having said that, if they come to terms on a new deal with Smith between now and the draft, he'll get the protected spot.
Projected Protection List
F Josh Archibald
F Tyler Benson
F Connor McDavid
F Leon Draisaitl
F Ryan Nugent-Hopkins
F Jesse Puljujarvi
F Kailer Yamamoto
D Ethan Bear
D Caleb Jones
D Darnell Nurse
Skater Exposure Requirement Checklist
When Vegas had their expansion draft, a minimum of two forwards and one defenseman had to be exposed that were under contract and played either 40 games in the most recent season or 70 over the past two combined.  Due to the pandemic, those thresholds have been changed to 27 games played in 2020-21 or 54 in 2019/20 and 2020-21 combined.  In creating our expansion list for each team in this series, we will ensure that these criteria are met.
Forwards (4): Zack Kassian, James Neal, Devin Shore, Kyle Turris
Defensemen (2): Oscar Klefbom, Kris Russell
The Oilers are well-positioned as things stand.  If Seattle likes one of Khaira or Kahun, it's possible one of the pending RFAs gets selected.  Otherwise, Lagesson could be the target as a young defender with potentially a little bit of trade value or someone that can hold down the seventh or eighth spot on the back end.  Edmonton appears to be set to be one of the teams that won't be impacted all that much when they lose a player to the Kraken.
Photo courtesy of USA Today Sports Images.  Contract information courtesy of CapFriendly.