Over the next few weeks, we will be breaking down each team's situation as it pertains to the 2021 NHL Expansion Draft. Which players are eligible, who will likely warrant protection, and which ones may be on the block to avoid the risk of losing them for nothing? Each team is required to submit their protection lists by 4:00 PM CDT on July 17th. The full eligibility rules can be found here, while CapFriendly has an expansion tool to make your own lists.
The last time the expansion process rolled around, the Avalanche were in great shape. They ended up losing depth goaltender Calvin Pickard, who never even played a game in the Vegas organization. He cleared waivers and then was traded for a sixth-round pick and Tobias Lindberg the following October, meaning Colorado certainly didn't part with much of an asset. This time around the Avalanche are a much deeper roster and things may not be so painless.
Eligible Players (Non-UFA)
Forwards: 
Nathan MacKinnon, Mikko Rantanen, Andre Burakovsky, Nazem Kadri, Joonas Donskoi, J.T. Compher, Valeri Nichushkin, Tyson Jost, Kiefer Sherwood, Travis Barron, Logan O'Connor, Ty Lewis, Jayson Megna, Vladislav Kamenev
Defense:
Erik Johnson (NMC), Samuel Girard, Devon Toews, Ryan Graves, Dennis Gilbert, Cale Makar, Jacob MacDonald
Goalies:
Notable Unrestricted Free Agents
F Gabriel Landeskog, F Brandon Saad, D Patrik Nemeth, G Philipp Grubauer, G Devan Dubnyk
Notable Exemptions
F Shane Bowers, F Sampo Ranta, F Alex Newhook, F Martin Kaut, D Conor Timmins, D Bowen Byram, G Pavel Francouz
Key Decisions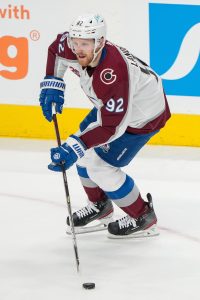 Just reading through the list of eligible players you can start to see a problem for the Avalanche, and a potential reason why Landeskog remains unsigned. It's not clear whether the team has a deal "in the drawer" for their captain (reports indicate that isn't the case, though things can change at any moment), but it certainly would help the situation if he signs after the draft instead of before it. Remember, that strategy technically gives the Kraken a chance to speak with Landeskog ahead of the draft, meaning they could offer him a huge contract to try and pry him away from the only team he's ever known.
Even if he and Saad are not signed before the draft though, it still leaves Colorado GM Joe Sakic with a tough decision. Do you protect seven forwards and three defensemen, potentially risking a young player from the blueline, or eight skaters in order to make sure that defense corps stays intact? The decision will be almost entirely based on whether Johnson agrees to waive his no-movement clause, which would normally force the Avalanche into protecting him. The veteran defenseman is an unlikely target for Seattle because of his age, contract, and recent injury issues, meaning waiving it would only serve to help the franchise he currently plays for.
Assuming he does waive it and the team goes the seven forwards-three defenseman route, there are still plenty of decisions to be made. Rantanen, MacKinnon, Burakovsky, and Nichushkin are easy choices to protect at forward, but that leaves the group of Kadri, Donskoi, Compher, Jost, and O'Connor to fill just three spots.
It might have been easy to pencil Kadri into that must-protect list a few months ago, but after getting another playoff suspension, there will have to be at least some discussion over whether he should be a core piece moving forward. Three times now in his career he hasn't been available when his team needed him most, and the 30-year-old center has just one year left on his contract.
Donskoi and Compher are both valuable players, but given their cap hits ($3.9MM and $3.5MM respectively) it wouldn't be the end of the world to lose one of them, with so many free agents to sign this offseason. One of those free agents is Jost, who is an arbitration-eligible RFA. He too has settled into a role with the Avalanche and is still just 23, but hasn't experienced the offensive breakout that was expected when the team selected him 10th overall in 2016.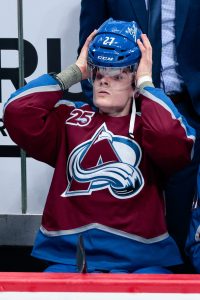 That leaves O'Connor, who some may overlook simply because of his undrafted status and lack of NHL experience, but there were real moments of upside from him this season as a bottom-six piece. The fact that he will carry a cap hit next season that is less than league minimum ($725K) makes him a valuable option for an Avalanche team that will be skirting the salary cap ceiling all year long.
Of course, even if Johnson does waive his clause, it doesn't mean things come easy on defense. The simple answer is to protect Makar, Girard and Toews, who each logged more than 23 minutes a night this season and are all core pieces of the roster. But that would mean exposing Graves, who arguably outplayed Toews and Girard in the playoffs and carries the lowest cap hit of the three. The 26-year-old Graves looks like he is still improving and could very well be part of the Kraken top-four if left exposed.
In net, there isn't even anyone that really deserves protecting, unless Grubauer re-signs before the draft. That means the Avalanche could actually make a trade for a new starting goaltender before the draft if they believe their incumbent Vezina finalist will be too expensive to bring back.
Projected Protection List
F Mikko Rantanen
F Nathan MacKinnon
F Andre Burakovsky
F Nazem Kadri
F Joonas Donskoi
F Valeri Nichushkin
F Tyson Jost
D Samuel Girard
D Devon Toews
D Cale Makar
*Assuming Landeskog does not re-sign before the draft and Johnson waives his NMC
Skater Exposure Requirement Checklist
When Vegas had their expansion draft, a minimum of two forwards and one defenseman had to be exposed that were under contract and played either 40 games in the most recent season or 70 over the past two combined.  Due to the pandemic, those thresholds have been changed to 27 games played in 2020-21 or 54 in 2019/20 and 2020-21 combined.  In creating our expansion list for each team in this series, we will ensure that these criteria are met.
Forwards (1): J.T. Compher
Defensemen (3): Erik Johnson, Ryan Graves, Jacob MacDonald
Of course, in this situation the Avalanche still have some work to do. They need to leave two forwards exposed that meet the requirements, and by protecting both Donskoi and Kadri it leaves just one. A new contract for Landeskog,  or Saad would change this, but they could also just extend Bellemare or even Calvert if he is healthy enough to return to action. On the back end, Johnson waiving his NMC would do the trick, but even without him they have enough options to fill the single required spot.
Photos courtesy of USA Today Sports Images.  Contract information courtesy of CapFriendly.