The Chicago Blackhawks and Edmonton Oilers have been working on a Duncan Keith trade for the past few weeks, and after a lengthy day of reports, the trade is final. Darren Dreger of TSN reports that the deal is complete, with the Blackhawks receiving Caleb Jones and a third-round pick. No salary was retained by Chicago. Mark Spector of Sportsnet reports that at one point in the talks, the Oilers tried to include Mikko Koskinen in order to clear some cap space, but he is not involved in the final deal. TSN's Pierre LeBrun finally reported that Blackhawks prospect Tim Soderlund is headed to Edmonton as well. He also notes that the third-round pick is in 2022 and that it could turn into a second-round pick if Edmonton wins three rounds in the 2022 Stanley Cup Playoffs, and Keith is top-four among Edmonton defensemen in terms of ice time.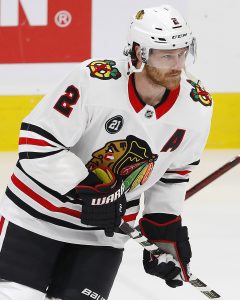 The veteran defenseman told Chicago last month that he wanted to go to the Pacific Northwest or Western Canada in any deal to be closer to his home in British Columbia. Moving Keith before the expansion deadline would allow the Blackhawks to protect an extra defenseman, something that seems absolutely necessary given their situation at this point.
Keith, 37, has two years remaining on his contract and carries a $5.54MM cap hit. The legendary defenseman will go down as one of the best to ever play for the Blackhawks, helping them to three Stanley Cup championships and suiting up more than 1,300 times. Keith has played more regular-season games than any other defenseman in Blackhawks history and trails only Stan Mikita for the overall lead. His 625 points during that time trail only Doug Wilson among Blackhawks defensemen.
Of course, his play has deteriorated some over the past few seasons, meaning the Oilers won't be getting the same player that enjoyed so much success in Chicago. Keith will turn 38 on Friday and recorded a career-low 15 points in 2020-21. There's little doubt that he can still play at the NHL level, but it's hard to know exactly what Edmonton will be getting from the veteran. With that uncertainty, it seems likely that they would have been asking for the Blackhawks to retain at least a portion of his salary, though it did not occur.
The Oilers actually do have a little bit of cap room to play with this offseason, but that's mostly thanks to so many players hitting unrestricted free agency. Tyson Barrie and Adam Larsson are pending UFAs, while Darnell Nurse, Ethan Bear, and Kris Russell are only signed through the 2021-22 season. That would mean Keith is coming aboard with the longest term left on the back end, matching the injured Oscar Klefbom's remaining two years. If it goes badly, the team is at least in a position to restructure their finances moving forward, though extensions for Larsson and Nurse could complicate those matters.
For Chicago, adding Jones is certainly an interesting factor, given their apparent interest in his brother Seth Jones who is also on the trade market. Even without a trade of that magnitude, moving Keith out will allow more opportunity for their other young defensemen and start the transition to the next wave of talent in the organization. Even at his age, Keith was still given more than 23 minutes a night, ice time that can be spread out among the team's other options moving forward. Receiving some cap relief and a draft pick will also benefit the Blackhawks moving forward as they try to bridge the gap from their aging championship core to a new contending group.
Edmonton has struggled to find any playoff success during the Connor McDavid years, so bringing in Keith will certainly provide an experienced voice for the Oilers captain to lean on in the postseason. Whether that previous playoff success actually helps Edmonton find some in the future is certainly still to be seen, given Keith's Blackhawks haven't made it past the first round since 2015.
Remember, as with any trade in the coming days, there are expansion draft complications. While the Blackhawks will get an extra spot, Keith will now require protection by the Oilers thanks to a no-movement clause that will be carried over. Even with Jones going the other way and Larsson not yet signed, the team will likely now have to leave Klefbom exposed and hope the Kraken are scared off by his injury situation. Nurse and Ethan Bear would be the other two protection spots, unless a Larsson extension comes before the draft.
Photo courtesy of USA Today Sports Images