Over the last few weeks, we have been breaking down each team's situation as it pertains to the 2021 NHL Expansion Draft. Which players are eligible, who will likely warrant protection, and which ones may be on the block to avoid the risk of losing them for nothing? Each team is required to submit their protection lists by 4:00 PM CDT on July 17th. The full eligibility rules can be found here, while CapFriendly has an expansion tool to make your own lists.
The last time the Blackhawks had to face an expansion draft, the outcome ended up in the news long before the Golden Knights announced their pick. Trevor van Riemsdyk would be left unprotected, but Vegas would also agree to take on Marcus Kruger's remaining contract. Though it had to wait until after Chicago paid his signing bonus, Kruger would eventually end up with the Golden Knights in exchange for "future considerations." Vegas would flip both Kruger and van Riemsdyk to Carolina, essentially getting second and fifth-round picks for just a tiny bit of salary retention. Those kinds of moves were part of the brilliant strategy devised by Vegas, but won't be so easy to pull off this time around.
Eligible Players (Non-UFA)
Forwards: 
Jonathan Toews (NMC), Patrick Kane (NMC), Alex DeBrincat, Brett Connolly, Dylan Strome, David Kampf, Ryan Carpenter, Adam Gaudette, Josh Dickinson, Brandon Hagel, Henrik Borgstrom
Defense:
Duncan Keith, Calvin de Haan, Connor Murphy, Nikita Zadorov, Riley Stillman
Goalies:
Collin Delia, Malcolm Subban, Kevin Lankinen
Notable Unrestricted Free Agents
Vinnie Hinostroza, Brandon Pirri, Anton Lindholm
Notable Exemptions
Dominik Kubalik, Pius Suter, Philipp Kurashev, Kirby Dach, Alexander Nylander, Ian Mitchell, Adam Boqvist, Wyatt Kalynuk, Nicolas Beaudin
Key Decisions
This time in Chicago, the decisions to make are actually relatively easy. One of the biggest questions a few months ago would have been whether Nylander deserved protection five years after being selected eighth overall by the Buffalo Sabres. That question now has an easy answer, as the 23-year-old winger is exempt because he missed this entire season following knee surgery. Because his first two years post-draft were spent mostly at the AHL level, they don't count toward his eligibility and thus he has just two years of professional experience under his belt, at least according to the expansion rules. He's exempt, and Chicago fans can argue over whether or not he deserves a roster spot next season.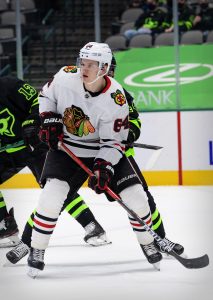 Toews, Kane and DeBrincat are obvious choices for protection. Now that the captain is back skating, there's no need to talk about waiving his no-movement clause for the Blackhawks in order for them to protect an extra player. Strome, even though he is coming off a terrible season, has too high a ceiling to be left exposed to Seattle. Hagel was about as big of a bright spot as they had in Chicago this season, adding 24 points while seemingly never running out of energy. The 22-year-old likely gets protected. Borgstrom already agreed to a two-year deal to return to North America, so Chicago isn't going to let the first-round pick get selected.
That leaves two spots for the group of Connolly, Kampf, and Gaudette, with the odd man out potentially heading to Seattle. A $3.5MM cap hit seems like a ridiculous price for the Connolly that scored just three goals in 31 games last season, but what about the one that had 71 over his previous 286 (a 20-goal 82-game pace). Sure, if Seattle took him off Chicago's hands it wouldn't be the end of the world, but at just 29 there is real bounce-back potential there. Kampf has never shown an ability to score at that rate, with just 17 goals over his four seasons with the Blackhawks. That's not to say he's useless, but he'll be an RFA this summer and scored just a single goal in 56 games this season.
Gaudette is the most interesting case here, after arriving midseason in a trade from the Vancouver Canucks. The 24-year-old looked like he was ready to breakout in 2019-20 when he scored 12 goals and 33 points in 59 games, but he completely fell apart in the playoffs and then couldn't find his game at all this season. He'll also be an RFA this summer, and it's not really clear how the Blackhawks plan to use the 2018 Hobey Baker winner. There is at least an argument to be made for Kampf's defensive consistency over Gaudette's offensive potential, even if it would have seemed crazy a year ago.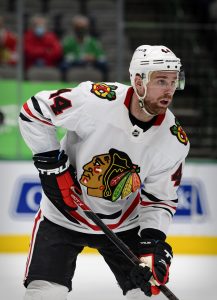 On defense, things really just boil down to the Keith situation. It appears a trade is likely, with the Kraken one of the preferred destinations thanks to its proximity to his hometown. Whether a deal is officially made before the draft (other teams including the Edmonton Oilers are also involved in the discussions) or Keith simply agrees to waive his no-movement clause, it doesn't appear as though he'll be protected by the Blackhawks.
That leaves three spots for four defensemen, with Murphy obviously getting one of them. Zadorov and de Haan could easily be the other choices, though perhaps Stillman could also be a factor if the team believes they've locked up real value when he signed a three-year, $4.05MM deal in April. When it was signed, GM Stan Bowman noted that Stillman's development was "something we look forward to seeing firsthand," suggesting that perhaps they believe he can be a real core piece moving forward. If that's the case, Zadorov or de Haan could be exposed simply to open up cap space and minutes for their other young defensemen.
In net, it really comes down to who the organization believes has the highest ceiling. All three netminders played this season, all three will be unrestricted free agents after next. Lankinen came back to earth after an outstanding first half, finishing with a .909 save percentage in 37 games. He's the leading candidate for protection, but it seems unlikely that any of them would be in danger of selection anyway.
Projected Protection List
F Jonathan Toews
F Patrick Kane
F Alex DeBrincat
F Dylan Strome
F Adam Gaudette
F Brandon Hagel
F Henrik Borgstrom
D Connor Murphy
D Nikita Zadorov
D Riley Stillman
*Assuming that Keith is traded or waives his no-movement clause before the draft
Skater Exposure Requirement Checklist
When Vegas had their expansion draft, a minimum of two forwards and one defenseman had to be exposed that were under contract and played either 40 games in the most recent season or 70 over the past two combined.  Due to the pandemic, those thresholds have been changed to 27 games played in 2020-21 or 54 in 2019/20 and 2020-21 combined.  In creating our expansion list for each team in this series, we will ensure that these criteria are met.
Forwards (2): Brett Connolly, Ryan Carpenter
Defensemen (2): Duncan Keith, Calvin de Haan
Even if the team trades Keith ahead of the draft, leaving de Haan (or Stillman) exposed would fill their defensive requirements. The exposure requirements could also help the decision on Connolly, as he's one of only a handful that currently meets the games played threshold and are signed through next season. Gaudette or Kampf, alternatively, would require new deals to fill that forward requirement.
Photos courtesy of USA Today Sports Images.  Contract information courtesy of CapFriendly.