The Boston Bruins have locked up one of their key players, signing Brandon Carlo to a six-year extension. The contract will carry an average annual value of $4.1MM, meaning Carlo will earn $24.6MM over the six seasons. Bruins GM Don Sweeney released a short statement on the deal:
The Bruins are very pleased to have extended Brandon on a long-term deal. Brandon is a player who has grown into a foundational defenseman with our team while also emerging as an important leader on and off the ice.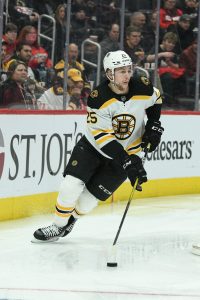 Carlo, 24, is one of the most important players on the Bruins roster, soaking up tough defensive minutes behind Charlie McAvoy. The 6'5″ defenseman burst onto the scene in 2016-17 and averaged nearly 21 minutes a night as a rookie, scoring six goals and 16 points. That goal total is actually still his career-high, but it's not about offensive production when valuing Carlo's contribution to the team. The coaching staff in Boston has absolutely pummelled him with defensive zone starts since he entered the league, and put him on the ice for nearly three minutes of short-handed time every night this season. His results in those tough minutes have been rather strong, suggesting that he will continue to be a good shutdown option for the next while.
On a six-year contract that buys out four years of unrestricted free agency, getting Carlo at $4.1MM is a big win for the Bruins. The team is likely looking at a much more expensive extension for McAvoy when he reaches restricted free agency in a year, but having the anchor of their second pair locked in at a reasonable price will make that negotiation much easier. It also takes a big name off the offseason to-do list, meaning Sweeney and company can get focused on some of the other pending RFAs or the UFA market.
This extension could also serve as a comparable for some of the other names around the league, even if it does include a pair of RFA years. Adam Larsson, who plays a similar role for the Edmonton Oilers, is a pending UFA, while 25-year-old Travis Sanheim needs a new contract with the Philadelphia Flyers. Neither situation is exactly comparable to the one the Bruins and Carlo were in, but his deal will now go up on the board as a point of negotiation in many of the talks this summer.
Of course, there is always some risk when inking a deal of this length. Carlo did deal with injuries for much of this season, playing just 27 regular season games. In the playoffs, he left a game against the New York Islanders after a big hit from Cal Clutterbuck and didn't return in the series. The young defenseman has suffered several concussions in his short career, which always casts some doubt over his future health and production. The Bruins obviously still believe in him and have rewarded him with a long-term contract, but you can see why a player in Carlo's situation would be happy to sign a long-term deal at this point in his career.
Photo courtesy of USA Today Sports Images