The offseason has arrived with roughly half of the league missing the playoffs and several more having since been eliminated.  It's time to examine what those teams need to accomplish over the coming months.  Next up is a look at St. Louis.
While the Blues managed to secure the final playoff spot in the West Division, it was a bit of a tough year for them.  On paper, the roster was good enough to be a threat but it didn't materialize into much success and they were swept by Colorado in the opening round.  With a lot of money coming off the books this summer, GM Doug Armstrong will have an opportunity to reshape his team (or keep most of it intact if he prefers that option).  Here is a look at what will be on his to-do list this summer.
Berube Decision
While we saw several teams go with a coach in the final year of their contract, that isn't always the case as some teams want to at least get a small extension in place to avoid any potential for distraction.  Head coach Craig Berube will be in the final season of the three-year deal he signed after having the interim tag removed following their Stanley Cup victory in 2019.
Armstrong will need to decide if he's comfortable with Berube being the head coach beyond next season and if so, they may as well try to work a deal out now.  Or, if he's uncertain about if he is the ideal long-term fit (two first-round exits could raise some questions on that front), he will need to decide if he's comfortable starting the season with Berube on the final year of his deal.  With several teams doing that this year, it will be easier to justify that option if Armstrong decides to wait a little longer before making that call.
Re-Sign Or Replace Schwartz
Jaden Schwartz has been a regular in St. Louis' lineup for the better part of a decade now.  He certainly has battled injuries at times but he has five seasons of 55 or more points under his belt and is a valuable part of their top-six.  The 28-year-old is set to hit the open market for the first time this summer and his case should be one of the more interesting ones around the league.
2020-21 was not a good season at all for Schwartz.  He had just eight goals and 13 assists in 40 games this season, per-game rates that were only higher than his rookie season when he was only playing a dozen minutes a night in a limited role.  That certainly doesn't provide a great case for a raise.  However, three of those 55-point or more campaigns came in three of the four previous years so there is definitely some track record of recent success.
A couple of years ago, Schwartz would have been in line for a long-term deal around his $5.35MM cap hit that he had this season and probably a little bit higher.  However, the UFA market was tough on most wingers last fall and with teams in a similar cap crunch now, it seems likely that this will be the case again this summer.  All of a sudden, there's a definite possibility that Schwartz is facing a reduction in pay.
If they're unable to come to terms on a new deal, Armstrong could pivot to someone like Mike Hoffman, another Blues UFA.  It's unlikely they'll be able to afford to keep both but if Schwartz decides to move on, they could have his replacement in-house already.
Dunn Deal
Vince Dunn is no stranger to trade speculation.  The 24-year-old has basically been there for a couple of years now to the point where it was well-known early in the season that he was available.  While his point total went down last season (not just due to the pandemic), he did very quietly turn things around on that front, collecting 20 points in 43 games this year, numbers that if extrapolated over an 82-game season, would have been the best of his young career.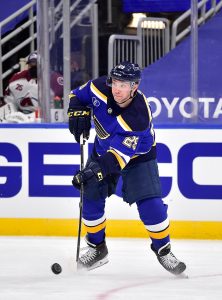 How things got to this point is certainly a little odd.  While he isn't the best in his own zone, he's a strong skater and puck-mover, elements that are more important from the back end now and he even stepped into more of a top-four role this season.  On the surface, it would seem like he's the type of player that should be a core piece, not a trade chip for basically half of his NHL career.
It also should be noted that expansion could be playing a role here.  Colton Parayko is a lock to be protected (and is someone that the Blues undoubtedly will be talking about an extension with when he's eligible to sign one in late July) as is Torey Krug.  If they're only protecting three, that last spot will be Dunn, Justin Faulk (who had a nice bounce-back season after a tough first year in St. Louis), and Marco Scandella.  If Armstrong would rather protect one of the latter two, it makes more sense to find a trade taker for Dunn before protection lists are due.
Even if they don't do the trade route, there's still work to be done for Dunn as he is once again a restricted free agent, this time with salary arbitration.  Last time, the Blues held the cards as they had limited cap space and Dunn didn't have the ability to file for a hearing and they were able to get an affordable one-year deal out of it.  This time around, Dunn will be well-positioned for a sizable raise although it remains to be seen which team will be the one giving it to him.
Add A Veteran Goaltender
For several years, Ville Husso was viewed as the goalie of the future for the Blues and was even ahead of Jordan Binnington on the organizational depth chart at one point (which has clearly changed since then).  With Jake Allen being traded to Montreal in a cap-saving move last year, Husso finally had an opportunity to be the backup goaltender.
However, it didn't go particularly well.  The 26-year-old posted a save percentage of just .893 with a GAA of 3.20 in 17 games this season, numbers that didn't reach the league average on both fronts.  It's certainly possible that he can improve – he has had some very strong seasons in the minors – but it would be risky to have him as the uncontested backup heading into next season as well.
Part of the allure in having Husso as the backup is a cap hit that will be at the league minimum next year which frees up money to spend elsewhere.  Bringing in a more proven option could cost another couple of million and with over $66MM committed already and a few notable players needing new deals, it could be a tight squeeze to manage.  If it's one they can't afford in their salary structure, then at least bringing in a veteran that could start in the minors but could push for playing time would be a reasonable backup plan.  It could be a small addition that goes under the radar but would still be a useful one.
Photo courtesy of USA Today Sports Images.  Contract information courtesy of CapFriendly.