The offseason has arrived with roughly half of the league missing the playoffs and several more having since been eliminated.  It's time to examine what those teams need to accomplish over the coming months.  Next up is a look at Philadelphia.
After making it to the second round last season, expectations were fairly high for the Flyers heading into this season.  However, while they started strong with seven wins in their first ten games, their goaltending struggled mightily as the campaign progressed and Philadelphia wound up in sixth in the East Division as a result.  GM Chuck Fletcher opted to keep the coaching staff intact but will be tasked with finding a player or two to help vault them back into playoff contention.  Here's what will be on their offseason checklist.
Re-Sign Sanheim
Philadelphia's list of pending restricted free agents isn't particularly long but one of their notables is defenseman Travis Sanheim.  Following a breakout 2018-19 season, he wound up signing a bridge contract that would ideally set him up for a more lucrative one at this point in time while giving the Flyers some more certainty about what type of role he'd be able to fill.
That hasn't exactly happened, however.  His production dipped sharply this season as he managed just three goals and a dozen assists in 55 games.  Instead of his numbers trending towards being worthy of top-pairing minutes, they went the other way.  While his possession numbers were still strong, he, like pretty much everyone else on their back end, had some adventures in his own end as well.  That's not an ideal platform season by any stretch.
Sanheim is going to be a part of their long-term core but will he be a key player or fill more of a supporting role?  It's hard to see that question being definitively answered now so instead of a long-term contract that buys out some UFA years, both sides may be better off with a one-year pact that keeps him RFA-eligible but gives them more time to see where he fits in.  That type of contract would come in slightly higher than his $3.25MM qualifying offer.
Giroux Extension Talks
Claude Giroux has been a fixture in Philadelphia's lineup for the past 13 seasons and should move into second in all-time franchise scoring (behind Bobby Clarke) at some point next season.  Along the way, the captain has been shifted between center and the wing on multiple occasions and has adapted well.  While he's not the 102-point scorer he was just a few years ago, the 33-year-old is still a fixture in their top six and has provided a good return on his eight-year, $66.2MM contract that he signed back in July of 2013.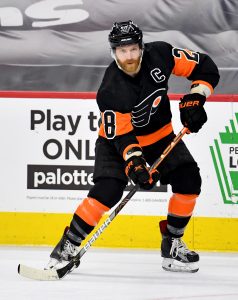 That deal is now a year away from expiring which means that Giroux will be eligible to sign an extension once the new league calendar starts on July 28th.  It's hard to see Giroux wanting to go elsewhere at this point but it's also hard to see him commanding a contract that's particularly close to his current $8.275MM AAV.  His per-game averages the past two years are the lowest they've been in a decade and considering he'll be 34 when his next contract kicks in, that's unlikely to tick up.  Giroux may very well want to make this his last contract, especially since it's his last chance at signing without the 35-plus classification that some teams try to avoid.
If an extension can be worked out this summer, it will take away any distraction of Giroux playing in his contract year and give Fletcher some certainty about what type of cap room he'll have in the future.  It's not something that has to get done but it wouldn't be surprising to see the Flyers try to work something out with their franchise fixture.
Rebuild And Re-Sign The Goalie Tandem
There were three different goalies that played for the Flyers this season.  None of them played particularly well and none of them are under contract for 2021-22.
Of the three, it's safe to suggest that Carter Hart will still be around.  After a good showing in his rookie year in 2018-19, he followed it up with an even better performance last season which helped lead to the higher expectations heading into 2020-21.  He even did well start this season but once the calendar flipped to March, he struggled mightily, posting a save percentage of just .852 in 15 games from then until the end of the season.  As a result, he goes from being someone that looked to be a safe bet for a long-term contract that bought out some UFA years to someone that will wind up on a bridge deal to see if this year was just a blip or a sign of things to come.
It also presents a challenge for Fletcher in terms of who to partner up with Hart.  Brian Elliott has been with the Flyers for the past four seasons and outplayed Hart this year.  If all would have gone well, Hart would have done well, earned a long-term contract, and potentially allowed for Elliott to be retained.  But now, they may need someone that can legitimately push for playing time.  At 36, that's unlikely to be Elliott and instead of spending $1.5MM for the backup spot, that amount may need to be doubled as they shop at the higher end of the UFA market.  (Alex Lyon was the other goalie to play this season and is set to become an unrestricted free agent as well.  He could be brought back or replaced with another veteran third-stringer.)
Upgrade The Back End
Let's go back to Philadelphia's defensive group.  Their core – Ivan Provorov, Sanheim, Philippe Myers, and Shayne Gostisbehere – all struggled relative to expectations with Gostisbehere clearing waivers at the trade deadline.  It's still a fairly young collection of rearguards as Gostisbehere being the only one older than 25.  But it's also a group that could use a veteran as they never really properly replaced Matt Niskanen who surprisingly retired last fall; the Erik Gustafsson signing did not work out well at all and didn't provide the defensive stability that Niskanen did.
A better blueline leads to fewer scoring chances and fewer goals which is less stress for Hart as he looks to rebound next season.  Finding someone who is stable in the defensive zone and can play in their top four would certainly give their defense corps a significant lift.  Affording such a move could be tricky with roughly $12MM in cap room with Sanheim plus a goalie tandem needing contracts so Fletcher will have to find a way to free up some space before trying to fill this need.
Photo courtesy of USA Today Sports Images.  Contract information courtesy of CapFriendly.