The offseason has arrived with roughly half of the league finished up after missing the playoffs.  It's time to examine what those teams need to accomplish over the coming months.  Next up is a look at Los Angeles.
The rebuild has been in full effect for the Kings lately as they've missed the playoffs in three straight seasons while carrying one of the lowest payrolls in the league as they attempted to integrate several young players into their lineup with mixed results.  GM Rob Blake has done well in terms of stockpiling quality young talent (particularly down the middle) but his veteran core, led by Drew Doughty, are hoping to see some win-now moves made.  With their cap flexibility closing as their young players come off their entry-level deals, the time is right for Los Angeles to try to strike and accordingly, several items on their offseason checklist revolve around that idea.
Leverage Cap Space
This will be a common theme for the few teams that have cap room.  The Kings have a little more than $20MM in space for next season and perhaps even more notably, few free agents of consequence (more on one of those later).  While they have several contracts to hand out, some of those will be of the relatively cheap variety so they will have the ability to make a splash or two if they so desire.  They'll be a team to watch for in free agency or on the trade market as a result.
Defensive Upgrades
Doughty has been a fixture on the back end for Los Angeles for 13 years and with six years left on his contract that briefly was the richest for a defenseman in NHL history, it's safe to say he's going to be there for a while yet.  However, while there are some supporting pieces in place, they don't have the deepest of back ends and the rest of their players combined basically make what Doughty does ($11MM).
Matt Roy and Sean Walker have emerged as capable pieces but while both are signed for at least three more years, they're more ideally suited to the bottom half of the depth chart.  Michael Anderson had a nice rookie year and has top-four upside, a projection that could also be extended to Tobias Bjornfot though he is a little further away from getting there.  They should be part of the picture for a while as well.
The depth thins out after that, however.  Olli Maatta didn't have a great year and considering he was brought in as a cap dump from Chicago, it's unlikely that he's part of their long-term plans.  Kale Clague heads up a list of secondary prospects that could make it as role players.
At a minimum, one impact blueliner needs to be added to push most of their current ones down a spot on the depth chart to a more optimal position.  Doughty has been a workhorse for many years now and logged more than 26 minutes a night again this season.  But he's 31 and can't keep doing it alone for much longer.  His request for Blake to add help is certainly understandable and he probably wouldn't mind one bit if that help came at his position.
Determine Athanasiou's Future
Last fall, one of the more intriguing non-tender decisions revolved around winger Andreas Athanasiou.  Edmonton had just paid two draft picks for him at the trade deadline and needed to decide whether or not to tender a $3MM offer.  They didn't and he eventually landed in Los Angeles.  The decision point is much lower this time around – $1.2MM – but the same question exists thanks to his arbitration eligibility.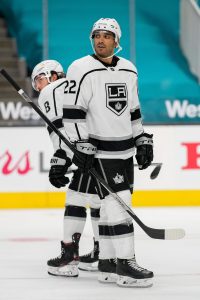 Statistically speaking, it was a decent season for the 26-year-old.  He had 10 goals and 13 assists in 47 games, good enough to finish sixth on the team in scoring.  Extrapolated to a full season, that's not far off a 20-goal pace which for $1.2MM is solid value.  If it wasn't for his ability to file for arbitration, this would be a no-brainer decision.
But he can file which makes things a lot harder.  Given the fact that he was making $3MM just a year ago and has a recent 30-goal season under his belt from the 2018-19 campaign, there's a strong likelihood that his camp will come in with a proposed contract even higher than that.  Yes, it's a different system from MLB in that an arbitrator doesn't pick one number or the other but they often wind up close to the midpoint so even with the Kings coming in closer to the $1.5MM range, the midpoint where the deal would be more likely to fall might be higher than they're comfortable going to.
As a result, this feels like a situation where there will need to be a concerted effort to get a deal done before the qualifying offer deadline.  Athanasiou did well enough to earn a bit of a raise even in this marketplace but after not garnering a lot of interest on the open market (it took until late December for him to get this deal just as training camps were starting), sticking around with Los Angeles seems like a good idea for him.
Add Top-Six Wingers
Despite their poor finish, the Kings are in good shape down the middle.  Anze Kopitar is still signed for three more years while Quinton Byfield, Alex Turcotte, Gabriel Vilardi, and Rasmus Kupari are all recent first-rounders.  That's a nice core to build around.
They aren't anywhere near as deep on the wings, however.  Alex Iafallo's new four-year deal kicks in for 2021-22 so he's one piece of the puzzle.  After that, there aren't any long-term pieces.  Dustin Brown has had a bit of a late-career resurgence but he's entering the final year of his contract next season and at 36, he's not going to be around for much longer.  Adrian Kempe, a former center, is better suited on the third line than the top six.  The rest of their current roster are role players or question marks.
Some of the young centers may wind up on the wing and players like Arthur Kaliyev should be part of their future plans but that's a short-term solution.  If they're going to add and use that cap space this summer, they'll need to go outside the organization.  Fortunately for Blake, there are options in free agency and with some teams needing to make cap-shedding trades this summer, there will be several upgrades available and it wouldn't be surprising to see one or two of them in a Kings uniform next season.
Photo courtesy of USA Today Sports Images.  Cap information courtesy of CapFriendly.