The offseason has arrived with roughly half of the league missing the playoffs and several more having since been eliminated.  It's time to examine what those teams need to accomplish over the coming months.  Next up is a look at Calgary.
Expectations were fairly high for the Flames heading into the season.  They landed the top goaltender in free agency back in the fall in Jacob Markstrom while also adding Christopher Tanev to anchor a defensive pairing.  These win-now moves didn't do much to move the needle, however.  Geoff Ward lost his head coaching job before the halfway point of the season with Darryl Sutter being brought in to turn things around but he managed the same .500 win percentage as his predecessor.  Their only playoff victory in the past six seasons was the Qualifying Round in the bubble so it appears more changes will be on the horizon.  What those changes should be highlights their summer checklist.
Add A Backup Goalie
Calgary had David Rittich backing up Markstrom for most of the season and the results weren't particularly great although they were able to get a third-round pick from Toronto who brought him in as injury insurance for the playoffs.  Louis Domingue served as the backup after that and he's an unrestricted free agent this summer.  That creates an opening that will need to be filled.
The good news is that there are plenty of free agents available so GM Brad Treliving shouldn't have a hard time finding one.  The question here will be how much they want to commit to Markstrom's understudy.  Markstrom, when healthy, has shown himself to be capable of logging heavy workloads and this season was no exception as only Connor Hellebuyck made more appearances.  If they want him to play that much over the next couple of years, they can shop at the lower end of the market and free up some cap room for other areas.  However, most teams don't want their starter playing 60-plus games each season and if the Flames feel that way, they'll have to shop closer to the higher end where it will cost another million or so on the AAV.
Core Decisions
The Flames have a core group up front and while they have shown flashes of strong offensive performances, it simply hasn't been good enough.  Returning the same core that has underachieved feels like a complete non-option at this point as expecting a big internal improvement from this group probably isn't feasible.  The question isn't if the core will be back but rather how much of it won't be.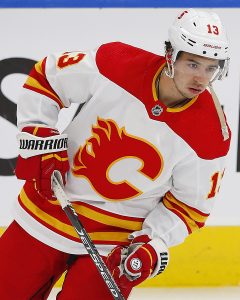 The biggest uncertainty surrounds Johnny Gaudreau.  The winger is set to enter the final year of his contract and while he has expressed a willingness to sign an extension, it's fair to speculate if Calgary may feel otherwise.  The 27-year-old didn't have a bad year – he led the team in scoring and improved his per-game rates from 2019-20.  But he's also not the same player he was a few years ago when he put up two seasons of better than a point-per-game average including a 99-point campaign in 2018-19.  He's still a top-line player for now but do they want to commit a long-term contract to him?  If not, then he becomes one of the more intriguing trade candidates of the summer as letting him walk to unrestricted free agency isn't a viable idea.
Sean Monahan has also been in trade speculation already.  He also has seen his production taper off in recent years and he had just 10 goals and 28 points this season in 50 games.  In terms of output from centers, he was third behind Elias Lindholm and Mikael Backlund.  With two years left, he's not a rental either although they'd be selling low.  With three top-six pivots, do they look to flip one for some help on the wing?
Is one move going enough or will multiple changes be needed to shake things up?  That's what Treliving is going to have to determine in the coming weeks and with it being harder to move money once the top free agents are off the board, he will likely need to make this decision by the end of July.
Add Offensive Help
On top of shaking up their offensive core, Calgary needs to add to it.  They've been in the middle of the pack defensively the last couple of seasons but have only managed to finish 20th in goals scored in each of the past two seasons.  They didn't have a 20-goal scorer either.  The composition of their roster is better suited towards a score by committee approach but for that to work, they need to have three lines capable of scoring.  They're not there just yet.
Yes, younger players like World Championships MVP Andrew Mangiapane and Dillon Dube are capable of improving and providing a boost from within.  But adding one more top-six forward would also go a long way towards deepening their attack.  However, with nearly $68MM in commitments to just 14 players, that doesn't leave a lot of wiggle room for an impact addition so some cap juggling will be needed if Treliving is going to be able to add to the core.
Protect Giordano
With how well a lot of side deals in expansion went for Vegas back in 2017, some have expected there won't be as many of those made this time around.  But Calgary looks like a team that may want to do so given their situation on the back end.
With Noah Hanifin, Rasmus Andersson, and Tanev, Calgary has three blueliners locked up for at least the next three seasons.  It then stands to reason that those will be the three that they protect from Seattle, assuming they use the standard 7/3/1 protection scheme.  However, that leaves their captain Mark Giordano on the outside looking in.
Giordano has been a fixture for the Flames for nearly 15 years aside from a brief stint in the KHL.  He's second in franchise history in games played and third in scoring by a defenseman.  Yes, he's nearing the end of his playing career (and has just one year left on his contract with a $6.75MM AAV) but he's someone the Flames would undoubtedly want to keep around as long as it doesn't cost them one of those other three protectees, even if it took away from adding up front.
While a 37-year-old on a pricey expiring contract may not seem like the best fit for an expansion franchise, he'd give Seattle some short-term stability and an intriguing trade chip so they could be inclined to take him.  Treliving will need to find a way to talk them out of potentially doing that.
Photo courtesy of USA Today Sports Images.  Contract information courtesy of CapFriendly.