The offseason has arrived with roughly half of the league finished up after missing the playoffs and several more having been eliminated.  It's time to examine what those teams need to accomplish over the coming months.  Next up is a look at Arizona.
2020-21 was not a great year for Arizona.  After making the playoffs last year through the bubble, they were hoping to make it two straight postseason appearances.  However, the same issues crept up as a lack of scoring proved costly.  Not surprisingly, GM Bill Armstrong is in for a very busy summer.  Here's a look at some of the things the Coyotes should be looking to do.
Hire A Head Coach
The Coyotes have one of the four head coaching vacancies around the league after they decided to let go of Rick Tocchet after four seasons with the team.  In that stretch, they only finished in the top half of their division once while finishing no higher than 21st in goals scored.  Arizona is more of a budget team than one that will spend to the cap and it wouldn't be surprising to see that be the case for their coaches as well.  That would seemingly take them out of the mix for most of the veteran coaches so it wouldn't be surprising to see another first-time hire when they make their selection.
Rebuild The Back End
Arizona has had a capable veteran defense corps over the past several years but the time for change has arrived.  Alex Goligoski, Niklas Hjalmarsson, and Jason Demers are all set to become unrestricted free agents this summer, freeing up over $14MM in cap space in the process.  (Jordan Oesterle is also a UFA but his expiring cap hit of $1.4MM is a lot lower than the others and he could be brought back for a similar amount.)  While there are cases to bring Goligoski and Hjalmarsson back out of the trio, it would need to be at a much lower price tag.
This is going to be an interesting situation to follow.  If those veterans don't return, Armstrong will need to bring in some proven replacements in a UFA market that doesn't have a lot of them.  Of course, they can also leverage their cap space (bolstered by Marian Hossa's contract finally expiring) to pick up a replacement in a trade.  Regardless, it looks like it will be a new-look blueline in 2021-22.
That said, the bigger question is how much they want to spend on the back end.  The Coyotes are consistently towards the bottom of the league in goals scored and this represents an opportunity to redistribute some of their money on defense up front in an effort to add a top-six forward or two.  Replacing the veterans with similarly-priced rearguards ensures that they'll be a squad with a strong back end once again but that's a roster composition that hasn't worked for them lately.  If Armstrong wants to shake up the structure of the team, this is it.
Deal For Garland
Sometimes, teams can get lucky in the draft and that's what happened with Conor Garland.  The undersized winger went unpicked in his first year of eligibility, was scooped up with a fifth-rounder by Arizona the following draft as a low-risk flier, and now, he finds himself as one of the top scorers on the Coyotes.  It has worked out great for the team so far, getting top-six production for a bargain price tag as Garland accepted a two-year low-cost bridge deal that carried a cap hit of just $775K.  As far as top bargains in the NHL go, he should have been in the conversation more than he had been.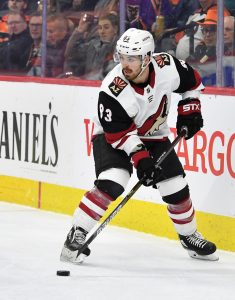 It's about to work out a lot better for the 25-year-old.  That bridge contract is up this summer and he's about to become a restricted free agent with arbitration eligibility for the first time.  Along the way, he'll be able to add several million dollars to his price tag for next season and beyond.  He's two years away from being eligible for unrestricted free agency so if they wind up with a one-year pact and push the bigger commitment down the road, that's not the worst outcome, especially with some questions surrounding just how much he's worth.
It's for that reason that Garland came up in trade speculation closer to the trade deadline where it got to the point that they were willing to move him although the right price obviously never got offered up.  Still, it suggested that Arizona may not view Garland as a long-term player to build around which makes the prospects of a long-term agreement in the coming weeks a little lower.  Accordingly, a deal could mean two different things here – a new contract, or a new team altogether.
Extension Talks
A pair of core veterans will be entering the final year of their contracts this summer and once the calendar flips to the 2021-22 campaign at the beginning of free agency, the Coyotes will be allowed to sign Darcy Kuemper and Phil Kessel to extensions.
Kuemper went from being a lower-end backup early in his career to one of the top goalies in the league after being acquired in 2018.  In each of the last two seasons, he was among the league leaders in save percentage but took a step back this season as his save percentage dipped to .907, his lowest since his final year in Minnesota.  Still, there has been much more good than bad for the 31-year-old and with Adin Hill not looking like a starter of the future (though he should be the full-time backup next season), there is a need for Kuemper to stick around a little while longer.
Meanwhile, Kessel has seen his offensive numbers plummet since joining the Coyotes but he still finished one point off the team lead in 2019-20 and led the team in points this season.  He may not be a player that can carry a line which is what they were hoping for when he was acquired in 2019 but he is still a capable, albeit streaky, scorer.  The free agent market wasn't kind to wingers last year and it's likely to be the case for most wingers this year as well which means he won't have any success trying to find a deal close to his current $8MM price tag (with Pittsburgh still paying 15% of that).  If Armstrong is able to upgrade their forward group, Kessel could be in line for a rebound year which would give him a better case for a new contract a year from now.
Of the two, Kuemper seems like the likeliest to sign an early extension but Armstrong will undoubtedly be having discussions on both fronts in the months to come.
Photo courtesy of USA Today Sports Images.  Cap information courtesy of CapFriendly.