Free agency is now just a little more than a month away and many teams are already looking ahead to when it opens up.  There will be several prominent players set to hit the open market in late July while many teams have key restricted free agents to re-sign as well.  Next summer will be more interesting for Calgary free agent-wise, but there's still lots to do this time around.
Key Restricted Free Agents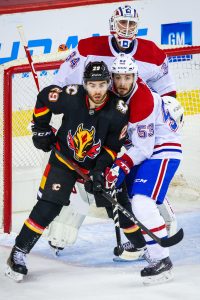 F Dillon Dube – This season was supposed to bring a breakout for Dube, and although he did set career-highs in goals and points, it certainly wasn't the step forward many were hoping for. The 22-year-old forward saw his ice time fall once head coach Darryl Sutter took over, even sitting in the press box as a healthy scratch on occasion. Overall, he averaged less than 14 minutes a night in 2020-21, a far cry from the core piece that he is expected to become. In 51 appearances, Dube ended up with 11 goals and 22 points, still flashing top-six potential at times. But there is a lot of work to be done to gain the trust of Sutter and his contract this summer should reflect that. With just 18 goals through his first 121 games, Dube won't be able to demand a huge raise and could maybe even be forced to settle for his qualifying offer, given he is not yet arbitration-eligible.
D Juuso Valimaki – The player that Dube shared the press box with on occasion? 22-year-old defenseman Valimaki, who was also called out by Sutter late in the season. "If they become better players, this team becomes better" was the eyebrow-raising quote from the head coach in May, after another Valimaki healthy scratch. The 2017 first-round pick ended up averaging just over 15 minutes a night in 49 games, putting him behind even depth options like Michael Stone and Nikita Nesterov. Because Valimaki missed the entire 2019-20 season due to injury, he actually will actually have even more restrictions this summer. He is not eligible for an offer sheet and is not eligible for arbitration, meaning just like Dube, he may have to settle for his qualifying offer if the two sides don't work out a multi-year deal.
Other RFAs: F Glenn Gawdin, F Dominik Simon, F Justin Kirkland, F Matthew Phillips, F Luke Philp, D Oliver Kylington, D Connor Mackey, D Carl-Johan Lerby, D Alexander Yelesin, D Colton Poolman, G Tyler Parsons, G Artyom Zagidulin
Key Unrestricted Free Agents
F Derek Ryan – If Ryan is the most important free agent forward you are at risk of losing you're in a good spot, but he's actually an interesting extension candidate for the Flames. The 34-year-old center is still a capable penalty killer and you could do far worse for a fourth-line center, but his real value would come in the expansion draft, where Calgary needs players to fill the exposure requirements upfront. While it sounds like Milan Lucic will be waiving his no-movement clause to fill one spot, the team will need one of the other regulars from this season to sign a deal in the coming weeks.
G Louis Domingue – It's not really that Domingue is a must-sign player for the Flames, but he represents a position that will need to be filled somehow. The team has Jacob Markstrom locked in as the starter, but they will need a backup goaltender that can help give him some time off or even take the net for a little while. David Rittich, who was supposed to be that option, was traded at the deadline, and Domingue likely isn't the answer. While he does have a .904 save percentage in 140 NHL appearances, that number is boosted by some early-career stats. Over the past two seasons, he has posted an .882 in 18 games, certainly not enough to play tandem to Markstrom.
Other UFAs: F Brett Ritchie, F Buddy Robinson, F Josh Leivo, F Zac Rinaldo, D Michael Stone, D Nikita Nesterov, D Alex Petrovic
Projected Cap Space
One of the most interesting parts of the offseason for Calgary is how they deal with their big-ticket players who haven't yet rewarded the team with much playoff success. The Flames have nearly $67MM tied up in just 13 contracts for the 2021-22 season, meaning they have less than $15MM to round out the rest of the roster. With Johnny Gaudreau and Mark Giordano set to hit unrestricted free agency next summer, Sean Monahan, and Lucic the year after, there will be money coming off the books in short order. If any of those contracts are moved out, the team could get a jump on things by being aggressive in free agency this year, knowing there will be a bit more flexibility down the road.
Photo courtesy of USA Today Sports Images.  Contract information courtesy of CapFriendly.