Over the next few weeks, we will be breaking down each team's situation as it pertains to the 2021 NHL Expansion Draft. Which players are eligible, who will likely warrant protection, and which ones may be on the block to avoid the risk of losing them for nothing? Each team is required to submit their protection lists by 4:00 PM CDT on July 17th. The full eligibility rules can be found here, while CapFriendly has an expansion tool to make your own lists.
Back in 2017, Tampa Bay made a side deal with Vegas to force them into taking defenseman Jason Garrison.  The price they paid was fairly steep in Nikita Gusev plus second and fourth-round draft picks but it allowed them to retain two young blueliners in Jake Dotchin and Slater Koekkoek.  With their salary cap situation, it seems quite likely that the Lightning will be making a trade with Seattle to get them to pick a specific player.
Eligible Players (Non-UFA)
Forwards:
Alex Barre-Boulet, Anthony Cirelli, Ross Colton, Nikita Kucherov (NMC), Yanni Gourde, Tyler Johnson, Mathieu Joseph, Boris Katchouk, Alex Killorn, Pat Maroon, Ondrej Palat, Brayden Point, Taylor Raddysh, Otto Somppi, Steven Stamkos (NMC), Mitchell Stephens, Daniel Walcott
Defense:
Erik Cernak, Sean Day, Callan Foote, Victor Hedman (NMC), Dominik Masin, Ryan McDonagh, Jan Rutta, Mikhail Sergachev
Goalies:
Spencer Martin, Andrei Vasilevskiy
Notable Unrestricted Free Agents
Andreas Borgman, Fredrik Claesson, Blake Coleman, Barclay Goodrow, David Savard, Luke Schenn, Gemel Smith
Notable Exemptions
G Hugo Alnefelt, F Ryan Lohin, F Jimmy Huntington, G Amir Miftakhov, F Antoine Morand
Key Decisions
There are some problems that are good to have and having too many good players is certainly one of them.  Without a side deal in place, it means that Tampa Bay is going to lose a good one no matter which route they go.
Let's look at their defense first.  Hedman and Sergachev are sure-fire bets to be protected but that's about it.  McDonagh is a key cog on their back end and logged nearly 22 minutes a game during the regular season and that has gone up slightly in the playoffs.  He's a big part of the puzzle.  However, he's also 32 years old and signed through 2026 at a $6.75MM AAV.  With that term and price tag, could he safely be left unprotected?
That would leave at least one opening for a younger blueliner although there are a couple of players to consider for that potential last spot in a 7/3/1 scheme.  Cernak took another step forward this season, spending a lot of it inside Tampa's top four.  He's signed on a team-friendly bridge deal for two more years at $2.95MM and making him available would be very enticing for the Kraken.
Then there's Foote.  He only made his NHL debut this season in what was a very limited role but he's also not that far removed from being a first-round pick as he was selected 14th overall back in 2017.  He'll need waivers beginning next year so he should be a full-timer on the roster at what should be a price tag of under $1MM on a short-term contract.  Given their cap situation, it would be hard to part with a cheap roster player.
That cap situation will certainly dictate their approach with their forwards as well.  Kucherov and Stamkos are automatic protectees while Point and Cirelli don't have to be protected but are safe bets to be.
Normally, finishing fourth on the team in scoring would make a player be a safe bet to be protected but that's not the case with Gourde.  The small center played at a 25-goal, 52-point pace this season which is quite good but he's on the books for four more years at $5.167MM.  That's not a bad return on the contract but knowing that they need to free up some money, he could be left unprotected.
Palat finished second in scoring behind only Point and even that isn't enough to make him a lock to be protected.  His price tag is certainly reasonable at $5.3MM and he only has one year left so it's not a long-term drag on Tampa Bay's cap.  But if they want to protect four defensemen, Palat could very well be squeezed out.
Killorn is another long-time Lightning veteran that could feel the squeeze.  He played at a 40-plus-point pace again this season and would have gotten there had it not been for the pandemic-shortened campaign which would have been the fourth straight year of getting to that mark.  At $4.45MM, he's not overly expensive either and with only two years left, it's certainly a manageable deal.  But again, they're facing a situation where they simply have to move money out.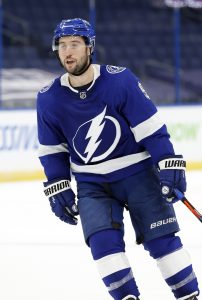 Before looking into some of the other forward candidates, let's get to the obvious veteran on this list in Johnson.  Tampa Bay clearly tried to move him last fall and when they couldn't find a taker, they put him on waivers but had no luck there either.  It's not that he's a bad player by any stretch, he's just too expensive for the role he provides.  He's a capable middle-six center and if he was a free agent tomorrow, there would be plenty of interest.  But the 30-year-old isn't a free agent, he has three years left at a $5MM cap hit.  The expectation is that the Lightning will try to make a deal to entice Seattle to take that contract off their hands but it will have to be a sizable premium paid as there will be quality players to pick from.
Knowing they will need some cost-efficient forwards as well, there could also be an inclination to try to protect one or more of them in a 7/3/1 scheme.  Barre-Boulet held his own in his first taste of NHL action this season after being a consistently high scorer in the AHL.  Joseph had a dozen goals this season while primarily playing on the fourth line while Stephens was a regular for more than half of last year.  Even Katchouk, who doesn't have any NHL experience, showed a lot with AHL Syracuse this season and should be in the mix for a roster spot next year.  They all have some NHL upside and are all affordable which is a combination that they need to try to hold on to.  Having said that, it would be hard to see those players crack their protected list.
Projected Protection List
F Anthony Cirelli
F Nikita Kucherov (NMC)
F Brayden Point
F Steven Stamkos (NMC)
D Erik Cernak
D Callan Foote
D Victor Hedman (NMC)
D Mikhail Sergachev
Skater Exposure Requirement Checklist
When Vegas had their expansion draft, a minimum of two forwards and one defenseman had to be exposed that were under contract and played either 40 games in the most recent season or 70 over the past two combined.  Due to the pandemic, those thresholds have been changed to 27 games played in 2020-21 or 54 in 2019/20 and 2020-21 combined.  In creating our expansion list for each team in this series, we will ensure that these criteria are met.
Forwards (6): Yanni Gourde, Alex Killorn, Tyler Johnson, Mathieu Joseph, Pat Maroon, Ondrej Palat
Defensemen (2): Ryan McDonagh, Jan Rutta
In terms of who's available from this list, Palat would be the most tempting choice and if they can't find a side deal to force them to take Johnson (or another similarly-priced player), they could be at risk of losing their second-leading scorer.  This was put together with the assumption that they'll want to keep Foote, who will almost certainly play a bigger role next season, in the fold but if they are okay with losing him, they would be safer flipping to the 7/3/1 scheme with Palat, Killorn, and Gourde seeming like the safest bets to be protected.  Either way, with so many talented players, they're going to lose someone of note so expect GM Julien BriseBois to be active in trying to make a side deal control which one joins Seattle.
Photo courtesy of USA Today Sports Images.  Contract information courtesy of CapFriendly.