Over the next few weeks, we will be breaking down each team's situation as it pertains to the 2021 NHL Expansion Draft. Which players are eligible, who will likely warrant protection, and which ones may be on the block to avoid the risk of losing them for nothing? Each team is required to submit their protection lists by 4:00 PM CDT on July 17th. The full eligibility rules can be found here, while CapFriendly has an expansion tool to make your own lists.
The last time the New Jersey Devils went through an expansion draft, they were coming off a terrible season where they finished last in the Metropolitan Divison and didn't have a ton of assets to worry about losing. The team decided to go with the eight-skater protection strategy in order to protect defenseman Mirco Mueller, and ended up losing Jon Merrill. It ended up being the wrong choice, but both were never really impact defensemen before or after the expansion draft. This year things are relatively similar, with the Devils being at risk of losing a player who may continue on in the NHL but isn't likely to win any awards.
Eligible Players (Non-UFA)
Forwards:

Nico Hischier, Andreas Johnsson, Jesper Bratt, Miles Wood, Pavel Zacha, Nathan Bastian, Nicholas Merkley, Brandon Gignac, A.J. Greer, Yegor Sharangovich, Michael McLeod, Marian Studenic, Janne Kuokkanen
Defense:
P.K. Subban, Damon Severson, Will Butcher, David Quenneville, Colby Sissons, Colton White, Jonas Siegenthaler
Goalies:
Mackenzie Blackwood, Evan Cormier
Notable Unrestricted Free Agents
D Ryan Murray, D Connor Carrick, G Aaron Dell
Notable Exemptions
F Jack Hughes, F Jesper Boqvist, F Tyce Thompson, D Ty Smith, D Kevin Bahl
Key Decisions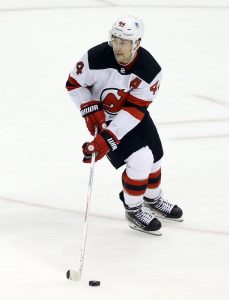 The biggest difference between then and now for the Devils is the number of interesting young forwards that could require protection. The team used only four spots upfront in 2017 but are almost certainly going to use the seven forward-three defenseman protection strategy this time around. Hischier, Bratt, and Zacha, who have grown and developed together the last few seasons are no-brainers. Sharangovich and Kuokkanen may not have been protected a year ago, but both became regular NHL options this season. That already fills five of the seven spots, meaning only two more of the group that includes Wood, McLeod, Johnsson, Bastian, and Merkley can be kept away from Seattle.
It would have been easy to choose Johnsson before he became a ghost this season, disappearing completely after breaking out in Toronto. The 26-year-old winger had just 11 points in 50 games for New Jersey but carries a cap hit of $3.4MM through 2022-23. It very well could bite the Devils if he heads to Seattle and rediscovers his game, but at this point, he isn't really deserving of a protection spot.
Wood, 25, has never shown he can create much offense for his linemates, but it's hard to argue with 17 goals in 55 games. The speedy forward has continued to cash in on his opportunities and brings an incredible amount of energy to the rink every night. He is likely going to be one of the two extra spots, though there at least has to be some consideration of the others. McLeod, Bastian, Merkley, and even Studenic are all still just finding their way at the NHL level but any one of them could take a step forward next season. There is a reason why the first three were all taken with high draft picks and New Jersey could decide to try to block Seattle from snatching up an unpolished gem.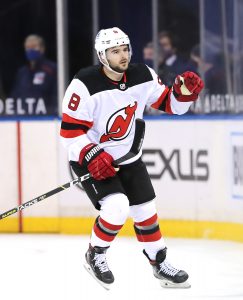 On defense, the team almost has an extra protection slot, given how poorly Subban performed this season. His $9MM cap hit will likely scare off the Kraken but even if it doesn't, removing him from the Devils lineup shouldn't be too much of a negative for a team that is obviously trying to go with a young group. There's not really any reason to protect Subban, meaning the Devils could even pursue a trade to help out a team that is overloaded.
In fact, Butcher is in a similar situation, even if his contract isn't nearly as expensive. The 26-year-old has basically played himself out of the lineup in New Jersey, serving as a healthy scratch many times this year. He recorded just 11 points in 23 games and though his minutes were back up by May, his place in the future of the Devils is extremely unclear. That means the Devils really only have Severson to protect on the back end, giving them some flexibility and leverage in trade talks over the next few weeks. If they end up failing to add anyone, Siegenthaler is perhaps a piece they would like to keep after acquiring him this season, but it seems unlikely he'd be picked over an available forward anyway.
Goaltending is the one place where there isn't much debate. Blackwood is the choice, while Cormier meets the exposure requirements. Dell and Wedgewood are both pending free agents and depth options at best.
Projected Protection List
F Nico Hischier
F Jesper Bratt
F Miles Wood
F Pavel Zacha
F Yegor Sharangovich
F Michael McLeod
F Janne Kuokkanen
D Damon Severson
D Will Butcher
D Jonas Siegenthaler
*Assuming no acquisitions
Skater Exposure Requirement Checklist
When Vegas had their expansion draft, a minimum of two forwards and one defenseman had to be exposed that were under contract and played either 40 games in the most recent season or 70 over the past two combined.  Due to the pandemic, those thresholds have been changed to 27 games played in 2020-21 or 54 in 2019/20 and 2020-21 combined.  In creating our expansion list for each team in this series, we will ensure that these criteria are met.
Forwards (2): Andreas Johnsson, Nathan Bastian
Defensemen (1): P.K. Subban
One of the key decision-making factors in the protection list upfront could be these exposure requirements, as only Hischier, Johnsson, Bratt, Wood, Zacha and Bastian currently meet them. New contracts for Merkley, Sharangovich, McLeod, or Kuokkanen would get them there, but as restricted free agents they currently don't fit. On defense, Subban and Butcher both meet the requirements, meaning the team has little to worry about on the back end.
Photos courtesy of USA Today Sports Images.  Contract information courtesy of CapFriendly.