The offseason has arrived for most teams that aren't playoff-bound with a couple of others set to join them in the coming days as they play out their rescheduled games.  It's time to examine what they need to accomplish over the coming months.  Next up is a look at Anaheim.
Expectations were relatively low for Anaheim heading into this season.  The expectation was that the top three seeds in the Pacific Division were pretty much locks, leaving only one spot available for everyone else to fight for.  It didn't quite go as expected with who the third seed wound up being (many would have had St. Louis there) but in the end, the rest of the teams were battling for one spot.  That is, except Anaheim as the Ducks fell out of the hunt in a hurry.  The same problems that existed a year before are in place now so GM Bob Murray has a lot to accomplish this offseason to try to get this team out of its rut.
Add Offensive Help
Let's dive into the obvious one first.  The median goals per game average this season was 2.84 and the year before that 3.07.  Anaheim's goals per game averages over that same stretch?  2.21 this year (dead last) and 2.56 last season (third last).  You can't win if you can't score and the Ducks clearly cannot score.  Their core group just isn't good enough to produce at a high enough level.
There's good news on the horizon if you're looking for some reason for optimism.  Last summer, Anaheim didn't have a lot of cap space at their disposal but that's not the case this time around.  They have just under $59MM on the books for next year, per CapFriendly, with no high-priced free agents to re-sign (more on the one you might be thinking of in a little bit).  Even with a flat $81.5MM cap, that's a lot of room to work with and if they're willing to go into LTIR again, they would have even more room at their disposal as that $59MM figure includes Ryan Kesler's $6.875MM AAV and with his playing days done, he can go back on there for next season.
The key here for Murray will be adding difference-makers.  They could use a top center, top left winger, and top right winger.  They could use upgrades on the second line as well.  That's not to say that they're going to fill all of those spots – they won't – but multiple viable top-six additions are needed.  With few teams having the type of cap space that Anaheim will this summer, there should be few impediments in trying to get this done.  Expect the Ducks to be active.
Re-Sign Young Core Forwards
While I've been critical of their offense, there are some promising pieces of Anaheim's core up front and the majority of them need new contracts this summer.  Included in this group are Max Comtois, Max Jones, Isac Lundestrom, Sam Steel, and Alexander Volkov.
With the exception of Volkov, the rest are drafted and developed exclusively by the Ducks and were supposed to comprise a bit part of their young core.  Comtois is on his way – he very quietly led Anaheim in scoring this season – but the other three struggled, notching no more than 12 points.
Accordingly, the majority of these deals will be bridge contracts, allowing for more evaluation as to their overall upside but perhaps more importantly, to give them as much flexibility to try and add to their roster.  Worth noting is that only Volkov has salary arbitration eligibility as well.
But Comtois' deal will be a bit trickier.  Over his first two seasons, he was pretty quiet at the offensive end in limited action, totalling 18 points in 39 games but in a full-time role this year, that jumped to 33 points in 55 contests while averaging over 15 minutes per night.  Does he have another level to reach?  If Murray thinks so, Comtois could be a quiet candidate for a longer-term deal.  He isn't an RFA that's garnering a lot of attention but he's one of the more intriguing ones of the summer.
Determine Getzlaf's Future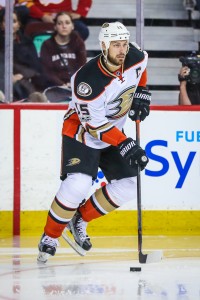 Ryan Getzlaf has been a fixture in Anaheim's lineup for 16 years and was a force on their top line for the majority of those.  Along the way, he became their captain and is now the franchise leaders in games played and goals and is within striking distance of Teemu Selanne for the lead in points (just six away from tying the record).  He has long stated his desire to stay with the Ducks to the point where he wouldn't entertain trade options a year ago.  This season, he appeared to be more open to the idea of moving at the trade deadline but no really viable opportunities really materialized, likely in large part due to his $8.25MM AAV; even with 50% retention, that would have been tough for most teams to fit in.
It's a guarantee that he won't get that this summer or even come close to that number.  The 36-year-old had the worst offensive season of his career in 2020-21, notching just five goals and a dozen assists in 48 games.  The days of him being a core contributor are gone but is there a fit at something closer to the $2MM mark, a deal that's someone comparable to the deal that long-time former linemate Corey Perry inked with Dallas a year ago?  Getzlaf is eligible for performance incentives in his deal as long as he signs a one-year contract.
But is he better off going elsewhere, especially if he has intentions of trying to get back into playoff contention?  And does Anaheim need to keep transitioning to the future by allowing Steel and Lundestrom to get some of Getzlaf's minutes?  It's always a tough situation when a franchise icon is nearing the end of his run.  Murray will need to determine if that time is indeed now.
Figure Out What's Next For Manson
Josh Manson has worked his way from being a role player to a key cog on Anaheim's back end.  While his offensive outburst in 2017-18 is looking more and more like a one-off, he still is strong in the defensive zone and gives them plenty of physicality.  Those elements made him highly sought after at the trade deadline despite an injury-riddled season.  But Murray set a very high asking price with him having another year left on his contract at a $4.1MM cap hit and nothing came to fruition.
Now he will be entering the final season of his deal and with that is the ability to work on a contract extension.  While he is a key cog for them, he'll be hard-pressed to command a significant raise with his offensive game regressing lately.  In a flat-cap era, it's harder to allocate significant salary dollars to players who aren't going to do a whole lot on the scoreboard but a small increase in pay should be doable.  Something in the $4.5MM to $5MM range is something that would seem reasonable to both sides.
But what if Manson isn't ready to do that deal this summer?  As we saw this season, cap space is much harder to free up once the season gets underway and unless the Ducks rapidly turn around their fortunes, he'll enter the year as a highly speculative trade option.  If that is the route that it looks like they will be heading down, they might be better off moving him before free agency starts.  Anaheim's back end has taken some hits in recent years and it seems likely that Murray will try to make a push to make sure that Manson isn't the next one on that list.
Photo courtesy of USA Today Sports Images.