Topics in this edition of the PHR Mailbag include Jaden Schwartz's future in St. Louis, what's next for Toronto, Patrik Laine's struggles in Columbus, some player predictions for next season, the next step for the Rangers' rebuild, Quinn Hughes' defensive struggles in Vancouver, what happens to NHL staff who are fired before the end of their deal, and what Boston could be up to in the coming days.  If your question doesn't appear here, check back for it in last weekend's mailbag.
vincent k. mcmahon: Considering Jaden Schwartz is going to be a UFA this offseason, do the Blues hold on to him and try for an extension or try and trade him at the deadline?
It has been an odd few days for St. Louis who have gone from a potential seller to one that may be looking to buy by Monday's trade deadline.  But even having said that, I don't think they'll look to move Schwartz even if they opt to sell.  Instead, I expect their plans are going to be to keep him regardless and it's worth noting that he can block a trade to half the league.
That doesn't mean that an extension will happen by Monday.  I'd be surprised if it did.  There's a comfort level between the two sides and what appears to be a mutual desire to get a deal done.  They have cap space opening up this summer with Tyler Bozak and Mike Hoffman off the books; between those and Schwartz's $5.35MM expiring deal, there's plenty of financial wiggle room to get a deal done.  I expect they will eventually get an extension worked out although it may need to come in a bit cheaper than his current rate for it to happen.
@nelson_fran_: Who do the Leafs pick up? Winger or d-man?
Even after adding Riley Nash yesterday – a tidy piece of business for GM Kyle Dubas – to give them a capable center for the playoffs, I expect Toronto to keep their sights focused on adding forward depth.
They've been linked to Alex Iafallo for a while now and that's who I think they'll ultimately end up with as long as he doesn't sign a last-minute extension with Los Angeles.  He'd fit nicely into their top six alongside John Tavares and William Nylander and if the Kings retain half the money as Toronto would likely require them to, he'd only cost just over $1.2MM into their LTIR room which they should be able to afford even when Frederik Andersen returns.
It's also worth noting that Dubas and Kings GM Rob Blake have a clear history of making moves with the Jake Muzzin and Jack Campbell trades in recent years.  That type of trust and familiarity certainly comes in handy and in such a strange season, that could be even more important as player agent Allan Walsh suggested on Twitter last night.  They've combined on a move the last two years and I think they'll do it again.
MoneyBallJustWorks: Is Laine the problem or did CBJ just try and fit a square peg into a round hole and it backfired?
It's some of each.  Let's look at the second half first and talk about Columbus.  When Laine was successful in Winnipeg, he had other quality offensive players on his line that were above average at playmaking.  The Blue Jackets don't really have that, especially down the middle.  John Tortorella's rapid line change frequency also makes it hard to develop any sort of chemistry.  Laine was moved around a bit with the Jets but nowhere near as frequently as he has with Columbus.  That's not the best type of environment for him to succeed in.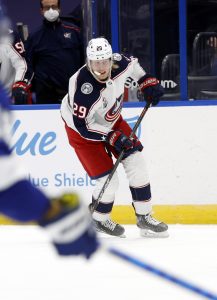 As for Laine, the same criticisms that existed during his time with Winnipeg are showing here.  He can score but when he's not doing that, he's not bringing much else to the table.  He has been rightly criticized for a lack of engagement at times and an infrequent willingness to try to play in the defensive zone.  No one is saying he needs to become an elite two-way presence or anything but a scorer that isn't scoring isn't worth playing much.  A scorer that can do some other things earns a much longer leash and better opportunities to play his way out of a slump.  That's what he needs to realize.
When this deal was made, it felt like Columbus GM Jarmo Kekalainen was effectively kicking the can down the road, so to speak.  He received good short-term value on paper for Pierre-Luc Dubois (Jack Roslovic has impressed since joining the Blue Jackets as well) but Laine didn't feel like the best fit in terms of helping them win now.  Accordingly, the fact that it hasn't worked out all that well so far isn't all that surprisingly.
The Duke: Crystal Ball visions for Seth Jarvis vs Alex Newhook (goals/assists only); Top-2 D-men in 2021 draft, scoring-wise; short- and long-term futures of Adin Hill and Laurent Brossoit (chosen by Seattle?); and does Laine get it straightened out, either in Columbus or elsewhere?
Jarvis/Newhook: Jarvis looks like the better goal scorer of the two and Carolina has to be extremely encouraged with what he was able to do in limited action in the AHL this season before returning to the WHL where he has lit it up again.  Newhook has been more of a playmaker throughout his career and should beat Jarvis in that regard in the NHL.  Both profile as good second-liners; give me a 25 goal, 20 assist average for Jarvis and a 20 goal, 25 assist one for Newhook.  Those would be nice returns for players selected in the middle of the first round.
2021 Defensemen: Picking the top two is tricky as there are three that are really ahead of the rest of the group.  Owen Power is one of the contenders to go first overall so let's put him in there.  That puts it between Brandt Clarke and Luke Hughes, brother of Jack and Quinn.  I can see family bloodlines giving Hughes a boost that could make him the second one off the board although I believe Clarke will have the better career of the two as more of a two-way player but still contributes enough offensively to possibly fit on a top pairing.
Goalies: I don't see Hill being particularly attractive to Seattle unless they want him as the third-string goalie.  There will be more proven netminders available to give the Kraken a quality one-two punch and I don't think Hill's viewed favorably enough around the league to draft him and then flip him elsewhere.  Brossoit is an unrestricted free agent at the end of the season and again, isn't at the level of some of the veterans that are going to be made available.  I don't think he'd be good enough to be their backup and he'd be too expensive to serve as their third goalie.
Laine: I touched on him in the last question but while I do believe he'll get things turned around, I don't believe his long-term future is with Columbus.  He needs to be in a situation where he's playing with a dynamic playmaker to set up his shot and the Blue Jackets aren't that team.  I wouldn't be shocked if there was a quiet trade request this offseason but even if not, I don't think either side wants to do a long-term contract.  That means probably a one-year pact before a final call has to be made by the 2022 summer.
pitmanrich: As the season has provided more questions than answers what realistically do the Rangers need to do to take the next step in their rebuild? Trade for a top centre like Eichel if available? Change coach? And what do they do with Strome who continues to put points up, trade him or keep him?
For them to take the next step forward, they need that elite center.  Mika Zibanejad can be a number one but him behind a better one would greatly bolster their fortunes.  They have considerable depth on the wing that they can consolidate to try to make a move and with several of them being recent first-round picks – Alexis Lafreniere, Kaapo Kakko, and Vitali Kravtsov – they will carry considerable value.  If Jack Eichel is available, of course he'd fit the bill although making the money work in terms of trying to keep Zibanejad after may be a bit tricky.
Failing that, they need to upgrade on Strome.  I know he's arguably having a better season than 2019-20 when he had a career year.  He fits with Artemi Panarin but the problem is that he hasn't fit particularly well with anyone else on the Rangers for any extended period of time.  Having a top-six pivot that's reliant on a certain winger to have success is far from ideal.  The challenge GM Jeff Gorton has is that every other team knows that too which makes getting fair value in a trade tricky.  As a result, he's either salary ballast in a trade for an upgrade down the middle or he sticks around for the final year of his deal.
I am not a big proponent of changing coaches in general as more often than not, the warts of the roster will come back to bite whoever is behind the bench.  We've seen it with the changes made in Montreal and Calgary, in particular, as their records are no better than what they were before the moves.
David Quinn was brought in to bring the team through the rebuild and I'm not sure they're there yet.  I think expectations were too high, too quick coming into the year which doesn't help things.  But at the same time, Kakko and Lafreniere have underachieved in the early going.  If I'm Gorton, the question I'm asking myself is does Kris Knoblauch or someone else bring out more from those two?  If yes, make the change but if not, stick with Quinn.
bigguccisosa300: What do you think about Quinn Hughes going forward? He puts up points and is great on the power play but his plus/minus is kinda disturbing. Also, do you think Travis Green and/or Benning will be back next year?
I think he has basically been as advertised.  Coming out of college, the book on him was that he can certainly drive the play offensively and he has certainly done that.  However, he was also not viewed as a strong player in his own end and that has also come true, contributing to the -17 mark you referenced.  I think Vancouver was comfortable with the style of player they were getting when they picked him but I'm sure they'd like him to be a bit more conscientious in his own end.
I don't see them having any reservations about committing to him on a long-term basis; someone that is capable of driving the offense as much as he can is going to get paid and there's no denying that he is a key part of their future plans.
As for who will sign them to that contract, I wrote a couple of months back in a previous mailbag that Benning's future will basically be tied to whether or not he gets permission to work on extensions for Hughes and Elias Pettersson.  If ownership has concerns about Benning's performance, he wouldn't be allowed to work on deals for his two key cogs.  The fact that he's discussing those deals tells me he's safe for next season and in that case, Green should be back as well.
PTSRAL1114515: Typically, does a coach or GM that is fired with term on their contract have/owe any responsibilities to the contracting club? That is, can the club require them to perform scouting, work in the mailroom, etc. or is it just paid vacation until the contract term is reached? Can they consult in the interim? What happens if they are hired by another club prior to the existing contract expiring? Thanks for considering.
Technically, the answer is yes, teams can still require people relieved of their duties from their intended role to fulfill other obligations but they seldom do; it's basically paid time off.  Sometimes, a former coach will eventually be assigned as a scout to give them credentials to make the rounds around the league in the hopes of finding another team while keeping current but those individuals likely wouldn't actually be filing scouting reports.  Montreal did that with Michel Therrien a while back after he was let go.
As it turns out, this scenario actually happened earlier this week.  Ottawa made a change at goalie coach, installing Zac Bierk in that role while former goalie coach Pierre Groulx was re-assigned to a scouting role and it's expected he will actually work in that capacity in the short term.  A long-time goalie coach in the NHL, that's likely not Groulx's long-term role but for now, he will scout to continue to receive his pay.
If they're hired elsewhere, it all depends on how much the contract is for.  If it's equal to or greater than the current deal, the team that fired the staff member is off the hook.  If it's less, the firing team would still be responsible for making up the difference.  Having said that, the NHL doesn't allow personnel to sign well below market value deals to force the firing team to pay most of the contract and it frequently works out that whoever let that person go is basically done paying once they go somewhere.
VonBrewski: I was hoping Don Sweeney would pull off a couple of trades and spark the team. I don't think anything is going to happen of importance with their terrible play. It's a pity they waste more time with this core. They will have no choice but to make moves in the offseason.
SkidRowe: Bruins fan here. They're in a tough spot. The core is getting older and they don't want to squander this year. On the other hand, they are more than one player away from a Cup. They've got no secondary scoring and a young, mistake-prone D. They don't have a lot of young talent to trade and shouldn't be looking to give up future draft picks especially since Rask, Halak and Krejci might retire/leave after this year. If that happens, they might even miss the playoffs. Realistically, what can they do?
First, I wouldn't rule out Boston doing something between now and the trade deadline.  With the injuries piling up on the back end (add Matt Grzelcyk to that group as he was injured this afternoon), I think Sweeney does wind up making a move to add some depth.  A top-four option would be a better fit but there aren't many of those left that are available.  Someone like Dmitry Kulikov makes sense and shouldn't cost a lot to acquire.
I'm also intrigued by their salary cap situation.  Unlike most teams that are looking to buy, the Bruins have plenty of cap space banked as they never really spent the surplus they had going into the season.  That has ballooned to an ability to add someone making more than $6MM, per CapFriendly.  That could allow them to add someone for a below-market cost since they won't necessarily need the other team to retain money.  That allows them to be in on the top forwards out there and if that doesn't materialize, they could add some low-cost depth upgrades in the bottom six.
That cap room puts them in a position where they shouldn't need to deal away from their future to add some win-now pieces.  Yes, they will have some holes to fill between the pipes and down the middle should any of Tuukka Rask, Jaroslav Halak, or David Krejci retires but if that happens, they'll have more than ample cap space to try to bring in replacements.  They have an aging core but I don't see a reason to be concerned about them missing the playoffs as soon as next season.  They should be fine.
Photo courtesy of USA Today Sports Images.