6:55 am: Pierre LeBrun of TSN and The Athletic provides details on the conditional third-rounder.  It can be upgraded to a second-round selection if the Penguins made the Stanley Cup Final and Carter plays in at least half of their games.
12:45 am: The trade has been made official. The Kings will receive a conditional 2022 third-round pick and a conditional 2023 fourth-round pick, while retaining 50% of Carter's remaining contract. The conditions on the draft picks have not yet been announced.
While two draft picks are nice to get, part of the win here for the Kings is getting out from at least part of Carter's contract. The team desperately wants to get younger and provide roster spots for some of their up-and-coming talent, so clearing Carter off the books—even if it doesn't scrub his contract completely and comes with some recapture risk—was something of a necessity. The veteran forward's career in Los Angeles comes to an end after 580 games and two Stanley Cup championships.
9:35 pm: The Penguins and Kings have held discussions regarding a trade that would send center Jeff Carter to Pittsburgh, reports TSN's Bob McKenzie (Twitter link).  In follow-up tweets, McKenzie reported that Los Angeles players were saying their goodbyes to the veteran with the Kings expected to receive a couple of conditional draft picks from Pittsburgh while retaining some salary.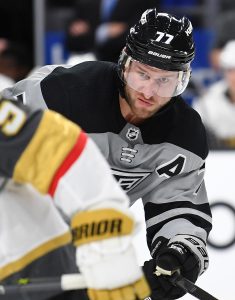 When the trade call goes through as planned, the Penguins will be receiving a player that new GM Ron Hextall is very familiar with. Not only was Hextall the Philadelphia Flyers' director of player personnel when Carter was selected in 2003 and made his NHL debut during the 2005-06 season, but Hextall was the assistant general manager of the Kings when they traded for the center in 2012.
The player the Kings acquired back then was a big-bodied center that could routinely put up 25-30 goals while playing strong defense. The one they're getting today isn't quite at that level, but certainly adds a lot of experience to the position. Now 36, Carter has over 1,000 regular season games played in the NHL, 120 more in the postseason, two Stanley Cup championships, and an Olympic gold medal. He just so happened to be teammates with Sidney Crosby on that gold medal-winning 2014 Olympic squad, an international duo that goes back to the 2005 World Junior squad that is considered one of the best of all time.
Now, Carter will get to slide in behind Crosby on the depth chart and give the Penguins another talented forward to challenge for the Stanley Cup once again. After winning again tonight, the Penguins are now 27-13-2 on the season and sit just two points behind the tied Washington Capitals and New York Islanders for the division lead. An 8-2 run in their last two has proven that the Penguins deserved a little boost at the trade deadline, and the veteran Carter is just that.
Still, it's important to remember that Carter has just nine goals and 19 points this season and is still under contract through 2021-22. His current cap hit is $5.27MM, but depending on how much the Kings have retained, that number could come down to something much more palatable. In actual salary, Carter is owed just $2MM this season and next.
That discrepancy between salary and cap hit is exactly why trading Carter has been so tricky in the past. As PuckPedia points out, if the veteran forward decided to retire after this season, both the Columbus Blue Jackets and the Kings would be hit with a recapture penalty. If Los Angeles retained 50% in this trade and Carter decides to hang up his skates after this season, the Kings would face a $3.1MM recapture penalty in 2021-22 (the Blue Jackets would have a $551K penalty regardless of the retention in this deal).
Interestingly, that route would actually give the Penguins a cap bonus for next season ($381K if 50% retained), meaning they have no risk in that regard. The idea behind recapture is that in the early years of the 11- year contract (which is no longer allowed under the new CBA), Carter was earning much more salary than his cap hit represented. In the case of early retirement, the recapture process is meant to even out that early reward by penalizing the team(s) that received it.
More to follow.