Although we're now just two months into the season, the trade deadline is less than a month away.  Where does each team stand and what moves should they be looking to make?  We continue our look around the league with the Los Angeles Kings.
It has been an interesting season for the Kings.  While they're still in the midst of their extended rebuild, they've done well enough to hang around the playoff picture.  Accordingly, there is a case to be made for GM Rob Blake to try to add a piece or two but on the other hand, staying the course would certainly be prudent as well.  As a result, that makes them a team of some intrigue heading into the April 12th trade deadline.
Record
13-12-6, 5th in West Division
Deadline Status
Light Seller
Deadline Cap Space
$22.72MM in full-season space ($41.09MM at the trade deadline), 0/3 retention slots used, 48/50 contracts used per CapFriendly.
Upcoming Draft Picks
2021: LA 1st, LA 2nd, STL 2nd, LA 3rd, TOR 3rd, CGY 4th, LA 4th, LA 5th, LA 6th
2022: LA 1st, LA 2nd, LA 3rd, LA 4th, LA 5th, LA 6th, LA 7th
Trade Chips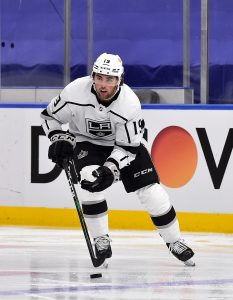 Up front, the Kings only have one pending unrestricted free agent in winger Alex Iafallo who is certainly an under-the-radar player.  After finishing second on the team in scoring last season, he has upped his point per game average to a career best 0.67 with 20 points (7-13-20) in just 30 games.  The 27-year-old is also very quietly averaging nearly 20 minutes per game while taking turns on the power play and penalty kill.  With a $2.425MM cap hit and an ability to play pretty well anywhere in the lineup, Iafallo is someone that could certainly fit on quite a few contending teams.  On the other hand, he is someone that they want to retain and whether or not he gets moved will likely depend on the status of how extension talks go over the next few weeks.
Andreas Athanasiou is no stranger to trade speculation having been in it for several years before finally getting moved to Edmonton at last year's deadline, a deal the Oilers undoubtedly would love a mulligan on.  His trip through unrestricted free agency last fall after being non-tendered wasn't what he was hoping for as he eventually settled for a one-year, $1.2MM deal.  Athanasiou isn't having the best of seasons but the low price tag and potential for another year of control as he remains RFA-eligible makes him a possible candidate to be moved, albeit for much less than the two second-rounders that he yielded a year ago.
With Calvin Petersen looking like the starter of the future, Jonathan Quick's name has come up in some trade speculation.  However, he still has two more years left on his deal after this one with a $5.8MM cap hit although his salary is considerably lower at this stage of his 10-year contract.  Given the salary cap constraints that so many teams face right now, it's hard to see there being much demand for his services although an injury elsewhere could certainly change things.  Lias Andersson has had a limited role this season and has made numerous appearances in our daily Taxi Squad Shuffle pieces.  With the centre depth they have in the system, the 22-year-old could make some sense as a change of scenery candidate.
Others to Watch For:
F Michael Amadio ($700K, RFA), F Matt Luff ($700K, RFA), D Austin Strand ($735K, RFA)
Team Needs
1) Long-Term Defensive Help – While Los Angeles has to be pleased with the performances of Michael Anderson and Tobias Bjornfot, their long-term prospects on the back end aren't the greatest.  Recent deals to Matt Roy and Sean Walker (last offseason) give them some depth at somewhat high prices but both are better suited for limited roles as is Olli Maatta.  Adding to their prospect pool would certainly help but bringing in a current top-four NHL defenseman with a few years of team control would give them a boost.  That may be a move for the offseason instead as it's more of a buyer trade but the fact that they have as much cap space as they do could put them in a better spot to act now rather than later.
2) Top-Six Forwards – Similar to above, the Kings have decent forward depth in terms of their bottom-six options but they are lacking a bit in the impact forward department.  Obviously, the hope is that their top prospects (including Quinton Byfield, Alex Turcotte, and Rasmus Kupari) will eventually fill the void but adding a slightly older established player to the core would fill a big need.  Again, it may not quite be time for that just yet but the reality is that the players that they could move now aren't going to really fill any of their needs and instead just add to their draft pick capital.  When the time comes to add, Blake will need to be thinking big.
Photo courtesy of USA Today Sports Images.