The Buffalo Sabres are losing again. Even with the offseason excitement of pairing Taylor Hall with Jack Eichel, the team is at the bottom of the East Division standings, sitting 4-6-2 with just 31 goals in 12 games. That MVP-caliber pair has produced just three goals combined, including just a single tally at even-strength. Add in the zero goals that Jeff Skinner has provided and the Sabres have just three for the combined $27MM cap hit of that trio. With that kind of offensive ineptitude from their highest-paid players, speculation about trades was bound to spark up.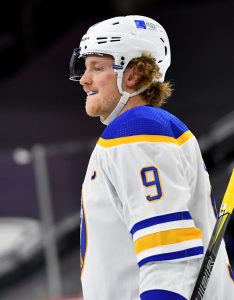 Today, Elliotte Friedman of Sportsnet joined The Instigators on WGR550 in Buffalo and spent nearly 15 minutes discussing the future of Skinner. The 28-year-old forward has six years left after this season on his eight-year $72MM contract but has just 24 points in the 71 games since he signed it. He has just one point this season and has had his ice time reduced dramatically. It's not clear at all how Buffalo gets out from under the Skinner contract, but Friedman doesn't believe Buffalo should be trying to attach draft picks as a sweetener in a potential trade.
It was the next topic that really raised some eyebrows though, as the conversation turned to a potential trade of Eichel. Friedman simply stated "yes" when asked if a trade of the Sabres superstar was possible, before going on to explain his thoughts:
Look, we know that this was something that came up last summer. I don't know that it was ever close. The feeling that I've always had is that Buffalo knew Eichel was unhappy. They asked Eichel to take a step last year and he really did, we've talked about how much of a step Eichel took last year. Still, when it came to team success it just didn't really go anywhere. Now you look at where it is this year, you know he's going to be frustrated, and there were conversations last year. But what I was told was, the Sabres just said 'we are not ready to do this. We are not ready.' Teams made offers, it was communicated that he was restless. I don't think he ever asked for a trade, I don't think it got that far. But he was restless and teams knew it. The Sabres took some offers and said 'no we're not ready to do this.'
It's clear that there would be interest in Eichel, but a trade involving a $10MM-per-year contract would certainly not be simple. The 24-year-old center is signed through the 2025-26 season. Friedman notes that the New York Rangers and Los Angeles Kings could both potentially put together packages for Eichel from the number of assets in the organization, though doesn't imply they have made an offer at any point.
One important difference between Skinner and Eichel, other than the obvious performance levels, is that the former owns a full no-move clause. Eichel's NMC doesn't kick in until the 2022-23 season, the year he would have normally been eligible for unrestricted free agency (players before that age are not allowed to include any trade protection in their contracts). That means trading Skinner would have the additional hurdle of getting his blessing, while Eichel technically doesn't have to be included in the process.
Still, the only way the Sabres would be moving on from their franchise center is if he wanted it, and though Friedman suggests there was unrest in the summer, Eichel has never publicly stated he is looking for a change. In fact, he has done quite the opposite, by acknowledging his frustration but reaffirming his commitment to the Sabres organization many times. That feeling can change in a heartbeat though, and by the end of this season, Eichel will have played more than 400 NHL games without ever sniffing the postseason. Buffalo hasn't even had a winning season with him, going 160-194-55 in his five-plus-year career.
Photo courtesy of USA Today Sports Images